Log
Wreck Fishing Rig for Grouper and Amberjack
Wreck Fishing Rig for Grouper and Amberjack









































Where to fish:
Looking for a grouper or amberjack to bring to the dinner table? Plenty of anglers try tackling big bottom dwelling fish with poor results. Modern marine electronics make secret spots a thing of the past. Shipwrecks, ledges and rock piles are marked on modern GPS chart plotters. There are also plenty of resources online if you're willing to do the homework. These are the places you'll want to fish to catch big Amberjacks, Grouper, Cobia, African Pompano, Snapper and other structure seeking fish. Shipwrecks are see more fishing pressure, and fish are getting smarter as a result. Don't make the figurative mistake of bringing a knife to a gun fight when looking to catch big amberjack or grouper off a ship wreck. These fish will try and get back into the structure, whether it's a coral head, rock ledge, or shipwreck. Here's a great site, FloridaGoFishing lists wrecks in Florida by county with depth, description and GPS coordinates.
Tackle considerations:
Almost all the big groupers we catch off Miami already have a few hooks in their mouths… These fish are capable of hard runs, often right back into the wreck to cut you off. Too light of tackle and there's no stopping the fish, while on the other hand too heavy will spook off weary fish. So where is the middle ground? Here's the type of rig we prefer to fish. Keep in mind that in Miami it's necessary to use heavy tackle due to the large and aggressive shark population around the many of the wrecks. Often times a struggling fish (or struggling angler for that matter) gives the sharks enough time to grab a quick meal. In essence catching these fish is a race between the angler and the shark...
Our Rig:
We start on a 50 class reel with 130 lb braid. Next, we tie on a heavy duty 3 way crane swivel. To one end of the 3 way we attach our lead, usually a 2 lb bank sinker. Then we attach our leader material, a 40-50 foot section of 80-100 lb mono. For weary fish you can try using a longer leader section or switching to fluorocarbon leader. The majority of black grouper we catch have hooks with 20-30 lb line attached stuck in their lips. Don't make the same mistake. Use heavy enough tackle and increase your success rate. After experimenting with a variety of size and hook styles, we've had the best success rate with a 9/0 Owner circle hook. Always use circle hooks. The best way to hook the bait is by bridling the bait through the eye sockets with wax floss. It will increase your hookup ratio and helps keep the bait from being plucked off the hook. If you happen to miss a bite the fish may circle back and grab it again. Choice baits include large blue runners, goggle eyes, speedos and pinfish.
Continue Reading:
For more information on black grouper or amberjack, click the links to our species profile pages. Also feel free to check out our article on Miami Wreck Fishing to see the best time of year for targeting different species.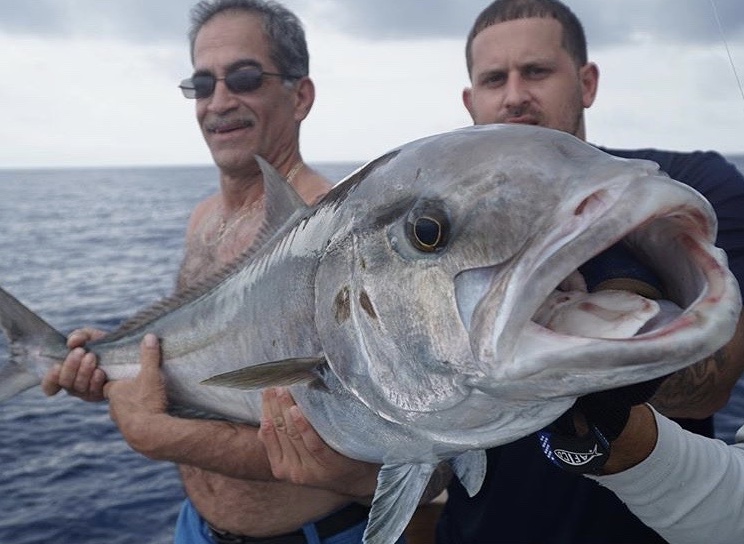 ---
‹ Back