Barracuda
Barracuda
Peak Season: Summer
Best Charter:Half Day Offshore
Best Technique: Live Baiting, Throwing Artificials
Best Bait: Sardines
Table Fare: Decent but may have Ciguatera Poisoning
Barracuda Charters in Miami, Florida
These aggressive hunters can be found anywhere from under the dock to the middle of the ocean. Barracuda range in size from 5lb babies in the back country to 30+lb monsters on the reef. Barracuda are a seriously underrated gamefish and are tons of fun on light tackle. Barracuda have a hard time resisting just about any offering as long as they look alive. We don't usually target barracuda specifically but we catch plenty by setting live baits in different levels of the water column. They are also common while trolling planers, especially near shipwrecks. Barracuda are extremely aggressive and if you bring in half of a bonito or other species, they are typically the culprit. With big mouths and tenacious appetites, they can sometimes be a nuisance while reeling in other gamefish.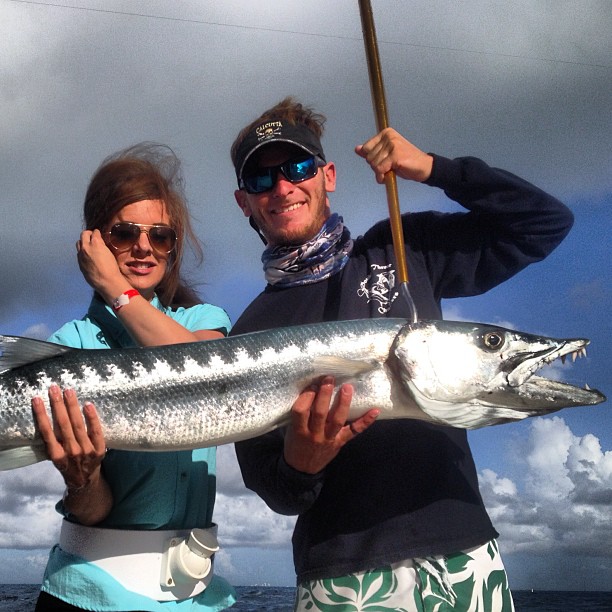 How to Catch Barracuda
Hooking barracuda is pretty straightforward. We use wire leader because they easily slice through monofilament leader. Barracuda fishing with light spinning tackle is the most fun approach. They rip drag and won't hesitate to go on impressive runs and can actually be very acrobatic, especially in shallower water. A great way to find barracuda is by finding bait. Cudas are ruthless hunters and if you find bait, they are usually close behind. Throwing lures through bait balls or along mangroves is a great way to get tight while fishing inshore. You can also work structure such as mangroves or dock edges.
Barracuda are an awesome gamefish. They may seem like a nuisance to experienced anglers but they run hard, jump, and their strikes are explosive. What more could you ask for?