Bonefish
Catching Bonefish in Miami
Peak Season: Year Round
Best Charter: Full Day Inshore
Best Technique: Finger Channels/ Sight Fishing
Best Bait: Jigs, Flies, Shrimp
Table Fare: Poor
Bonefish Behavior
Bonefish are a classic inshore species who have been frustrating and entertaining anglers for a over a century. At first glance, they may seem like a glorified bait fish. Once you catch your first bonefish however, you'll understand the hype. Bonefish are extremely elusive, well camouflaged, hunter that inhabit the shallower clean water throughout the Caribbean. They eat shrimp, shell fish, sand fleas, small bait fish, and more. Like most fish, the life of a bonefish involves feeding and trying to stay alive. They are always weary of sharks, birds, boats, and more. They also move up onto grass flats and hunt in water as skinny as 6 inches deep. Tailing bonefish can be quite the spectacle as they mull around feeding with their tails out in shallow water. We predominantly fish extremely light tackle for bonefish to maximize sport and accommodate their weary nature.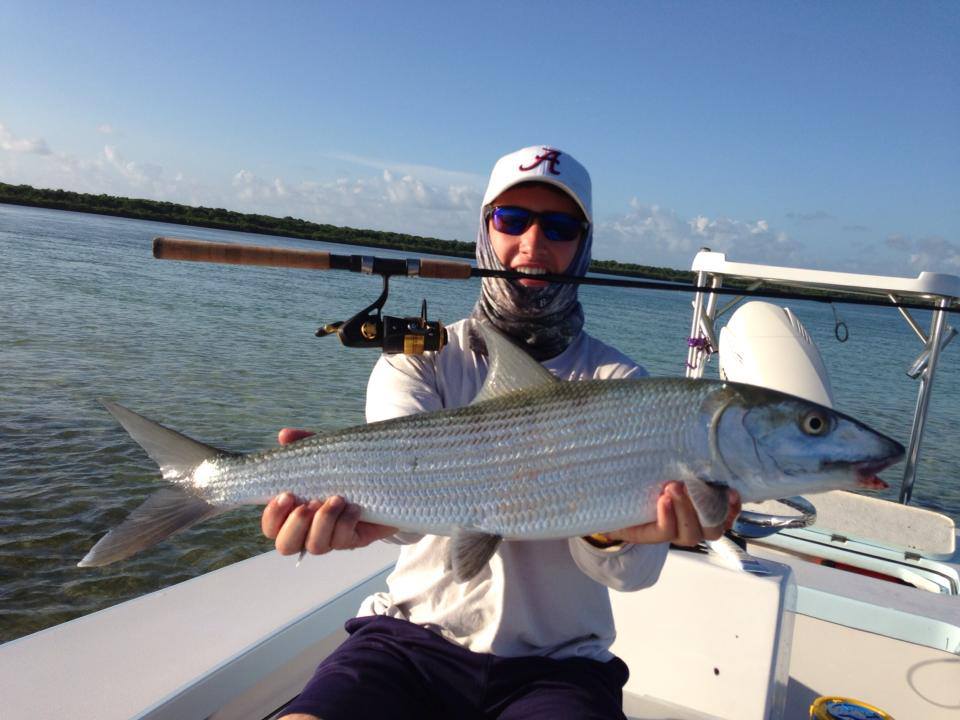 How to Catch Bonefish
Bonefish are a terrible "first species" of fish to target. They are finicky, smart, and sometimes scarce. Biscayne Bay is a great fishery for bonefish. We may not have the numbers you see in the Bahamas but Miami is home to some of the largest bonefish in the Caribbean. When targeting bonefish, we consider water temperature, tide, time of year, and more. It takes years of experience to get these fish dialed in. Poling the flats and casting to schools of fish is the traditional method for targeting bonefish but working finger channels or even chumming can be equally or more effective. These are a commonly sought after species for experienced fly fisherman but this technique can be tough if the wind and lighting doesn't cooperate.
We like using 10lb test for bonefish with light fluorocarbon leader. Small hooks with a fresh live shrimp are a great offering to a hungry bonefish. Small jigs work as well but natural or live bait is your best bet typically. We may add a small split shot about 18 inches up the leader if we are fishing a deeper flat or dealing with higher wind and current. Bonefishing will really test your casting skills. It's important to lead these fish with precise casts and even with perfect presentation, they don't always eat. Gray ghosts are definitely a bucket list species but a reasonable target during inshore charters off MIami.