Deep Sea Fishing Fishing Charters
Private Deep Sea Fishing Charters
With the Gulf Stream just a few miles offshore and Biscayne Bay serving as a productive fish nursery, predators abound off Miami's coast. There isn't a bad time of year to book saltwater fishing charters in Miami; the sailfish migration lasts from October through June, mahi-mahi are everywhere from April to October, and countless other species assume residence year round. You can't go wrong! Deep sea fishing charters in Miami with our crew will be safe, productive, and memorable.
43 Foot Hatteras- Up to 6 people Welcome Aboard!
Guests will receive a world class fishing experience with Double Threat Charters. Anglers relax the second they leave port from Coconut Grove. The "Double Threat" is tournament rigged and ready to fish, while simultaneously spoiling our customers. This boat underwent an extensive refit during 2017. This fishing machine has 150 gallons of livewell space, a tuna tower for an improved vantage point, triple spreader outriggers, state of the art electronics, an immense fish box to ice your catch, and more. With an air conditioned cabin, a head (toilet), shower, and full list of appliances (freezer, refrigerator, and microwave), leisure was not compromised for fishing ability. In addition to spotting fish, the fly bridge is great for enjoying the view. Feel free to read more about our boat here: The Boat.
Latest Techniques
Kite fishing for sailfish, trolling for dolphin, bottom fishing for snapper, drifting for sword fish, and live baiting for tuna are just a few of the many techniques we employ with ease. The Double Threat is armed with meticulously maintained equipment from the leading manufacturers in the industry. With top of the line Avet, Penn, and Shimano reels, we won't be caught under-gunned. Our line is always freshly spooled, our hooks are sharpened, and our knots are tested. With a healthy mix of tournament-style fishing without sacrificing comfort, our guests are in store for a world class experience. We offer a variety of different charters to accommodate your schedule, experience level, and the time of year which you can read more about below.
Half-Day Fishing Charters
Half-day charters are a great option year round unless you want to catch dolphin during the summer. Otherwise, there are plenty of fish 3-5 miles out. If you have young anglers in your group, a tight schedule, or you are unsure about motion sickness, half day trips may be your best bet.
3/4 Day Fishing Charters
¾ Day Fishing Charters are another option. This popular trip is a great option year round. It gives us more flexibility than a half day without the price tag or the exhaustion of a full day trip.
Full Day Charters
Full day charters are recommended during the summer months (May- September) or for hardcore anglers during fall-spring. They offer great value in terms of cost per hour.
Specialty Charters
In addition to full day charters, we offer extended full day trips, swordfish trips, cubera snapper trips, and more. These charters are weather dependent and typically reserved for hardcore anglers looking to knock a particular species off their bucket list.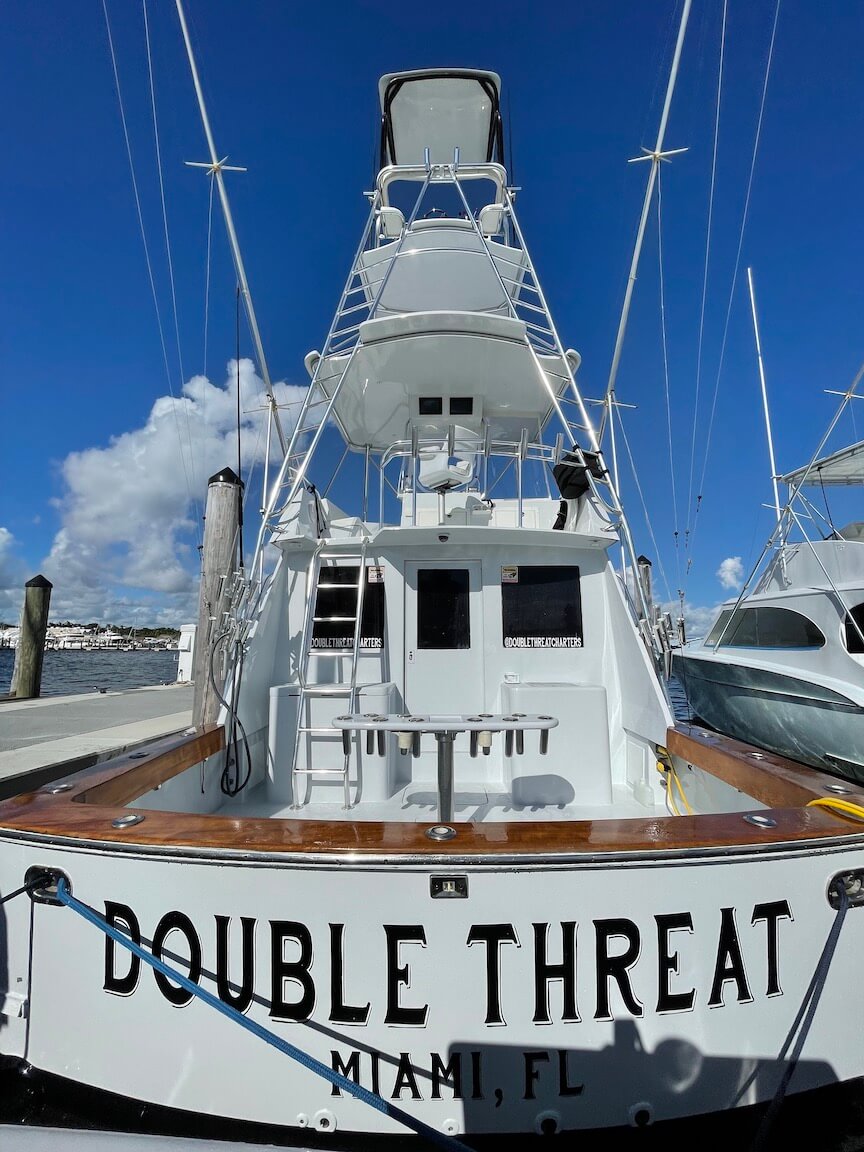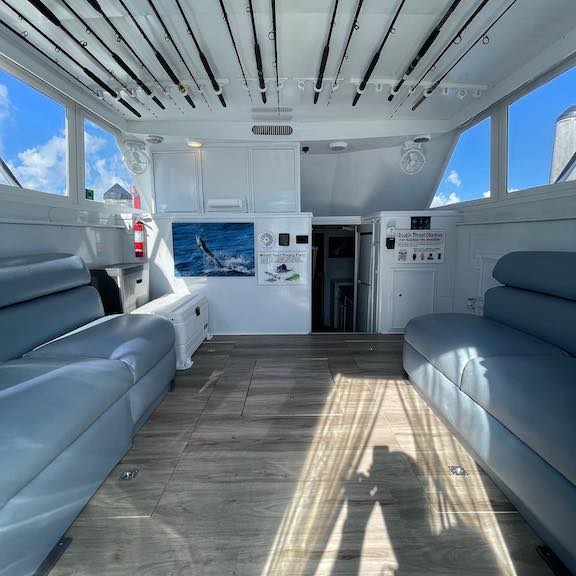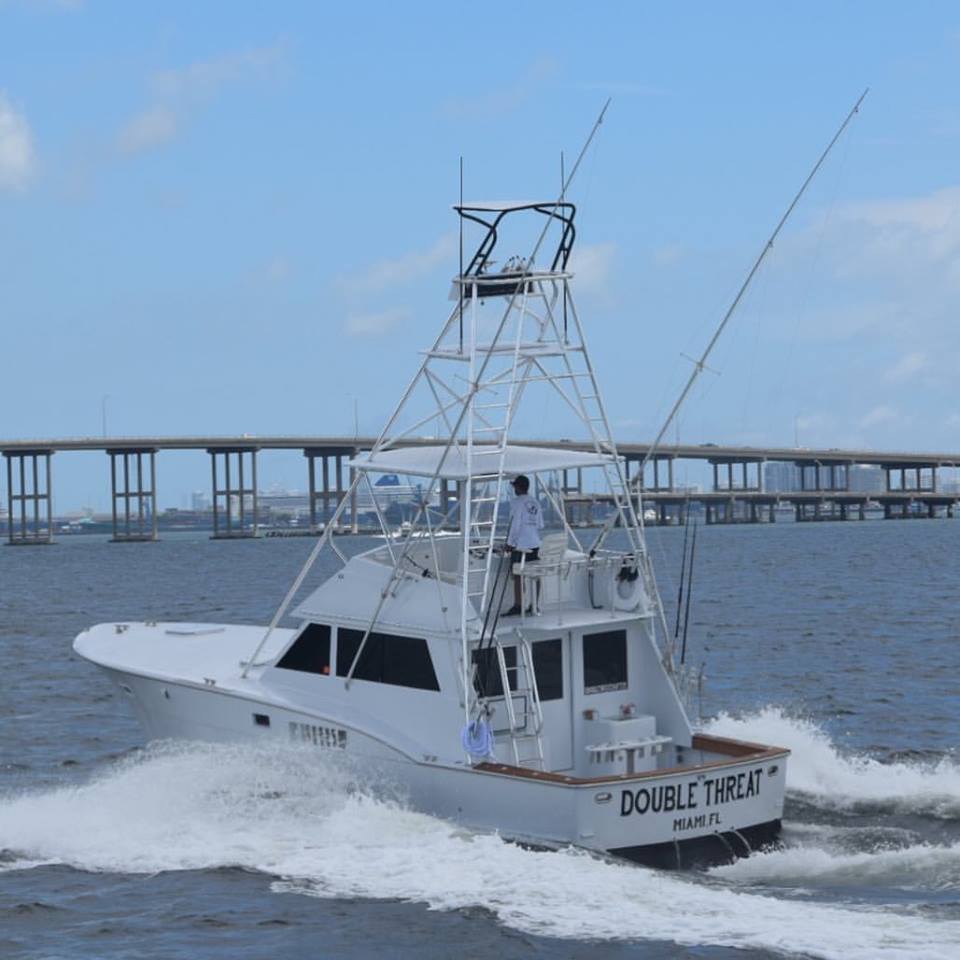 Half Day Miami Fishing Charter - $1200 (4-5 Hours)
Great if you have a tight schedule
Better for Inexperienced Anglers
Better for Young Anglers and Elderly Customers
Better option if motion sickness is a possibility
This charter offers less time on the water but there is still ample opportunity to land the fish of a lifetime on any given trip. Half days can be action packed from October- June with most of our fishing done 3-5 miles from shore. The only time half days are a bit tough is during the dead of summer for guests who are specifically looking to target dolphin. Target species during half days include but aren't limited to sailfish, kingfish, tuna, cobia, amberjack, sharks, and more. Half days are typically reserved for morning, afternoon, and evening time slots. Our booking system is optimized to give you the best fishing slots year round.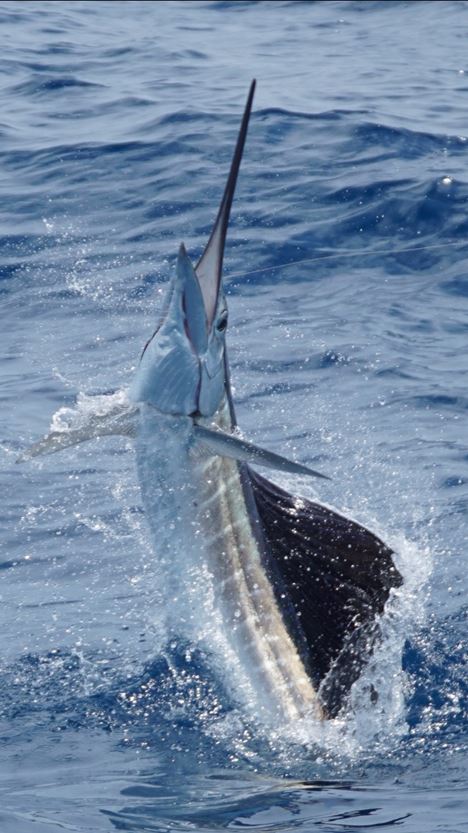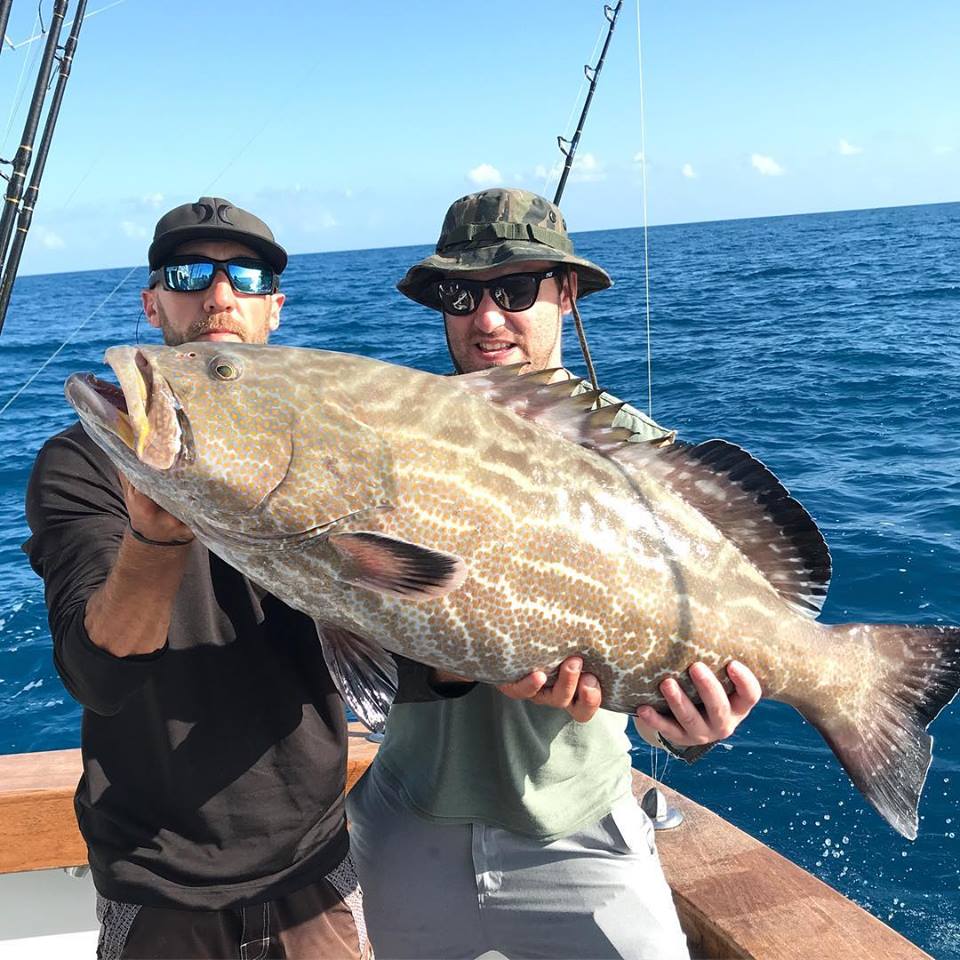 3/4 Day Miami Fishing Charter- $1,600 (6-7 Hours)
Our Most Popular Trip
Great for any experience level
Extra Fishing Time
Good option Year Round
Usually beginning around, 7 am or 1 pm, our 3/4 day fishing charter is a healthy medium for groups that want to spend a little extra time on the water. 3/4 day charters allow us to travel a bit further and put in extra time while targeting a variety of species. With this amount of time we can target a variety of species catered to their seasonal migrations, daily conditions, and your preference.
Full Day Miami Fishing Charter- $2,000 (8-9 Hours)
Better for Experienced Anglers
Best bet for dolphin fishing during summer
Usually beginning at 7 am, our full day fishing charter ensures the greatest value among all of our fishing trips. These trips maximize the captain and crew's ability to locate where the fish are biting, and allow you to catch many different species using a variety of techniques. Oftentimes different species are active at different times of the day. It is not uncommon to successfully target sailfish in the morning, dolphin midday, and tuna in the afternoon. We are flexible while targeting a variety of species to accommodate seasonal migrations, daily conditions, and your preference. Regardless of when you decide to book, a full day offshore charter can mean action with any number of species including sailfish, dolphin, tuna, marlin, kingfish, wahoo, snapper, cobia, grouper, and more.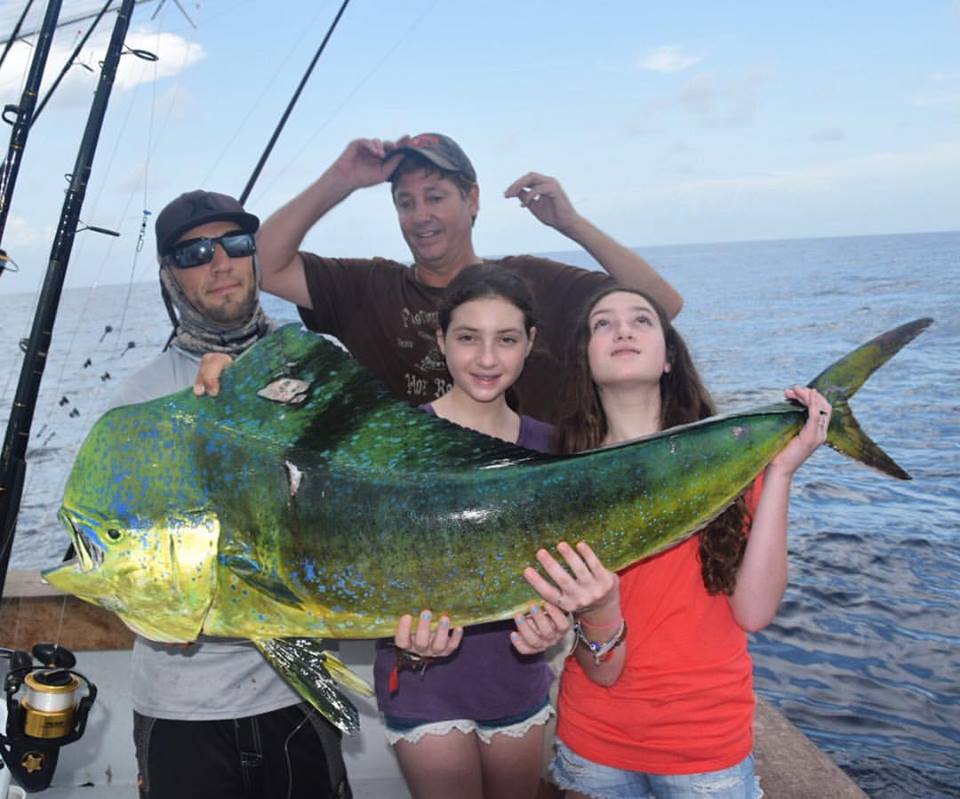 Extended Full Day- $2400 (10-11 hours)
Our extended full day package offers diehard anglers the opportunity to do some binge fishing. From November to May, we typically kite fish hard while looking to put up numbers on sailfish and enjoy the by-catch that accompanies this technique. During the summer, we usually go for our limit of dolphin and take a few drops for broadbill swordfish. This trip is a great option year round for hardcore anglers to get their fix. Expect a tournament style atmosphere as we work toward filling the box and putting flags on the outrigger.
* Feel free to inquire about tournament rates!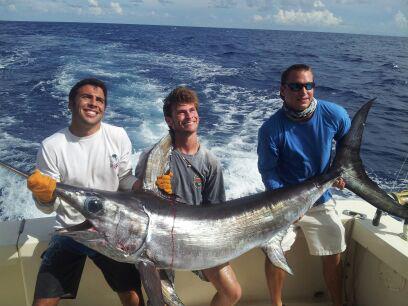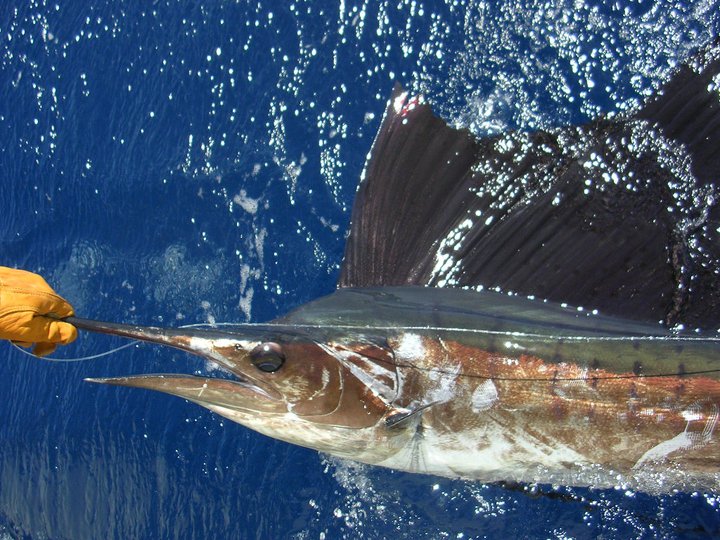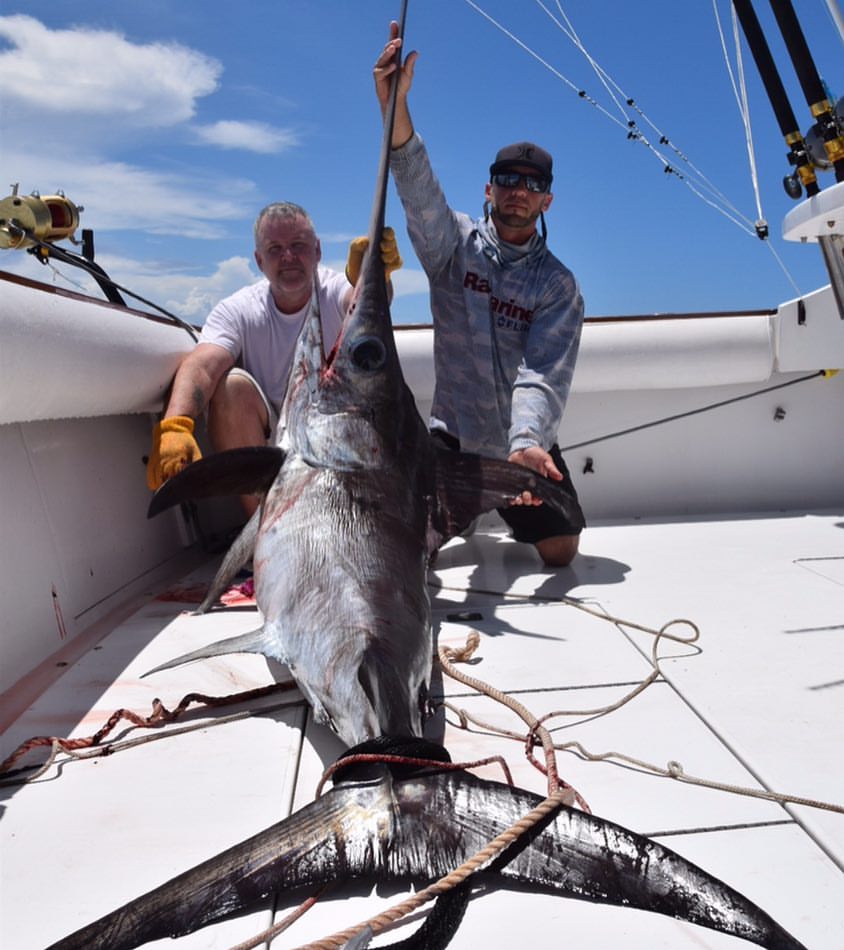 Swordfishing Charters- $2,600 (10-11 hours)
Hands down the most challenging species of fish to catch offshore Miami is the broadbill swordfish. Oppressive runs, impressive jumps, and extended fight times are all expected from a healthy swordfish. Often reaching weights of over 300 pounds, a Miami swordfish serves as the pinnacle of all angling accomplishments. Methods for catching swordfish vary based on the time of day. By day swordfish lurk in deeper water, and a bait must be sent nearly 1800' below to the waiting predators. The rules change when the sun goes down though. At night the swordfish rise from the depths to feed near the surface. our crew takes advantage of this opportunity by setting six lines at varying depths in hopes of intercepting a hungry broadbill. Sword fishing trips aboard the Double Threat guarantee a safe and exciting experience whether you choose to fish during the day or night (or both). And when that broadbill does eat a bait, you're in for a battle you'll never forget. Swordfishing charters are about 10 hours long to accommodate the extra distance to the fishing grounds. Book today and experience big game fishing at its finest. Check out some of our swordfishing success here: Miami Swordfish Charter You should also Read more about Swordfish