African Pompano
African Pompano
Peak Season: November-February
Best Charter:Full Day Offshore
Best Technique: Fishing the Wrecks
Best Bait: Smaller Live baits, Jigs
Table Fare: Excellent
African Pompano Fishing
Alongside Amberjack on the reefs and wrecks are African pompano. Not to be confused with their smaller inshore cousins, these African Pompano can reach weights of over 30 pounds, and put up incredible fights on even heavy tackle considering their size and weight. African Pompano are round, silvery fish that are attracted to flashy objects and movement. They inhabit the middle to bottom of the water column and often intercept jigs meant for jacks and Snapper.
Where to Catch African Pompano
African Pompano love structure and are surprisingly versatile in the depths they inhabit. We catch them as deep as 250 while wreck fishing and as shallow as 30 feet on the reef. They prefer coastal waters, and are most common in temperature ranges between 65-80 degrees Farenheit. They are caught in tropical waters on both the east and west coasts of the US, as well as Africa, Asia and Australia. Pompano are schooling fish, so multiple hookups aren't uncommon if baits are fished in similar vicinities. When fishing shallower wrecks or reef fishing, live pilchards or cigar minnows work great when fished on one ounce jig heads or with an inline sinker.
African Pompano can be reliably targeted during certain times of year in the right areas. Shallow wrecks during winter time can be relatively reliable but these fish are still tough to catch with consistency. When fishing shallow wrecks, live chumming can be extremely effective. We always cover the water column when targeting Africans and prefer using spinning tackle on the reef. These fish can definitely be leader shy so it helps to avoid anything over 50lb fluorocarbon for leader. Always work for multiple hookups and cast behind the fish you hook when it gets closer to the boat. It is not uncommon to have 1 or more fish following the one you hooked. Having a pitch rod ready is clutch in this scenario.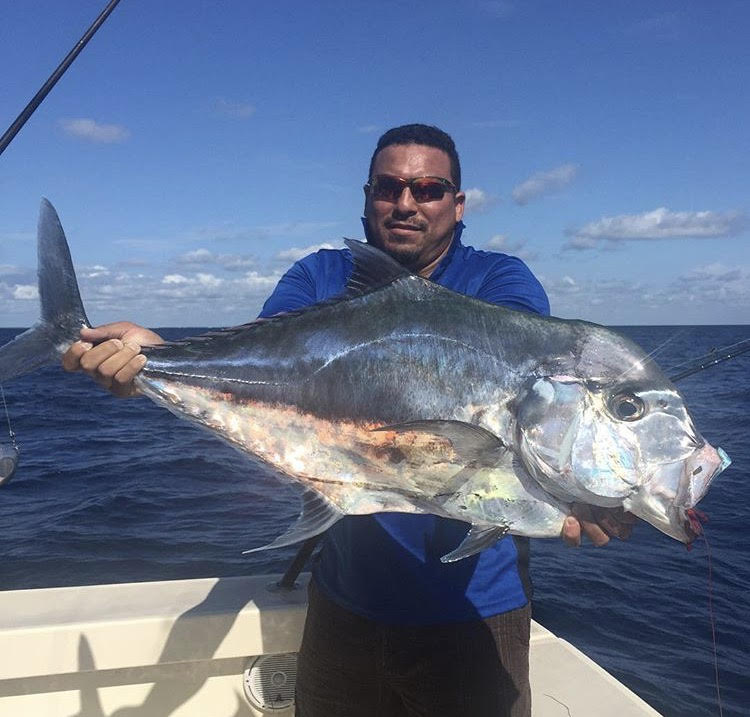 African Pompano Tablefare
Although they are a bit awkward to prepare, the meat they provide is thick, white, and delicious. Like most reef fish, larger specimens always have a chance of carrying ciguatera poisoning. This is more common in the Bahamas but either way, consider yourselves warned. With how hard African pompano fight and how delicious their meat is, we African pompano one of the most underrated game fish species in Miami.