Blackfin Tuna
Blackfin Tuna
Peak Season: September- November, April- July
Best Charter: Evening Blackfin Tuna
Best Technique: Live Chumming
Best Bait: Pilchards, Spanish Sardines
Table Fare: Sushi Quality
Tuna Fishing Florida
In the spring, schools of large Blackfin Tuna migrate along Miami's coast as they head north past Florida. Tuna fishing in Miami is typically a live bait fishery, where the friskiest of livies are used to fool the sharp-eyed fish into biting. Deploying live baits off of kites and in varying depths in the water column with 30lb fluorocarbon leaders and 4/0 light-wire circle hooks can result in surefire action. Early mornings can offer a decent bite but nothing beats tuna fishing in the evening. We focus our efforts on the edge from 100'-250' and look for decent current.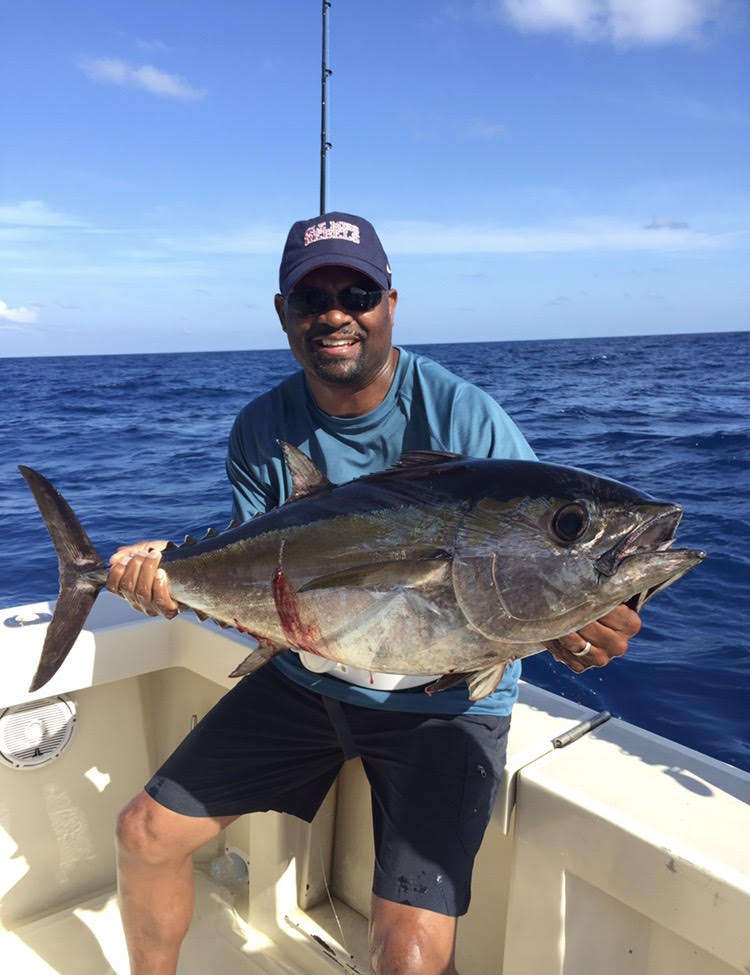 Blackfin Tuna Fishing Charters
Tuna fishing charters do have their issues though. Bonito are just as quick to gorge themselves on the live baits and live chum meant for blackfin tuna. Kingfish and sailfish also get in on the action, making tuna fishing an action packed endeavor. Big blackfin tuna are hearty fighters, taking the battle deep in the water column. Fight times depend largely on the tackle—light tackle being much more fun, but equating to longer fight times. If we're aware that tuna are in the area, we go as light as possible with 30lb Seaguar Fluorocarbon leaders and 4/0 Owner Mutu Light wire circle hooks. These hooks are incredibly sharp and quickly latch onto tuna that engulf live baits at blistering speeds. Football sized tuna in the 3-8 pound range are year round residents of Miami and are always a possibility on our deep sea fishing charters. Although they aren't as exciting as the big boys that come through in spring, these fish offer great light tackle action. We target these fish from 150'-500' with small feathers while trolling offshore South Florida. Tuna have firm pink meat that tastes delicious plain, seared, or rolled up in sushi. Expect no shortage of meat to take home (even sashimi at the dock) if we run into tuna during one of our Miami fishing charters.