Log
Mahi Mahi Fishing in Miami
Miami, Florida is a popular vacation spot for tourists worldwide. From its pristine beaches to its bustling nightlife, Miami has something to offer everyone. However, for fishing enthusiasts, Miami is the ultimate destination for Mahi Mahi fishing. The summer months are the prime time for Mahi Mahi fishing in Miami, and there's no better way to experience it than on the Double Threat during June through October.
We target them by trolling or casting to them directly. Trolling is one of the most popular ways to catch Mahi Mahi fish. This method involves dragging lures or baits behind a moving boat at varying speeds to attract fish. When trolling for Mahi Mahi, the most effective lures are skirted trolling lures in bright colors like pink, green, or yellow. Mahi Mahi are attracted to these colors and will strike the lure with great force. When trolling for Mahi Mahi, it's important to vary your speed and depth to mimic the fish's natural prey. Mahi Mahi tend to swim near the surface, so it's best to keep the lures within a few feet of the water's surface. When a Mahi Mahi strikes the lure, it will often leap out of the water, providing a thrilling experience for the angler.
Casting is another popular way to catch Mahi Mahi. This method involves casting lures or live bait to a school of Mahi Mahi and retrieving it at varying speeds to mimic the fish's natural prey. The best lures to use when casting for Mahi Mahi are topwater lures or jigs in bright colors. These lures will attract the fish's attention and provoke a strike. When casting for Mahi Mahi, it's important to look for signs of fish activity, such as birds diving or fish jumping out of the water. Mahi Mahi often swim in large schools near the surface, so if you see one fish, there are likely more nearby. Once you locate a school of Mahi Mahi, cast your lure or live bait into the school and retrieve it quickly to mimic the fish's natural prey. Read more about summer mahi
Mahi Mahi is a versatile fish that can be cooked in a variety of ways. Whether grilled, baked, or fried, Mahi Mahi always has a unique flavor that pairs well with a variety of seasonings and ingredients. Grilling is one of the most popular methods of cooking Mahi Mahi. Season with lemon, garlic, and a variety of herbs and spices, and grill the fish for a few minutes on each side. The result is a delicious, juicy fish with a crispy exterior. Baking is another popular option, especially for those who prefer a healthier option. Coat the fish with olive oil and seasonings, and bake in the oven for about 15 minutes at 400°F. Finally, frying is a classic preparation that gives the fish a crispy exterior. Dip the fish in a batter made with flour, egg, and milk, and fry until golden brown.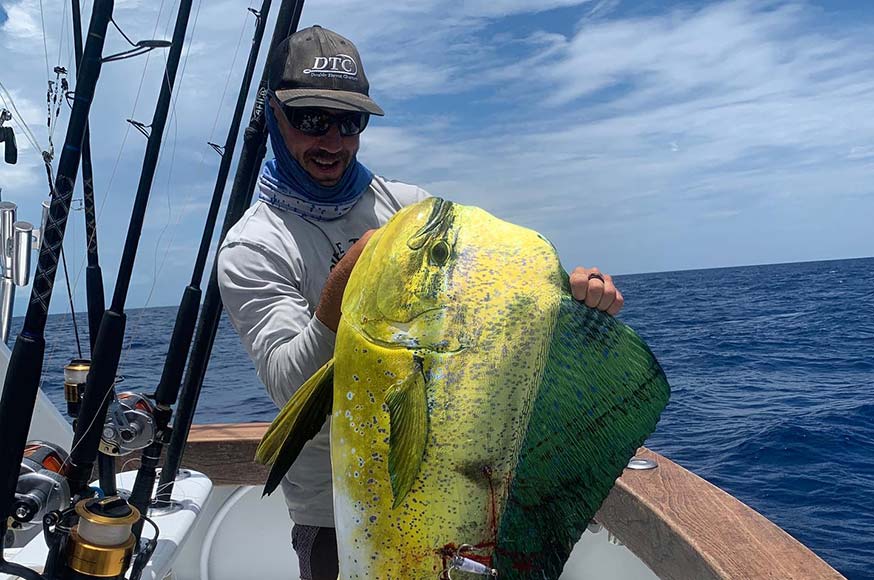 If you're not in the mood to cook your own Mahi Mahi, there are plenty of restaurants in Miami that offer this delicious fish on their menu. Monty's Raw Bar in Coconut Grove is a popular option for those looking for a "cook your catch" experience. Located in the heart of Coconut Grove, Monty's offers fresh seafood and a relaxed, waterfront atmosphere. Guests can bring their fresh catch to the restaurant, and the chefs will prepare it to order. The menu also features a variety of Mahi Mahi dishes, including blackened Mahi Mahi tacos, Mahi Mahi sliders, and grilled Mahi Mahi served with mango salsa. We prefer to bring in our own Mahi catch, and let Monty's cook it half blackened, half fried. It's delicious paired with a mango chutney! Monty's is more than just a restaurant, it's a Coconut Grove institution. Founded in 1969, Monty's has been a beloved spot for locals and tourists alike for over 50 years. The restaurant's laid-back vibe and beautiful waterfront location make it the perfect spot to have a meal and some beverages after a day on the water.
The Double Threat is located in Coconut Grove, making it easy to combine a fishing trip with a visit to Monty's or any of the other restaurants and bars in the area. Coconut Grove is known for its restaurants, parks, historic buildings, and unique boutiques, making it a popular destination for visitors to Miami. The area's waterfront location also means that there are plenty of activities to enjoy on the water, including paddleboarding, kayaking, and jet skiing.
The Double Threat is in a prime location for Mahi Mahi fishing during the summer months. We offer a top-notch fishing experience, led by experienced captains and equipped with all the right equipment. Whether you're an experienced angler or a novice, the Double Threat offers a memorable experience that's perfect for anyone looking to catch some Mahi Mahi. Additionally, the area's beautiful atmosphere, restaurants like Monty's make Coconut Grove an ideal destination for tourists. Book your trip to Miami for the summer Mahi, Miami experience.
---
‹ Back