Log
Daytime Swordfishing Equipment
Revolutionizing the Technique
Just because we discovered that swordfish can be targeted during the day doesn't mean it is an easy task. Daytime swordfishing involves the presentation of a bait 1,000-2,000 feet below the surface. In most regions, this includes a wall of current you have to penetrate if you hope to get into the strike zone. With the advent of new equipment, specifically, super braid and modern electric reels, came the advancement of daytime swordfishing as we know it. Braided line has impressive breaking strength and narrow diameter which allows it to cut through the water column and makes fishing these depths much more tangible. Electric reels allow you to retrieve your bait quickly with up to 12 lbs of lead which is a necessity, not a luxury when you are looking to efficiently work the strike zone.
Getting Started with Daytime Swordfishing
If you are looking to get started with daytime swordfishing, it's important to understand that this is one of the most expensive styles of fishing you can possibly embark on. It's important to charter with an expert on at least 1 or 2 occasions before you even think about trying this on your own. You will save thousands of dollars by leaning on their insight rather than relying on your own learning curve. With every mistake while swordfishing comes the potential loss of a fish of a lifetime along with hundreds of dollars of terminal gear. You can read more about swordfish here: https://www.fishmiamicharters.com/fish-species/swordfish
Daytime Swordfishing Equipment
You'll quite a bit of specialized equipment if you are hoping to get started with swordfishing. This includes a 50-130lb class electric reel, a purpose-built swordfish rod with good backbone and a soft tip, 1500 yards of 65 or 80 lb braid, a 150-foot wind on, some stick leads ranging from 6-12 pounds, 300 lb leader, some large J Hooks, a few lights, and your bait. In addition, you'll need a harpoon and some rope for the end game, a block and tackle if you are fishing with fewer than 3 people, a fish bag to keep the fish out of the sun, some gaffs, and a meat hook. Sure, some of these accessories are "optional" but if you hope to close on 200+ pound fish with any kind of consistency, they are more of a requirement.
Daytime Swordfish Electric Reels
There are quite a few reels on the market for swordfishing but only a few that truly stand out. The first is made by Lindgren Pittman and the second by Hooker Electric.
LP makes purpose-built, commercial-grade deep drop reels with a host of features that come in handy while fishing in deep water for big fish.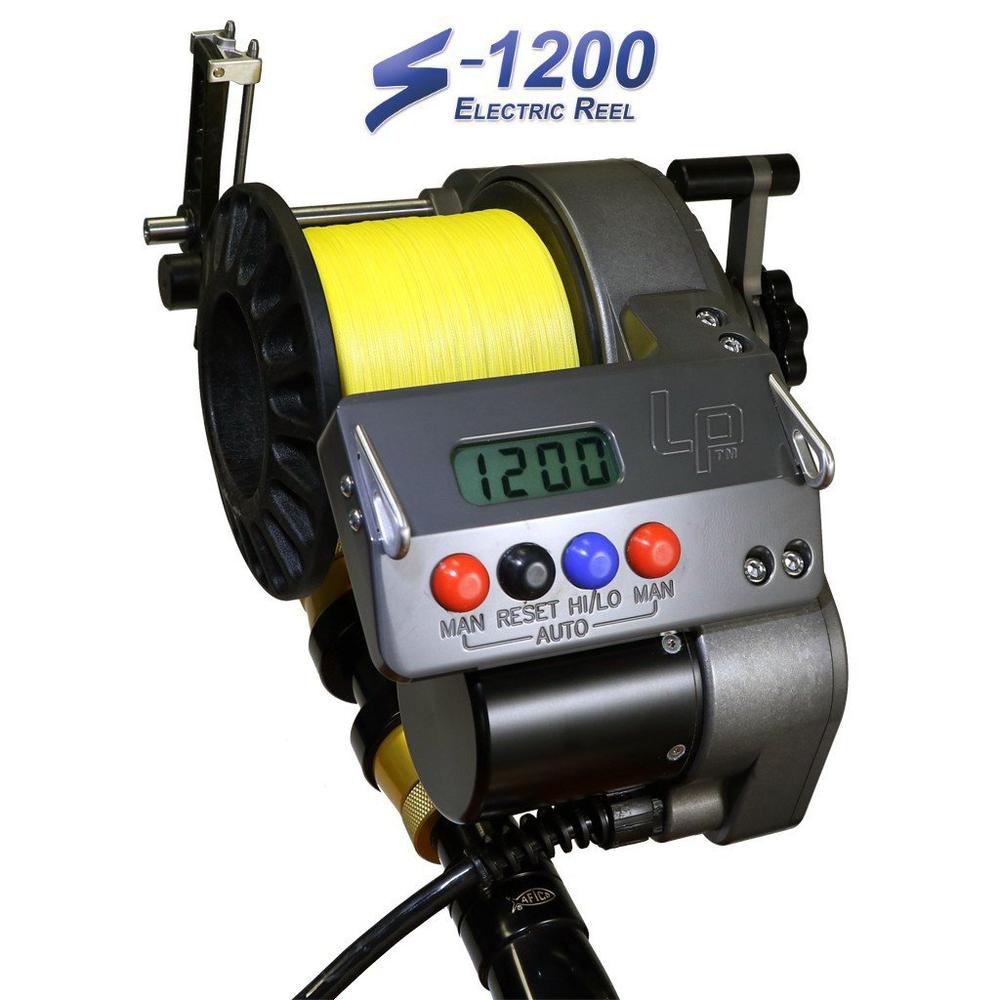 Standard features on an LP include a digital line counter (that literally never misses a beat), a gear-driven level wind, auto stop, interchangeable high capacity spools, 0-100lb of drag capability, and more.
LP makes a 12-volt and 24-volt reel that is about 50% faster. The 12-volt version has two speeds, slow retrieve, and max speed, while the 24 volt has variable speed capabilities.
The interchangeable spools are an awesome feature because they allow you to switch techniques at a moment's notice. You can use the same reel for deep dropping, dredge fishing, grouper trolling, and more. Having a spare spool can also save time if you break off and want to skip the rigging.
The LP is quiet, has a robust build, large buttons, easy to use drag lever, and is designed for continuous use. This is by far the most reliable, durable, efficient electric reel on the market and our choice for swordfishing.
Hooker Electric Reels
Hooker electric is an additional option, especially if you are looking for something that has a manual option. This is a popular reel among charter boats because it is an electric/manual hybrid. In addition, it can be paired on your favorite conventional reels, namely Penn Internationals or Tiagra.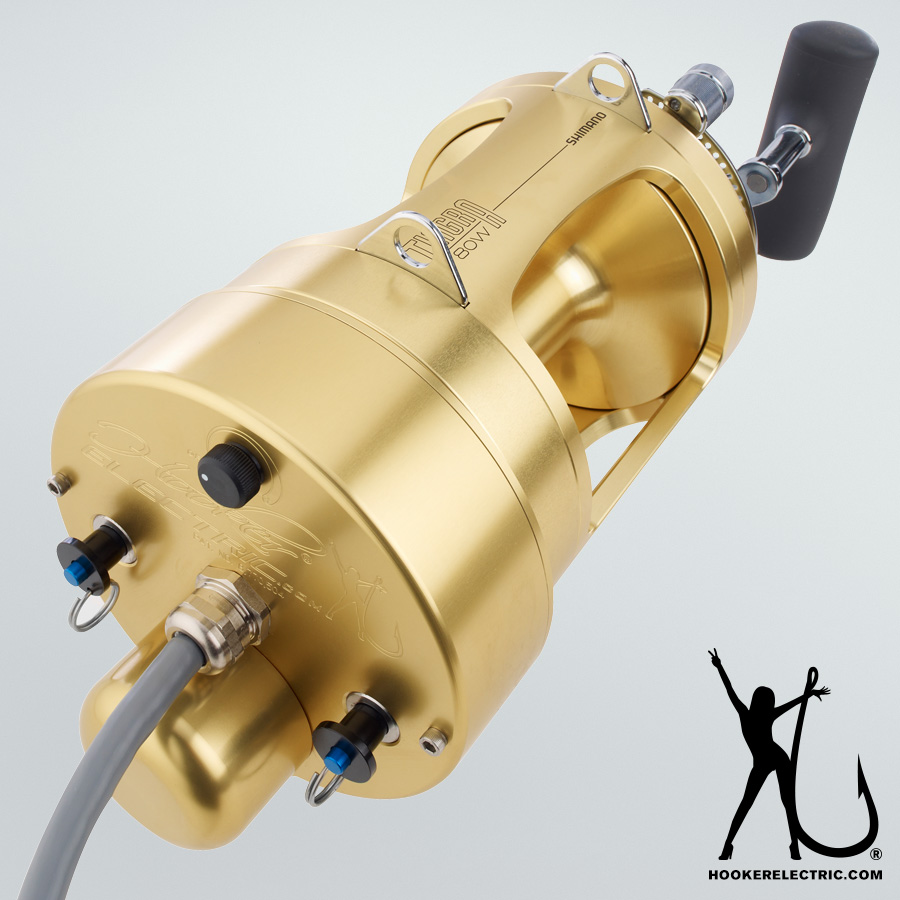 For swordfishing, you should specifically consider an 80w. Some people in South Florida use the 130 and some in the Gulf go as light as a 50w for lighter current applications. Overall, we believe the 80w is the most versatile especially when fishing deeper than 1500 feet or dealing with current over 2 knots.
Some of the newest hooker electric 80 wide reels come with auto stop features, digital line counters, level winds, variable speed settings, and even Bluetooth remote technology. These are fast reels but I'm not sure who can claim to be the fastest with the newer high-speed 24 volt LP. Feel free to learn more about Hooker Electric reels here: https://www.fishmiamicharters.com/log/product-review-hooker-electric-reels
We use an LP for our tip rod and a Hooker Electric 80w for our buoy rod.
Daytime Swordfish Rods
For daytime swordfishing, we like to use an 80-130lb blanks with a bent but and a Winthrop roller tip. These rods should have a light tip for great action so you can easily detect a bite. Regardless of the builder, go with a longer rod as this leaves more room for error while fishing.
RJ Boyle makes a great rod, as does Barrett Rods, Connley, and more. We recommend RJ Boyle rods because they have different blanks for different styles of fishing depending on your region.
Daytime Swordfishing Line
If you are looking to get into swordfishing, you will need to stock up on braid and a lot of it. Many people prefer 65lb braid as it has the smallest diameter you can get away with while still possessing the breaking strength needed to get a big fish to the boat. We believe 80lb braid is ideal in most places as it gives you a bit more room for error.
The best brands for braided lines for swordfishing include Diamond fishing line and Suffix. Either of these options is excellent if you are looking for a quality line. For our hooker electric, we like to spool the reel with a few hundred yards of 80 lb monofilament filler, then finish it off with 1500 yards of 80 lb braid. If we break off, we strip it down and refill it.
For the LP, you can use some mono backing then top it off with 3500 yards of braid, or simply a 1500 yard section, especially if you have multiple spools. There are quite a few ways to manage your braid just make sure you always have the freshest line possible and you are ready if you break off because this is a reality that everyone faces while swording.
Daytime Swordfishing Windons
Once you have an electric reel stacked with braid, your next step is to top off your braid with a 150-foot wind on. If you are looking for a bit of stealth, you can go as light as 150lb for the wind on but we prefer 250lb, especially during the end game (when you have a harpoon in the fish and it twists up with the wind on, you'll thank us).
R&R tackle makes a great wind on and they also make buoy sections which we'll talk about later.
Terminal Gear for Swordfish
When it comes to terminal gear, Diamond makes high-quality ball-bearing swivels. Do NOT use a snap swivel to connect your wind to your leader. We like to use a 300-500lb ball bearing swivel.
When it comes to the leader, 300lb will work and everything should be secured using crimps. We have never lost a sword because it got through a 300lb leader so I wouldn't worry about that. If you want to blow money, you can use fluorocarbon leader as light as 200lb but I don't think it makes much of a difference.
For lights, use a diamond-shaped, water-activated strobe. We like to put 2 lights on the wind on, one about 15 feet away and one 30 feet away. We use a blue or green light close to the bait and a white light further away.
Best Hooks for Swordfishing
For swordfish hooks, J-hooks work much better than circles. Regardless of brand, you'll want a 9/0, 10/0, or 11/0 hook with a southern tuna style bend. We like to use Pakula Dojo Extra Strength hooks with a size 35 for foldovers and a size 40 for belly baits. 10/0 Mustad 7691S works great as well. For dink baits you can go as small as a 9/0 and for big belly baits, as heavy as an 11/0.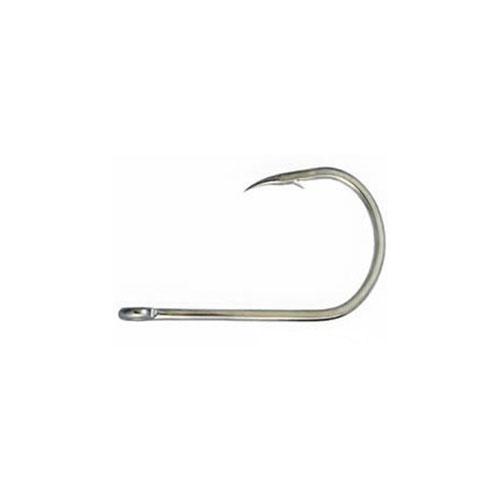 Lead and Longline Clips
Some people cheap out and use rebar or other creative styles of weight. This is fine if you are doing a break-away rig but we prefer using traditional lead. If you have 1.5 knots or less of current, 8 lbs is fine. For 2-3 knots of current, 10 lb usually works great. For 3+ knots of current, you may need a 12lber depending on how thick the current is and how much you are scoping between drops.
Longline clips are a must for securing the lead to the floss mark on the wind on. You'll be doing this over and over throughout the day and you need to be able to quickly remove the lead when you are fighting a fish.
Harpoons and Gaffs
For harpoons, Hooker Electric makes a great dart. RJ Boyle also makes a good harpoon. Your harpoon should be 8-12 feet in length and pretty heavy so it throws true and sinks quickly.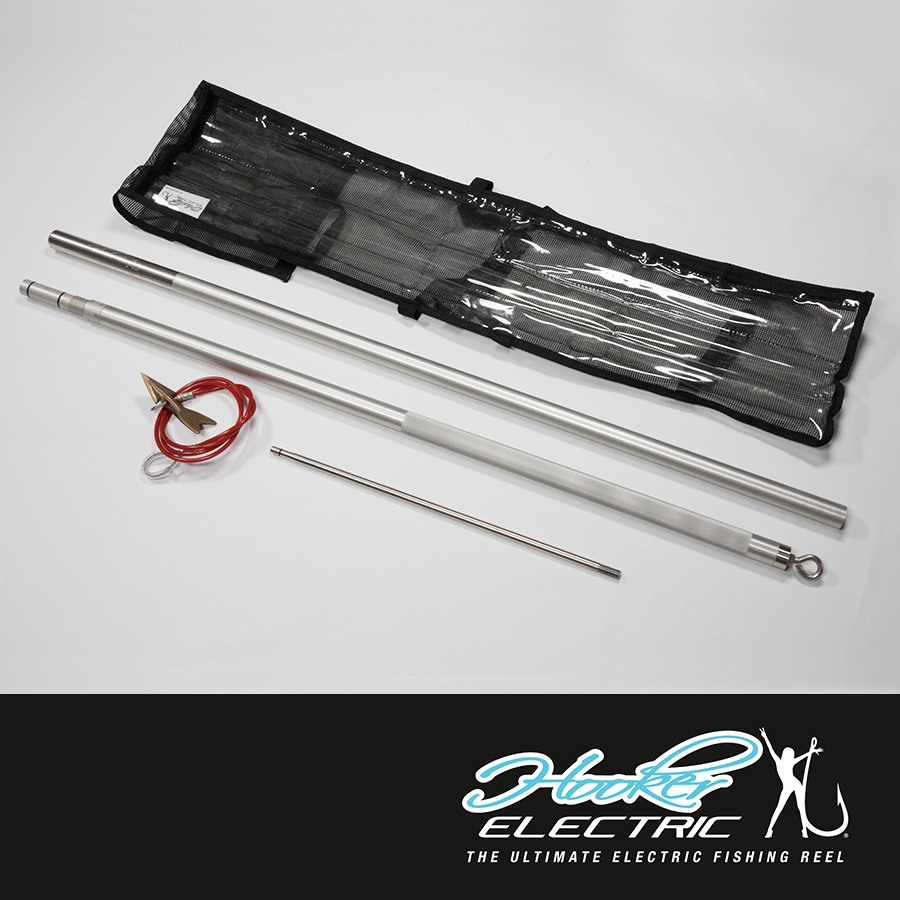 Your harpoon should be paired with a stainless dart and bail of line. We have 1,000 feet of line in a basket that we fasten to our harpoon. For big fish, we always keep our second harpoon and basket ready (yes, we have 2 harpoons, and yes, you may need them). We once hooked a 460lb sword that came straight to the surface. We harpooned it in the first 10 minutes before it took off to the bottom. The hook pulled and we fought the fish on the dart line for 4 hours before sinking a second harpoon in it.
For gaffs, AFTCO makes solid equipment. You should have a gaff with a 4-inch or 5-inch gaff that is at least 8 feet long. 2-3 gaffs are ideal. We also carry a flying gaff but this is really for mako sharks. Usually, a harpoon or 2 along with a straight gaff or 2 is enough to subdue a big sword.
Fish Bag
Get a velcro, insulated fish bag that folds up and helps keep the fish covered. A 90-inch bag should suffice in most cases.
If you want to get down and fish with us, feel free to book a swordfish charter here: https://www.fishmiamicharters.com/offshore-fishing
---
‹ Back