Log
February Fishing in Miami
Diving in The Sailfish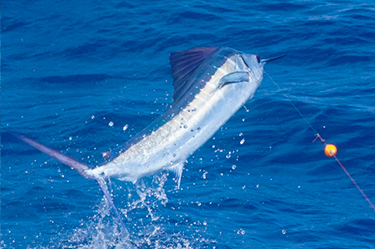 After the fiery start to the sailfish season, the sails have started to heat up even more in South Florida off of Miami. This past weekend we have had 3+ sailfish on each trip with a 14 sailfish day 2 weeks ago.
Besides the Sailfish on the kites, there has not been as many bites from other species such as Mahi or Blackfin Tuna, but it is possible we might see this start to shift as we approach March. While trolling in 180 feet, the King Fish have been biting well with a few landed on the last few weeks of trips, but kite fishing has been our main focus with the high winds making perfect conditions.
Over the past few weeks, we have noticed that something has been different with our baits in the pen. They have been circling and acting strangely causing us to have to catch bait more frequently, but luckily the bait has been there making our bait stops short and still opening the door to catch huge sails on fresh bait.
Our schedule for this upcoming month is booking up fast. Feel free to reach out if you have any questions, or book online using our booking system. Keep in mind that March and April are our busiest few months of the year, so now is a good time to consider getting your dates locked in.
---
‹ Back