Log
Dolphin Fishing Miami
Dolphin Fishing Charters Miami
Summertime means mahi-mayhem in Miami. Dolphin go by a number of names just to make sure people are adequately confused. Dolphin are actually dolphin-fish. These fish grow quickly and congregate in large schools offshore especially during the summer. To be clear, we are not out there trying to kill Flipper. Dolphin-fish are fish, not porpoises. We do not kill mammals. The scientific name for dolphin is Coryphaena hippurus. The Hawaiian name for dolphin is mahi-mahi which means "very strong." In Latin America, these fish are often referred to as Dorado. In the southeast United States, we usually call them dolphin or mahi. Dolphin Fishing off Miami is a year round affair but summer is definitely the best time. Below you'll see a picture of a fine specimen.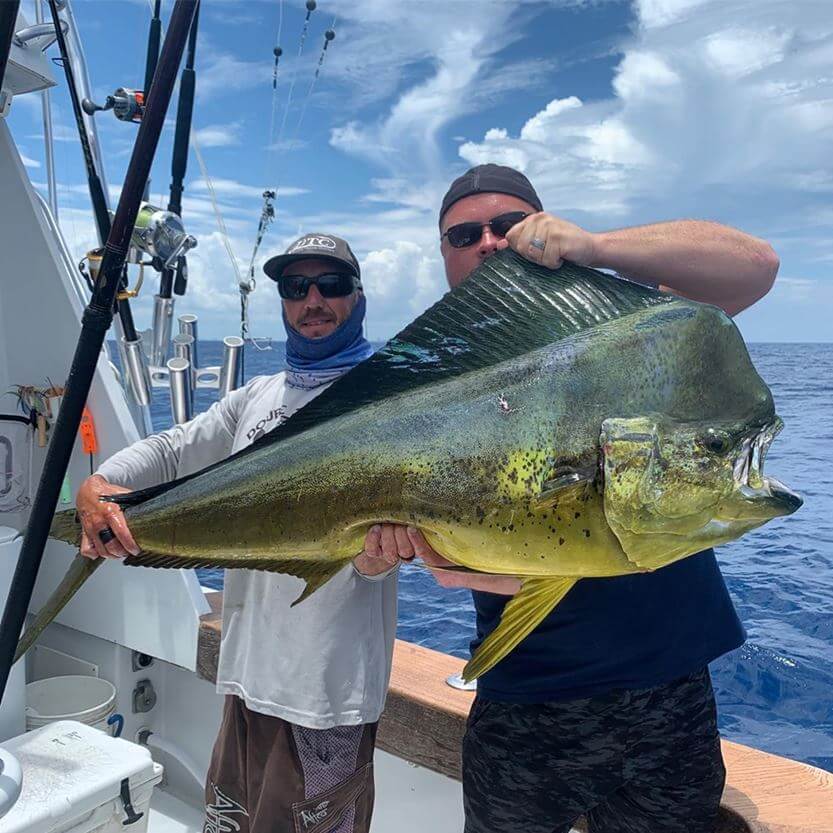 Difference between Bull and Cow Dolphin
Mahi-mahi are one one of the few species of fish that have distinct characteristics based on gender. Male dolphin have square heads like the one pictured above. Cows on the contrary have a more subtle head shape. Male and female mahi-mahi can both grow to 50+ pounds but large bull mahi are typically the most coveted. Bull dolphin can reach 100lbs but any fish over 20 lbs is a trophy. Below you'll see a pic of a nice "cow dolphin" (female). Notice the different head shape.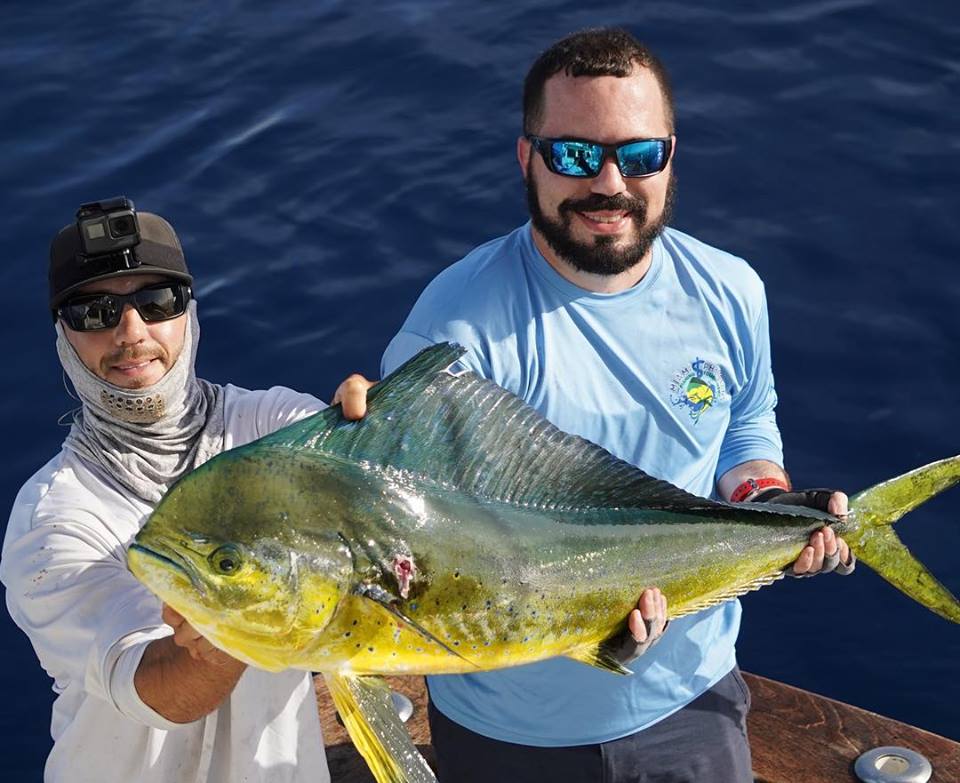 Dolphin Fishing Techniques
Dolphin are schooling fish that grow very quickly and eat almost everything in their path. Dolphin prefer warm deep water and are most comfortable well offshore in the Gulf Stream. They are always on the prowl looking for baitfish and feed primarily on flying fish as well as forage fish such as jacks under seaweed. Large dolphin are even known to eat smaller dolphin. They aren't very picky for the most part but contrary to popular belief, they aren't always so easy to target. They can be weary fish and often run from the boat and only eat enticing live baits on light tackle.
Finding Dolphin Offshore
Finding an area with a high probability that you'll encounter dolphin takes time, patience, and involves covering ground. Dolphin like structure which can take the form of weed lines, floating debris, current rips, and more. Structure holds bait and provides shelter from predators effectively creating their own ecosystems. In addition to dolphin, debris often hold baitfish, tripletail, wahoo, jacks, trigger fish, and more.
It's important to always have a livewell full of live bait and at least 4 rods ready while dolphin fishing. We usually troll 4-6 lines but have 6-10 spinning rods ready when we hit a school. Mahi are schooling fish and when we run into a pack, we like to hook at least 4 fish before we begin boating, measuring, and boxing fish. Sometimes we hook as many as 8 at a time while baiting large schools. Leaving a few fish in the water is the best way to keep the school behind the boat. The end result is usually a box full of fish and happy customers. Dolphin have to be at least 20'' to the fork of the tail to be keeper size. The limit on dolphin is 10 per person or 60 per boat.
Dolphin Fishing Charters During Summer
Summer off Miami is the best time of year to catch dolphin. We usually prefer 3/4 or full day trips over half days this time of year because it gives us more time to venture further out and locate schools of dolphin. We usually have calm weather, an abundance of fish, and an eager crew ready to put you on fish. Give us a call if you're interested in capitalizing on this awesome fishery.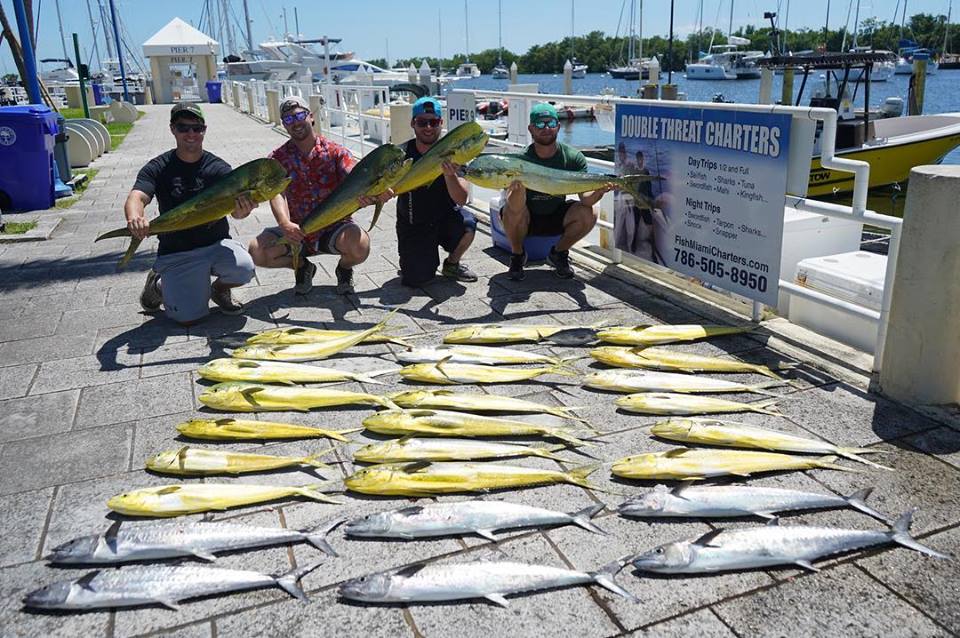 ---
‹ Back