Log
Bottom Fishing in Miami
"Bottom fishing" off is a broad term we use to describe fishing a bait on or near the bottom. Bottom fishing can be done using a variety of methods including wreck fishing, anchoring and chumming, drift fishing, deep dropping, and more. Anchoring is a great technique for targeting yellowtail and mangrove snapper, wreck fishing is best if you're looking for bigger aggressive bottom fish, and drifting can be effective for just about anything. Below we'll outline our top 5 favorite bottom fish, where we catch them, and how.
Number 5- Amberjack
Amberjack are not the most glorious bottom fish but they are definitely the hardest fighting. Amberjack will test the strength of your arms and tackle and can be effectively targeted using live bait and vertical jigs. These fish are often referred to as reef donkeys because of their stubborn fighting as they never seem to give up. They prefer inhabiting deep water structure such as wrecks and reefs in 150-400 feet of water but can also be found roaming between spots. Amberjack are definitely sought after commercially and make for excellent smoked fish and can be great on the barbecue. Amberjack are easily caught during the spring when they are spawning but we have areas where we can target them year round.
Number 4- Cobia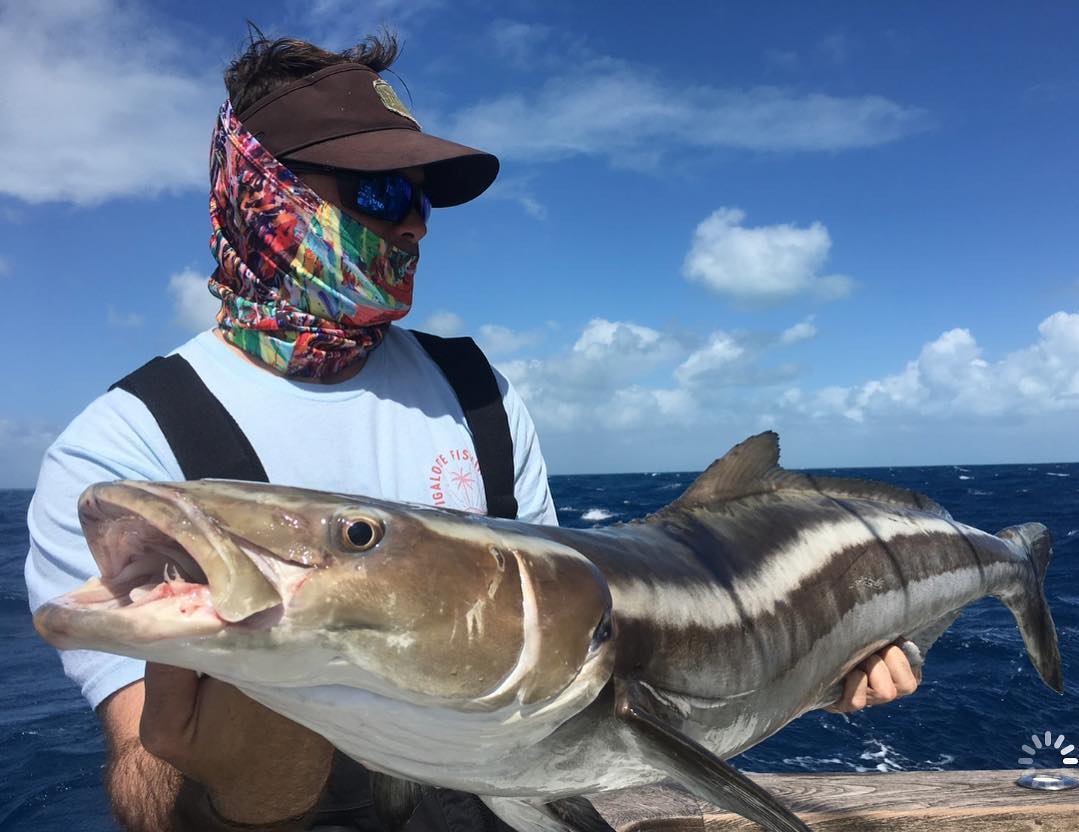 Cobia are one of the most delicious fish we catch off Miami. These fish have a wide range they inhabit and are highly migratory. We catch keeper cobia during fall, winter, and spring with February-May being peak season. Cobia have similar habits of their not-so-tasty relatives (the remora) and can often be found following larger marine species such as southern stingrays, leatherback turtles, whale sharks, bull sharks, and more. During winter we sometime sight fish for cobia as they migrate behind sting rays on the reef but this fishery has gotten tougher in recent years. Regardless, we still catch a fair share of cobia while wreck fishing and drifting while kite fishing.
Number 3- African Pompano
African pompano are a rare but welcome site while bottom fishing off Miami. we can catch these fish year round but December- May seems to be the best time of year. Pompano frequent wrecks in 50-250 feet and can also be found roaming the reef in 20-100 feet of water. These are schooling fish that can sometimes congregate in decent numbers, especially on wrecks in the winter. If you ever hook one, be sure to pitch a live bait right behind it as you never know when you might hook a double header. Africans have delicious white meat and are VERY hard fighting fish. They're definitely one for the bucket list.
Number 2- Black Grouper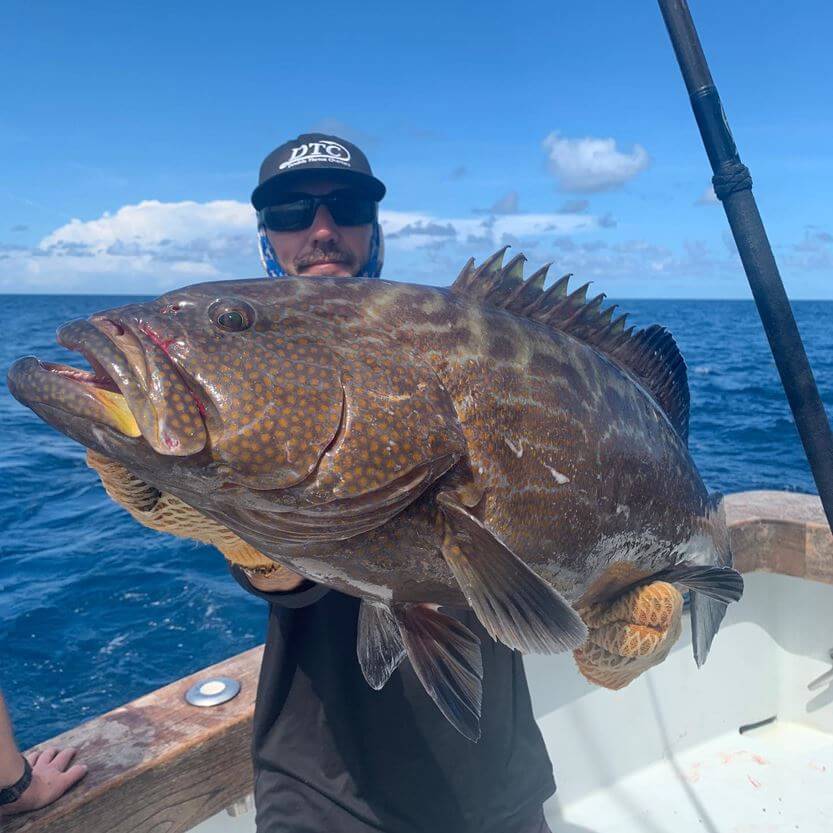 Black grouper are my favorite fish to eat personally. These bottom dwellers are a highly sought after species off Miami along with their relatives: red grouper, gag grouper, etc. We frequently catch black grouper in the 15-30lb range when we target deeper wrecks especially during late spring and early summer. We like to use hearty live baits such as speedos, jacks, pinfish, and more. We use 30-80lb test while targeting black grouper and target high profile wrecks that they frequent. Grouper fishing involves both drag and finesse, especially by the captain. It helps to position the boat just up current of the areas you are trying to fish because grouper will often eat a bait before diving back into structure.
Number 1- Mutton Snapper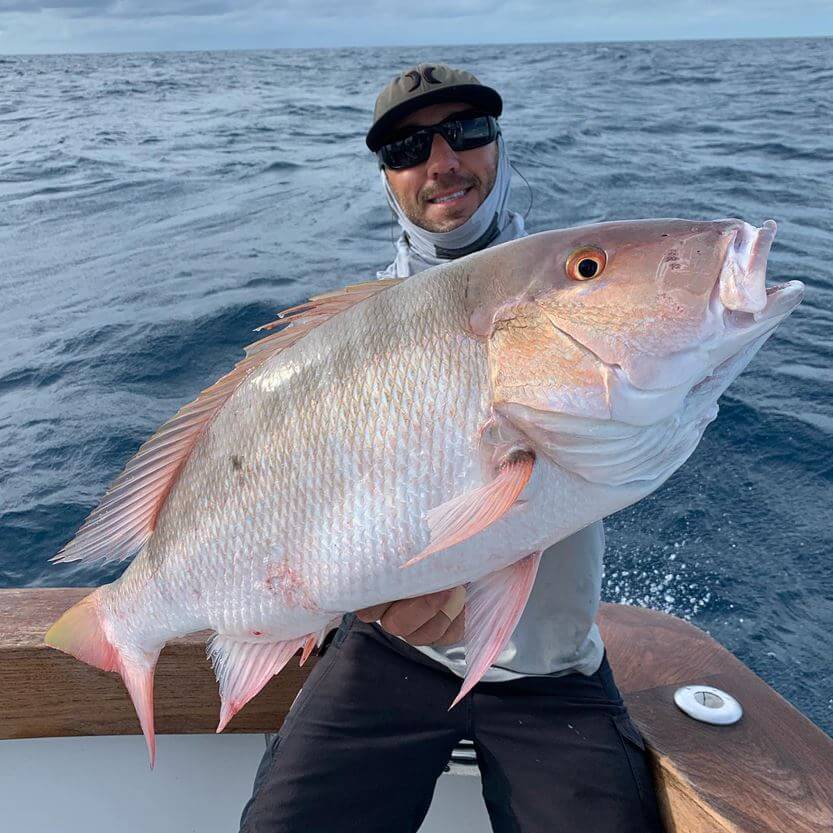 Mutton snapper are definitely our favorite bottom fish. They are beautiful snapper with flakey white meat. Muttons are very weary fish that are most easily caught using long leader and light line. Ballyhoo and pilchards are our favorite bait for muttons. These fish typically range from 5-8 lbs but we have caught them as large as 20. It's hard to beat mutton snapper for table-fare and they are beautiful hard fighting fish. Feel free to read more about them here: https://www.fishmiamicharters.com/fish-species/mutton-snapper
---
‹ Back