Mutton Snapper
Peak Season: May-August

Best Charter:Full Day Offshore
Best Technique: Live Bait on the bottom
Best Bait: 4 inch pilchards
Table Fare: Excellent
Mutton Snapper Fishing
This bright pink snapper is much bigger than its aforementioned family members, and it is much more difficult to fool. Mutton Snapper prowl the offshore reefs and wrecks South of Fowey Light where fishermen drop live baits, jigs, and dead baits in order to target them. They are occasional by catch when chumming for yellowtail and mangroves, and usually sit underneath the chaos grabbing small chunks and pieces that escape to the bottom. Mutton Snapper fishing implies a number of different techniques. Snapper fishing off Miami typically requires dropping a live bait or ballyhoo chunk to the bottom with a heavy lead and 15-30ft of 50lb Fluorocarbon leader. We like to use 4/0 Owner Mutu-Light circle hooks on the terminal end, hidden in a ballyhoo plug or live baitfish to not spook the muttons.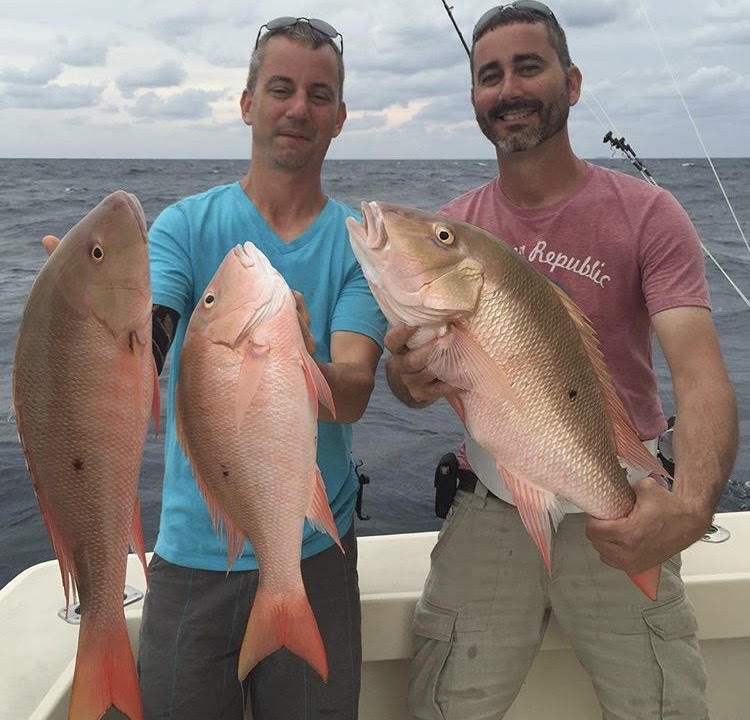 Miami Snapper Fishing Charters
Our efforts are generally focused on wrecks and artificial reefs off of Miami. When Snapper fishing in the keys, we'll employ similar techniques while also using vertical jigs and ballyhoo jigs to target muttons along the deeper reefs and wrecks. In the keys, we allow our vessel to drift and cover ground, effectively working entire ledges or wreck structures. Muttons range in size from 3-20lbs. Our largest individuals to date have been caught on both bait and jigs, ensuring that both methods produce quality fish. Muttons gather along the shelf during the summer full moon to spawn, making them most vulnerable to bait and lures at this time. Mutton Snapper fishing in Miami can be reliable at this time of year, with the average fish being much larger than normal. Mutton Snapper stark white meat and it is often regarded as the best tasting snapper.