Log
Swordfishing is Heating Up
Fall is my favorite time of year to swordfish but it already seems like the fishing is heating up. We managed to land a 200lber yesterday and got one other bite on a beautiful day. The swordfishing should only improve in the months to come but I wouldn't hesitate to book now and take advantage of the awesome weather this time of year.
Swordfish are definitely a bucket list fish that involve a very unique technique for them to be targeted during the day. We use electric reels to target swordfish but we don't really believe this makes it any less sporty. The need for electric reels was driven out of necessity, not laziness. Swordfish are deep during the day, usually near the bottom in 1200-2000 feet. To get a bait down in the strike zone with 2-3 knots of current requires 8-12 pounds of lead. There is just no way you can fish this area efficiently without an electric reel hybrid at a minimum.
Swordfishing is a lot more like hunting with a rifle vs a bow. Yes, it's not quite as sporty but it does take an enormous amount of preparation, patience, precision, and luck. Another parallel about swordfish hunting is the fact that these are excellent tasting fish and even a smaller fish will yield 30+ pounds of meat.
Yesterday we took a few drops before hooking a nice fish in 1600 feet of water. Our angler did a great drop on the reel getting the fish near the surface before we harpooned it and the fight really began. The fish took off about 300 feet of harpoon line and we fought it another 30 minutes after harpooning it before finally boating the fish. Our angler took home 3 yeti cooler bags full of fish for his friends and family and we still had some left over.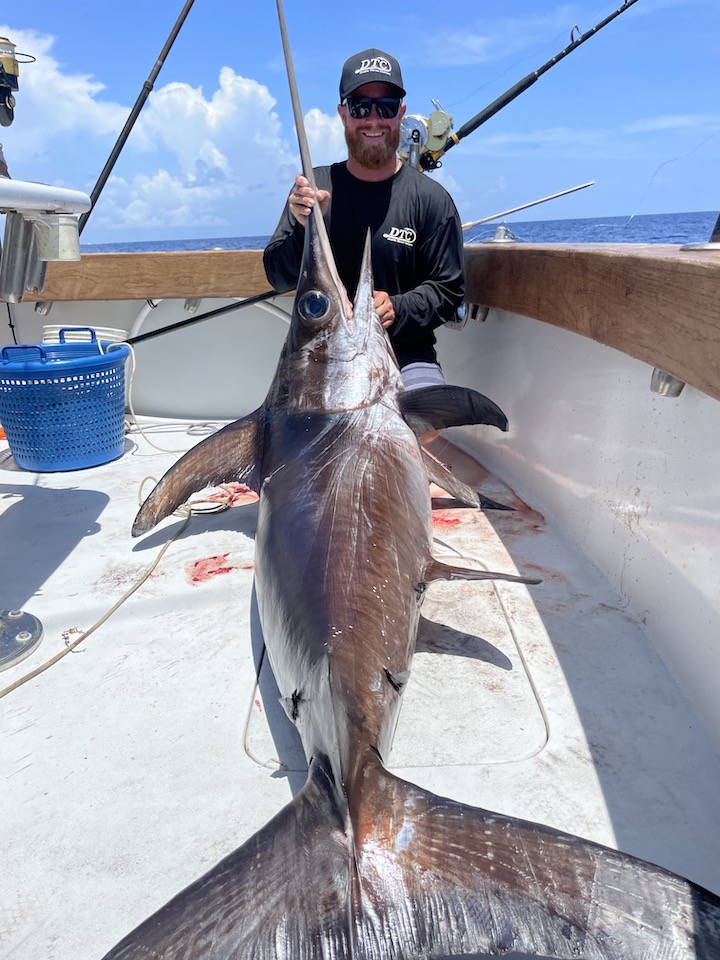 Swordfishing is definitely a low yield proposition and catching 1 fish is a good day. We have definitely had great days where we get lots of bites and have boated as many as 4 fish but this is definitely not standard. If you are looking for a lot of action, this definitely isn't the technique for you. if you want to put in the time and hunt the fish of a lifetime, feel free to read more about this amazing species and be sure to book a swordfish trip with us soon.
---
‹ Back