Log
Hatteras Renovation- New Boat!
The Double Threat is a 43 Hatteras that was fully rennovated in 2017.
The goal was to build the perfect boat for fishing in South Florida that was modern, tournament rigged, comfortable, durable, and economical. The upgrades were very extensive and no stone was left unturned. A few of the upgrades and amenities are outlined below. Check out a few pics and if you're interested, read more about the rebuild below!
Brand new tuna tower for a higher vantage point for sight fishing

Repowered with Cummins 450 "Diamond Series" Engines for increased reliability, speed, and efficiency

All new electronics by Garmin, SMX, Simrad, JL Audio, Fusion, and more to help you find the fish and enjoy the ride while doing so

Fresh paint job from top to bottom so you can look good while you catch fish

New Carpet and couches on the interior

New air conditioning units to keep you cool

All new upholstery and upstairs seating for added comfort

The boat was completely rewired for increased reliability

New toilet so you can feel right at home

All new plumbing, steering lines, throttle cables, and more for increased reliability

300 gallon fish box to keep your catch cool

2- 100 gallon livewells to keep your live bait happy and ready to be set free

10 rod Pompanette Rocket Launcher for Tournament Style Kite Fishing

And More!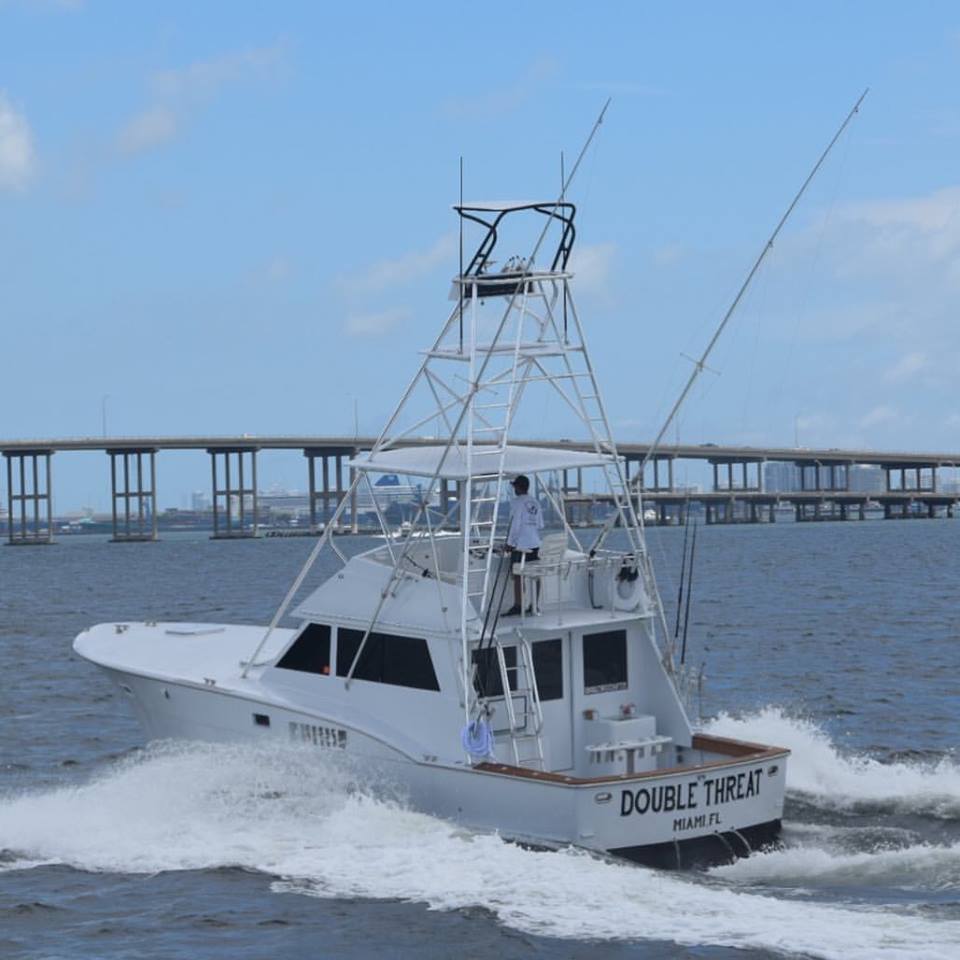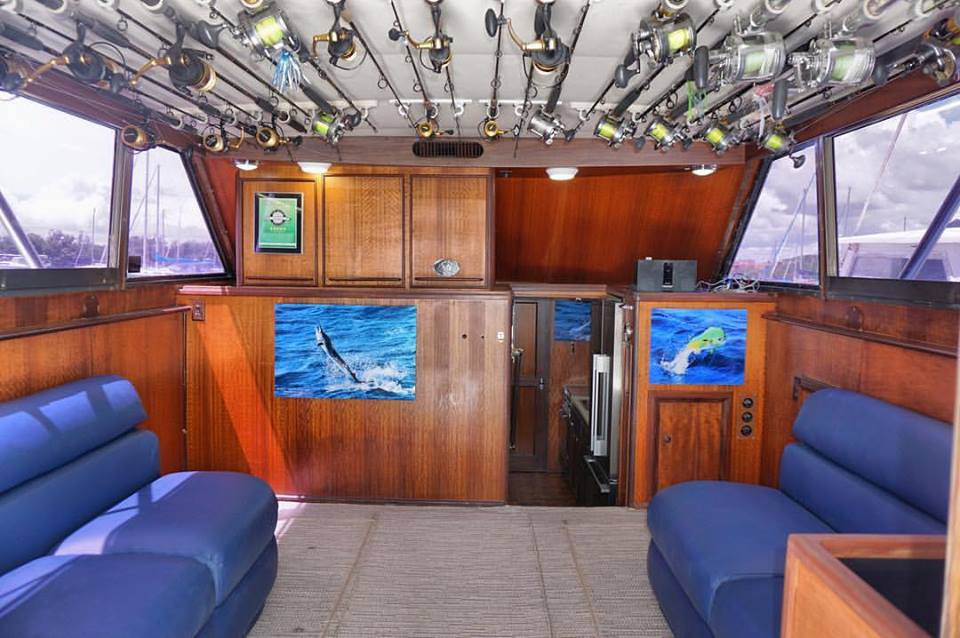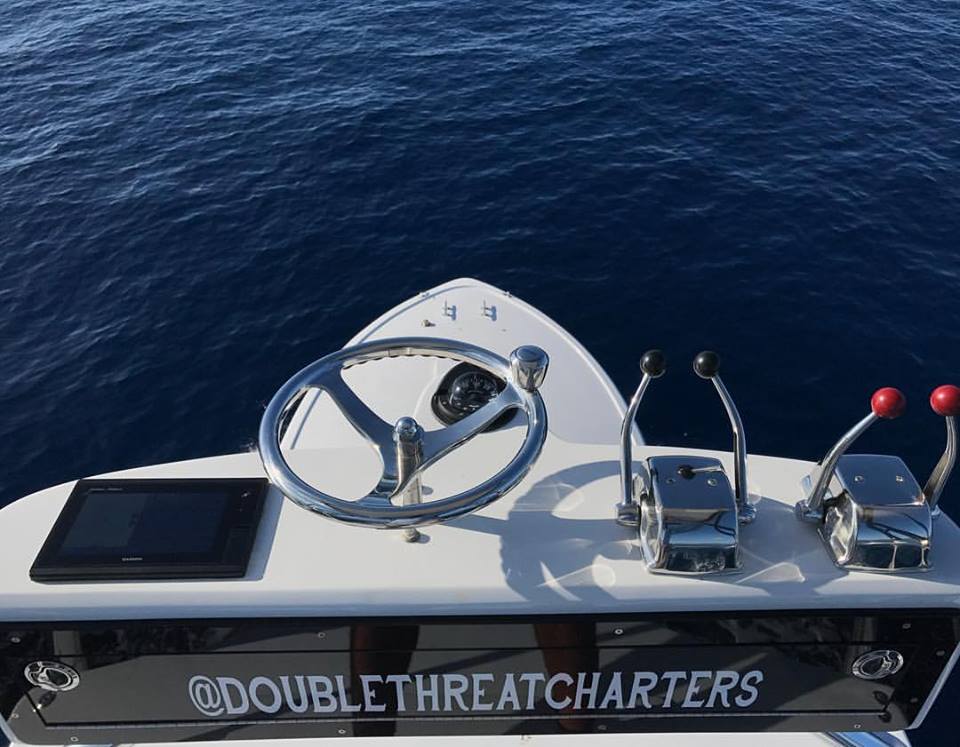 Where it all started
When Double Threat Charters was founded, we used a 38 foot Chris Craft for deep sea charters. Armed with Catepiller 3208's, this convertible sportfish was definitely a workhorse but as a young captain, Nick viewed it as a stepping-stone toward his dreamboat. After chartering the Blue Yonder for about 5 years, Nick finally saved enough money for his dreamboat. This wasn't going to come easy however. Nick had a vision of his dream boat but unfortunately this wasn't something money could buy. The ideal boat needed to be built. In 2016, Nick set off on a journey looking around the country for the right boat to rebuild.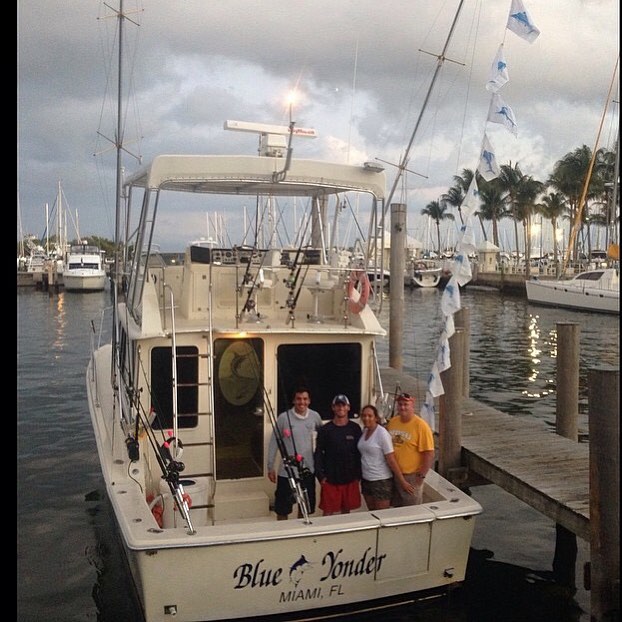 Where it all started on the "Blue Yonder"

Building the Dream Boat
From beginning to end the entire process took about 2 years and over 250 grand to find the right boat and fully rebuild it. Most of the work was done by us. Subcontracting the entire project would have cost over half a million dollars. The goal was to build the perfect boat for fishing in South Florida that was modern, tournament rigged, comfortable, durable, and economical. With careful consideration I decided the right boat would be a 43 Hatteras but I needed one that was already repowered. Finding a Hatteras from the 1970s that is still in good shape isn't an easy task. After looking all over Florida and even flying to Texas and New Jersey, I finally found the right boat. Located in Wildwood, New Jersey was my diamond in the rough. The boat was already repowered with Cummins 450c engines which is a modern 6 cylinder engine. In addition, part of the boat was rewired and the interior was in good shape. She seemed like a great boat to refurbish so I pulled the trigger. I bought a boat over 1,000 miles away that needed some work. I knew it would be a long year.
Finished product after a long project

Hull Choice- 43 Foot 1972 Hatteras
In the 1970s, fiberglass was just making it into the arsenal with mainstream boat builders. Engineers at the time didn't fully understand the strength of this new material so they had a tendency to "overbuild" boats in the 70s. In the 80s and 90s, many boat builders would use "cored" hulls with closed cell foam in between fiberglass layers to save on cost, weight, and labor. They left behind a legacy of boats designed for durability so they could cater to the market of faster, more competitively priced boats.
Hatteras Yachts was an industry leader in production vessels during the 1970s. These American made boats were designed for the rough waters off North Carolina and their craftsmanship was unmatched by many boat builders at the time. Everything was overbuilt so it could suffer abuse from corrosion and rough seas. In addition, engineers at the time understood the importance of making parts accessible. Instead of cramming the largest components into the tightest spaces like modern production boats, Hatteras was always mechanic friendly.
A well-made fiberglass hull can last virtually forever. Because of the strength and timeless lines, we choose to go with a 1972 43 foot Hatteras as our boat of choice for commercial business. Unfortunately, the hull is just many parts of the bigger picture for a properly built boat. We decided to fully renovate our 1972 Hatteras so we could appreciate the best of both worlds. A strong hull with classic lines, modern engines, modern electronics, and a brand new tuna tower were the end goal of our project.
Engine Choice- Cummins 450C "Diamond Series"
The hull design of Hatteras during the early 70s was timeless but the engines were not. Armed with 2 stroke Detroit diesels, these boats were slow and inefficient. These older engines didn't have the efficiency or durability of modern engines so many owners chose to repower these classic boats. The Double Threat was repowered with Cummins 450C "Diamond Series" engines. These are arguably the best engines at their horsepower rating of 450 hp. These are inline, 6 cylinder engines and can be rebuilt in frame. The result is a long lasting, compact, light engine that is both economical and easy to service. The cost of ownership on engines with this horsepower rating can't be beat.
The Voyage
Boy did this part suck. About a month after purchasing the boat we finally had a weather window to bring the boat down. The plan was to bring the boat down on the outside (not the Intercostal Waterway). We plotted the trip and figured it would take about a week running 24 hours a day. We would make 1 stop for fuel in the Carolinas. I put together a 3 person crew with myself included. We had decent weather until we got off Georgia. From Georgia to West Palm Beach (about a 2 day stretch) the seas were 6-8 foot. I had the night shift which was no fun at all. We finally got back to Miami but relieved wouldn't be the right word. I had an ambitious project ahead of me. Below is a picture of us coming into Government Cut after the 7 day trip.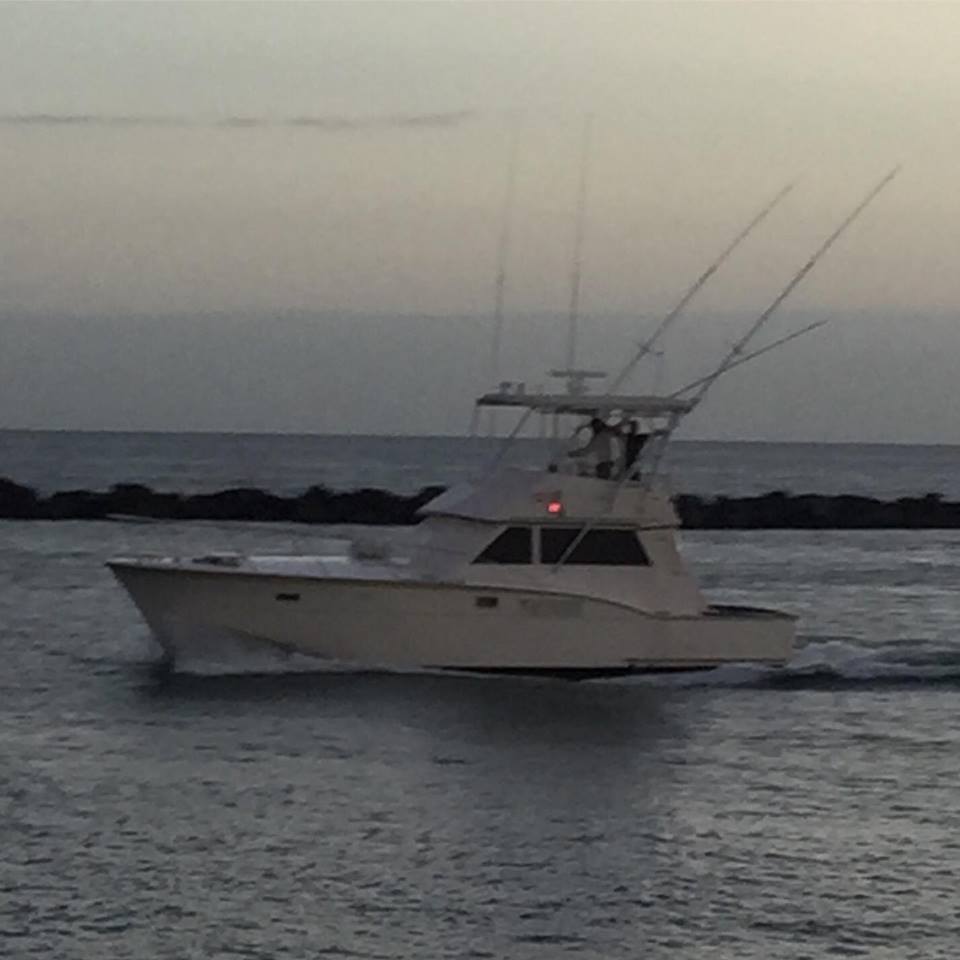 Coming into Government Cut after 7 days at sea



Work Work and more Work
I put together a to-do list that might have been a little too ambitious. By the time we finished the dream boat, we wanted nothing but the hull to be original. With a major overhaul in mind, we wanted to rewire the entire boat from the engine room to the flybridge. We chose to install all new led lighting throughout the boat from the underwater lights and the engine room to the tuna tower. The outcome was a modern look with all new lighting. In addition to new lighting, we decided to install brand new electronics on the flybridge and tuna tower. We went with SMX engine displays which combined the best of both worlds: modern mechanical engines with cutting edge display technology. These displays were networked via NMEA 2000 to a pair of Garmin 10 inch displays on the flybridge. These chartplotter/fishfinders were the best money could buy and were paired with a GSD 26 and 3kw Chirp Transducer that was fiberglassed into the keel. In addition we have a 10 inch display in the tuna tower, a brand new fusion radio, 3 Icom radios, and JL Audio Speakers. We planned on painting the boat top to bottom, installing a tuna tower, fiberglassing a custom fish box and live-well. This was just scratching the surface... We spent the first few months stripping the boat and sanding her down in addition to glassing all the holes shut. It was definitely discouraging, for a while it seemed like the project was headed in the wrong direction. For about 6 months, I didn't get to visualize much progress. Once we were done stripping the boat, new paint was definitely easy on the eyes.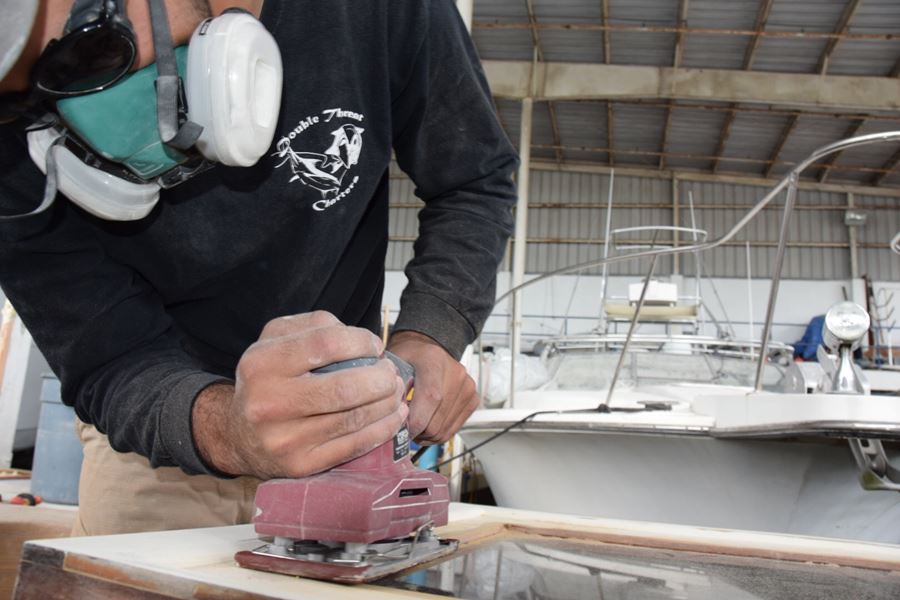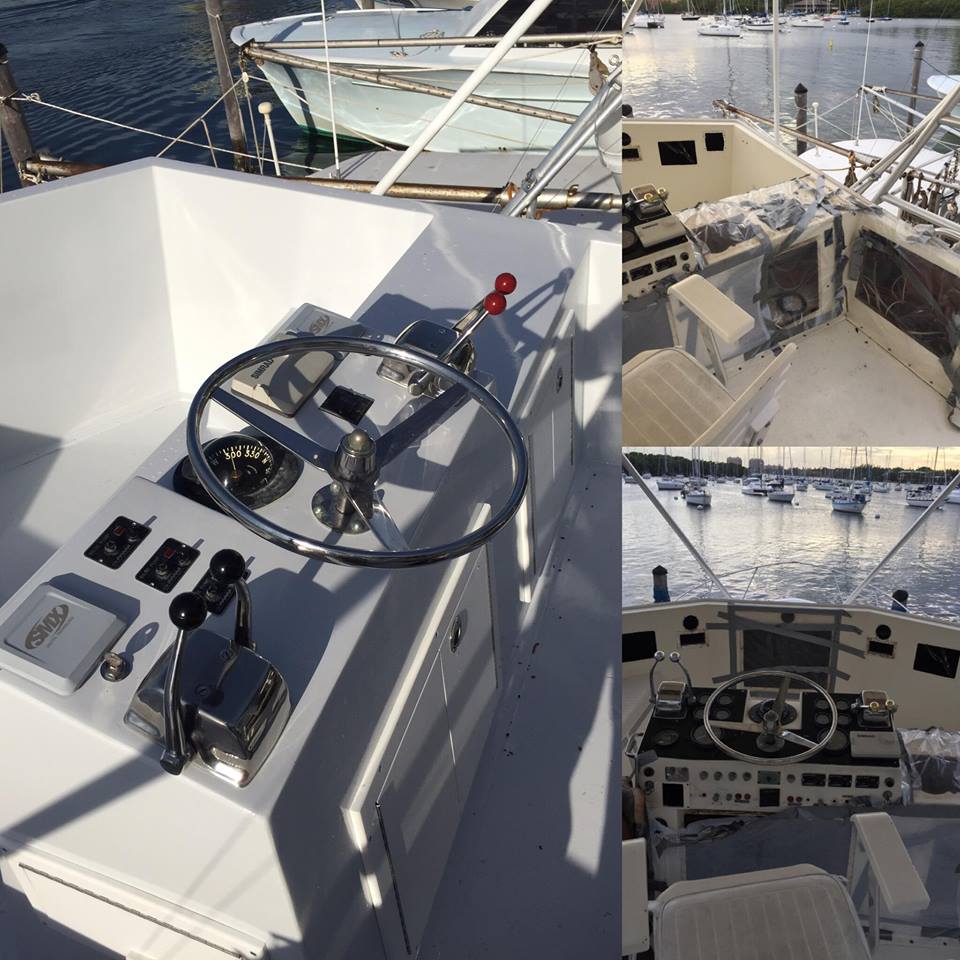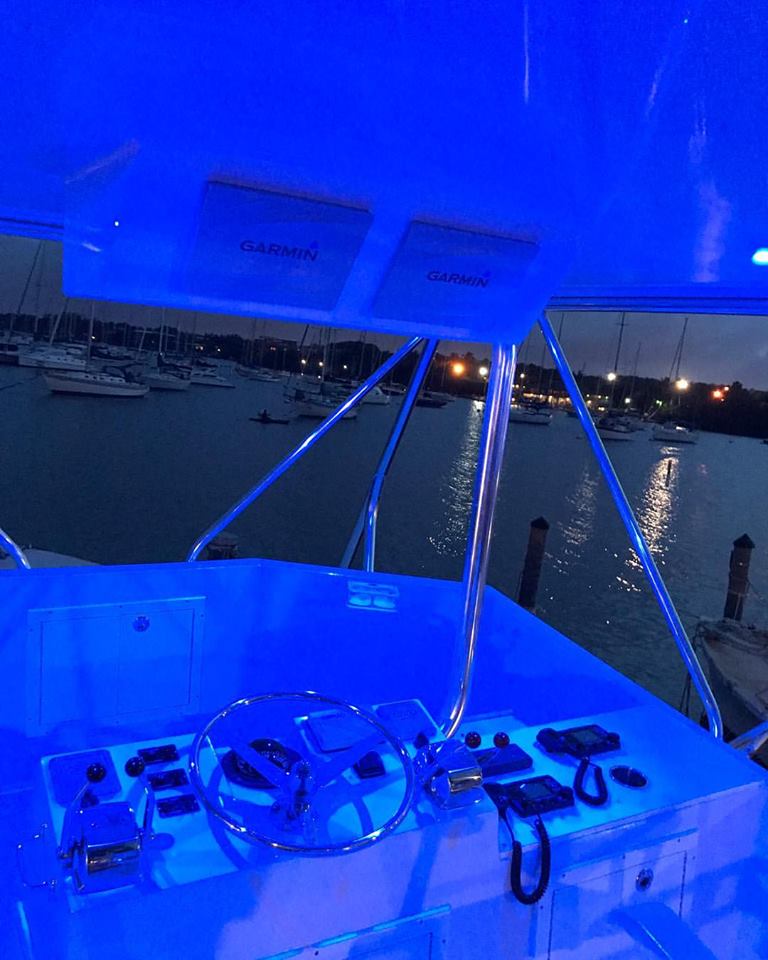 Fiberglassing and Painting the Cockpit among other things
Painting the boat was a ton of work. We took 90% of the boat down to the fiberglass with out prep. This involved sanding through years of paint. When we finished it was worth it though. A major project was fiberglassing the entire bulkhead which you can see below. The old bulkhead was wood but we sanded it down, dug out the dry rot, fiberglassed, and painted it. This took about a month of excruciating labor.
We replaced all the rod holders on the boat, installed a custom livewell, a custom fishbox, and 4-pump pump box, and external livewell rigging. The cockpit was completed with a 10 rod leaning post by Pompanette as the centerpiece.Everything was plumbed, rewired, and rigged to optimize livewell space and fish box storage. In addition we redid the alignment on the engines to minimize vibration. This makes for an unmatched ride that is both smooth and quiet.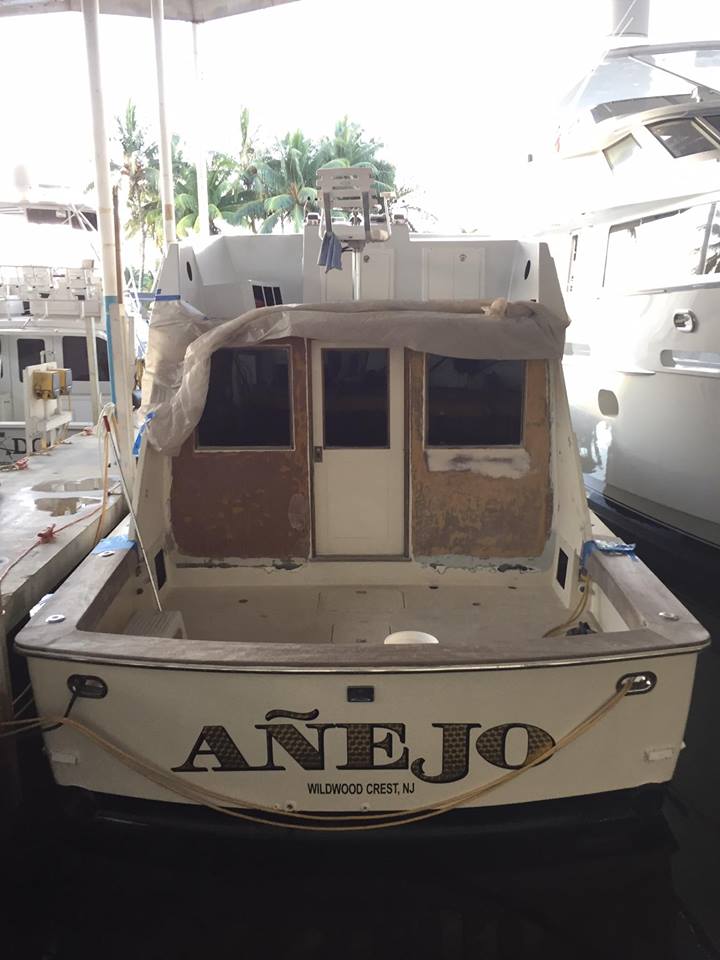 Stripping the Bulkhead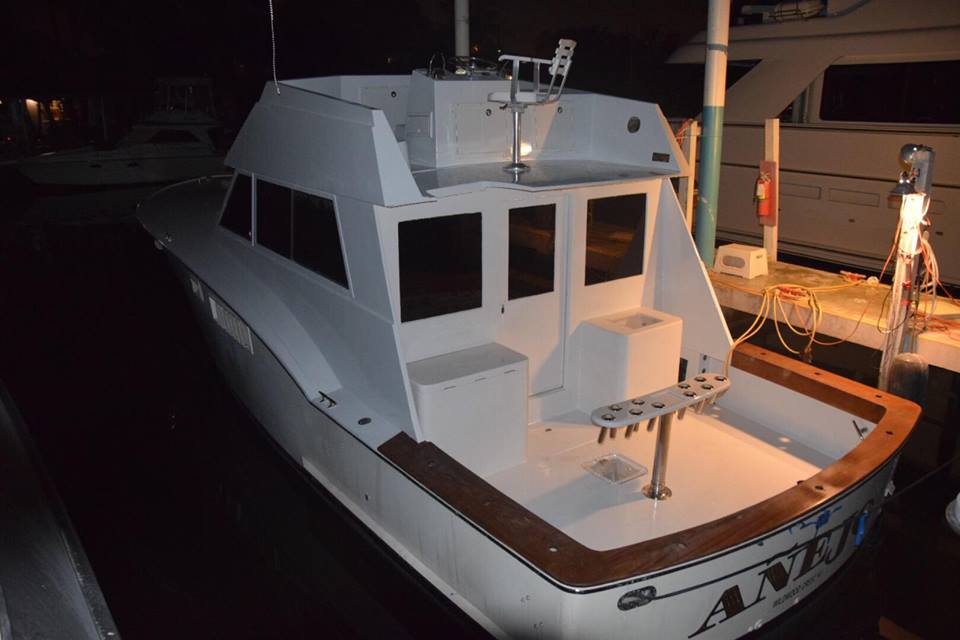 Fresh fiberglass work, paint, livewells, fish box, rocket launcher, and more

Tuna Tower Installation
One of the biggest aspects of the project was the fabrication, rigging, and installation of a full size tuna tower. This tower featured a 5 step gap, hard top, platform, and all new aluminum. A modern tuna tower helped make this project come together when it was completed with all new rigging. The major aluminum work was subcontracted but we were very hands on when it came to the design and installation. In addition we did all of the rigging in house.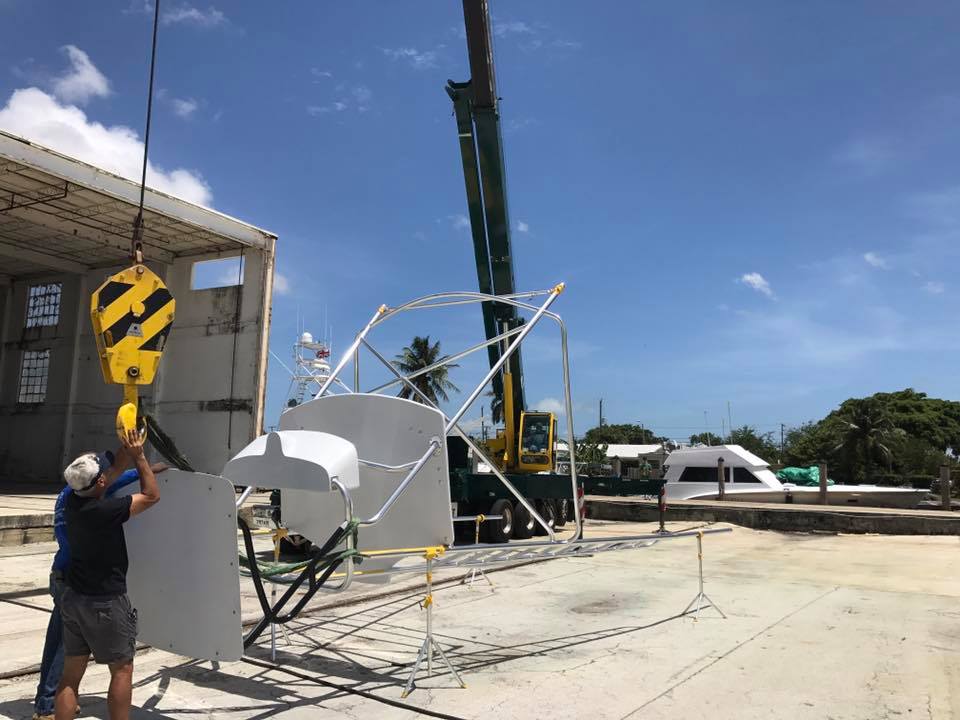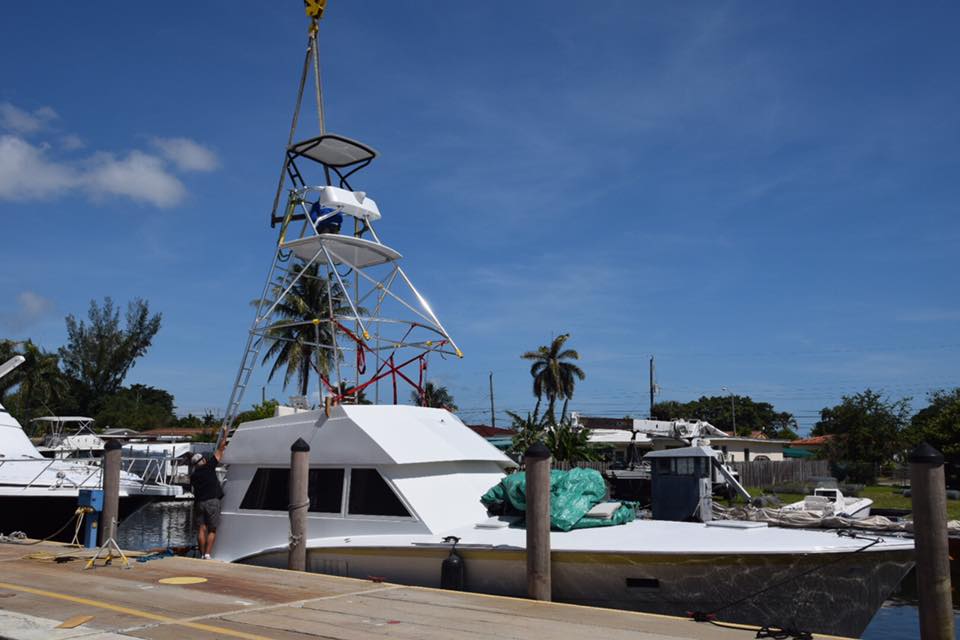 Tuna Tower Installation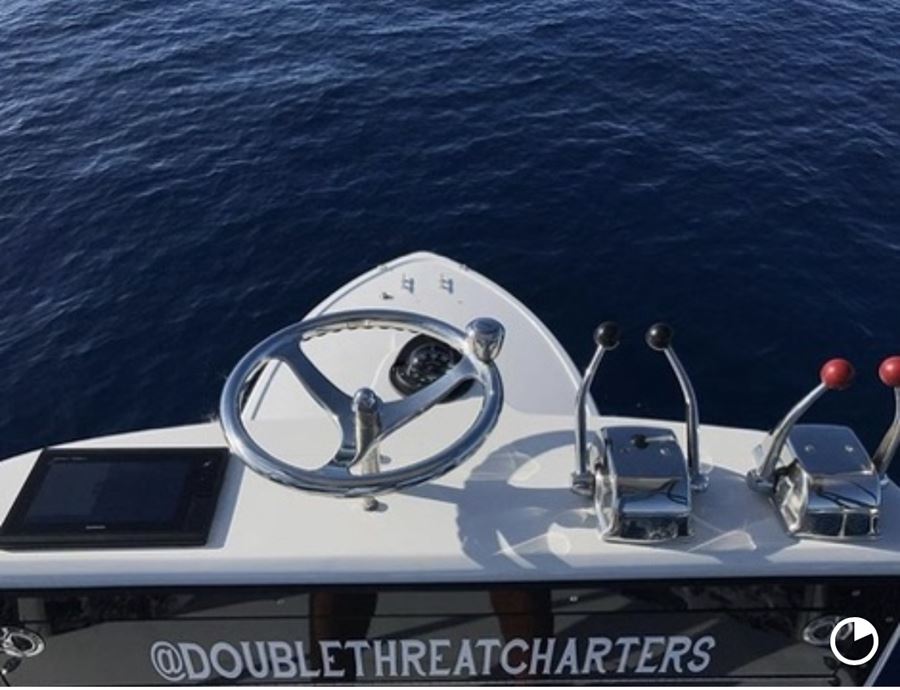 The View From the Tuna Tower

Time Spent on the Hard
Once we painted the boat, rewired the bridge, and installed the tower, it was time to hit the yard. No expense was spared during this rebuild and no stone was left unturned. We redid the entire exhaust system with modern mufflers so the boat would be more quiet and reduce back pressure. In addition we installed all new steering lines, new transmission cables, throttle binnacles, and more. We painted the hull, installed the electronics, redid the alignment, and more during this phase of the project. We were on the hard for a few months. We also slapped on the boat name in the yard which was relieving. Once we splashed the boat we finally got to the interior. With a little help from my fiancé we were able to find the right carpet, redo the couches, and print some of our favorite photos.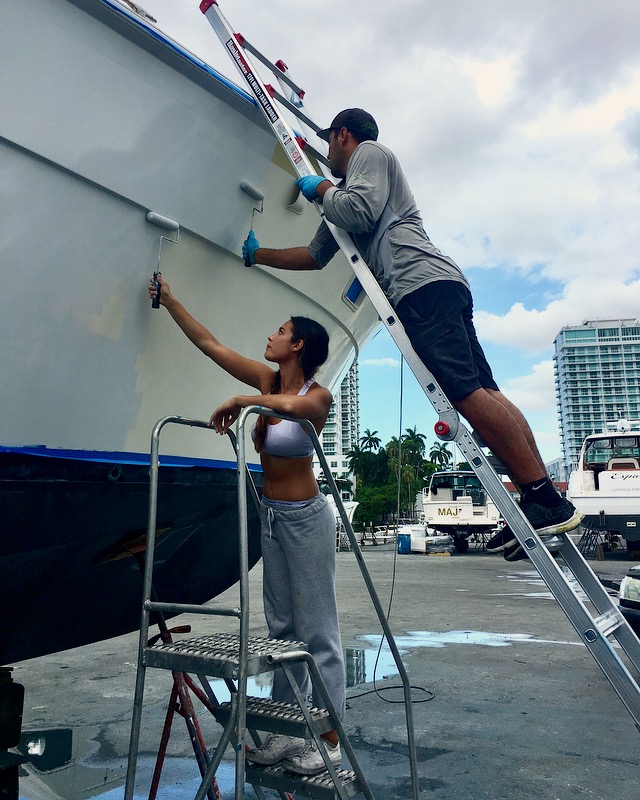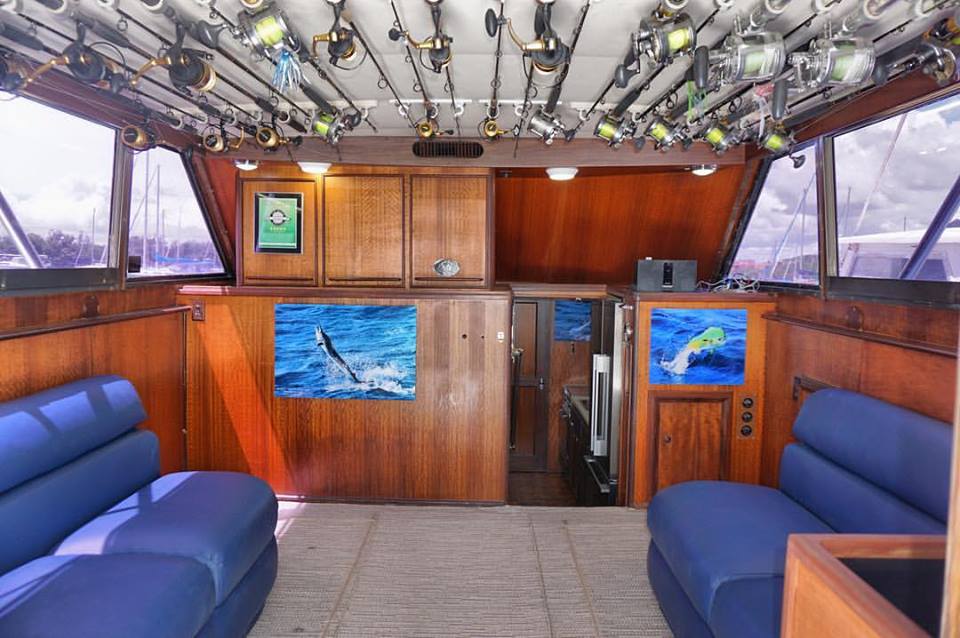 The Finishing Touches
Almost a year later she was finally ready. I'm proud to say I have my dream boat at the young age of 24. We think the new "Double Threat" came out pretty good.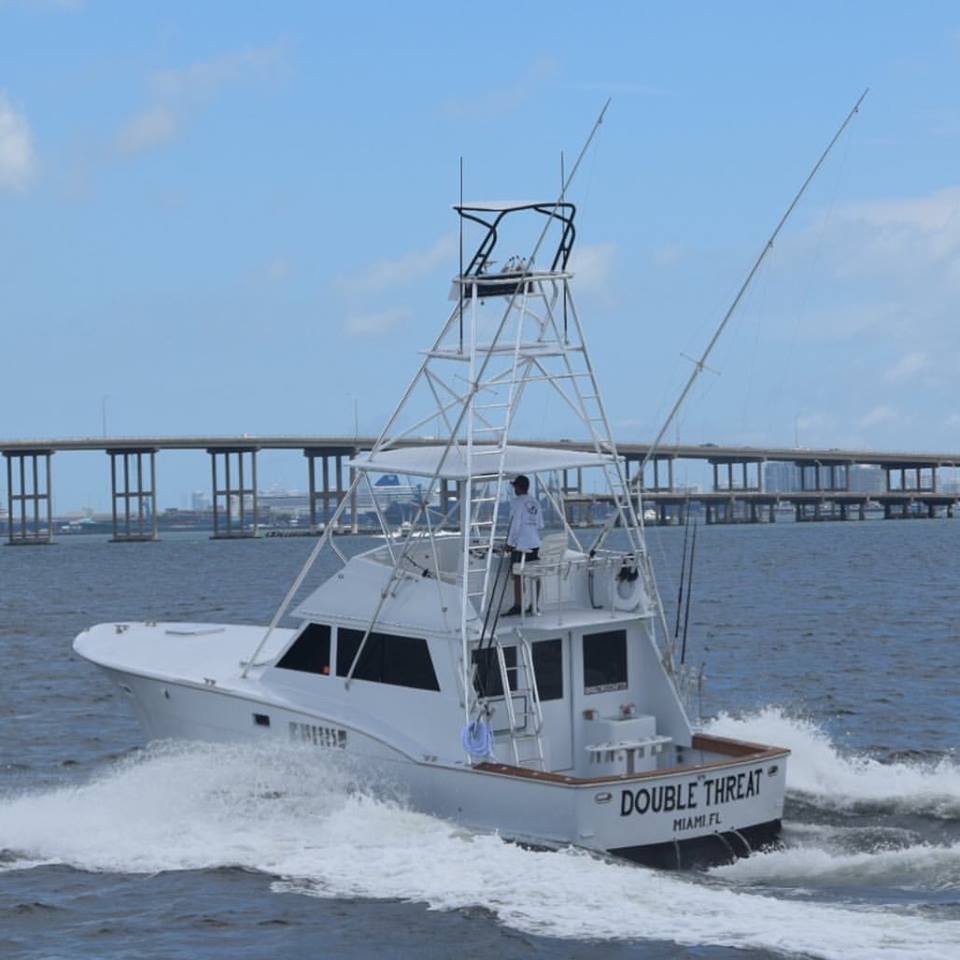 ---
‹ Back