Log
Goliath Grouper off Miami
The last few years have seen a late run of dolphin that seems to peak in August and this season was no different. Dolphin are usually swarming during June and July but the last few years have seen a better push of fish later in the season. Dolphin are highly migratory so it's hard for us to put our finger on when or why they'll migrate through but we're grateful for the solid late season fishing and weather we've been enjoying lately.
On full day trips we have been averaging 10-20 dolphin per trip and have had a few days where we catch our limit. It hasn't been spectacular but this is enough to really fill the box with meat.The clients below drove down from Sarasota with 3 coolers so they were definitely grateful for their haul.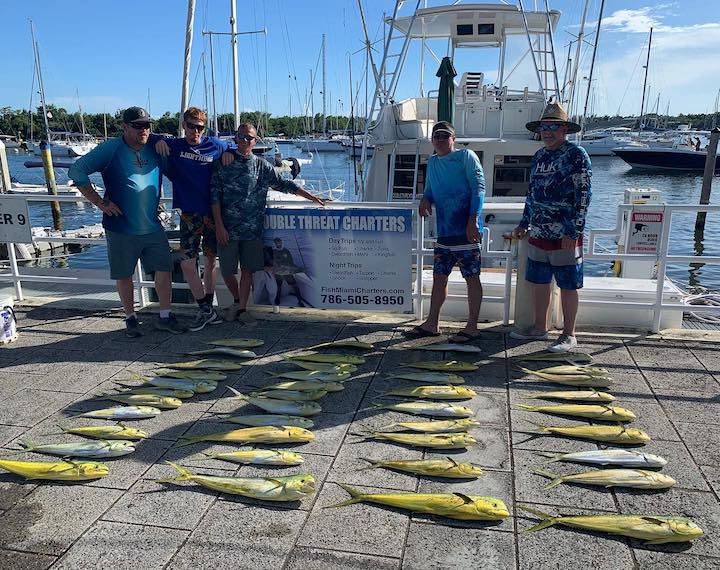 Wreck Fishing During Summer
In addition to dolphin, we have had some decent wreck fishing as of late. We have been catching some nice amberjack, almaco jacks, sharks, and more. We had one trip where we lost a few giant mystery fish so we upped our tackle from 80 pound class to 130 and came back to the same wreck on our next trip. We took a few drops and on our second drop the bait got destroyed by something that was size XXL. The fish was ripping off 65lbs of drag like it was nothing and we narrowly escaped losing him to the wreck.
After a few minutes of tug of war, we finally made progress and reeled a giant Goliath Grouper to the surface. The fish was pushing 400 lbs and is definitely a rare catch in our waters.
Fall Fishing Ahead
The coming months are an interesting time of year as we begin our transition from summer to fall. September can be a great month for dolphin offshore which we predominantly target on longer trips such as 3/4 or full days. In addition to dolphin, kingfish should be showing up in numbers as we get closer to October. The deep dropping should pick up as well as the swordfishing if you want to go for something big during the next few months. We'll be kite fishing more during October and November but not quite yet. Feel free to contact us if you would like to schedule a trip.
---
‹ Back