Log
Fishing in Bimini, Bahamas
Run 50 miles east from Miami and you'll find yourself in the territorial waters of the Bahamas. Bimini is the closest Bahamian island to South Florida and it has a rich history of sportfishing. Bimini has great bottom fishing for yellowtail snapper, grouper, mutton snapper, and more. There are no shortage of pelagics either with a great wahoo bite during the winter, excellent mahi fishing during summer, and billfish year round. One fish in particular, however, thrust Bimini into the international spotlight for sportfishing: giant bluefin tuna.
Bluefin Tuna Fishin in Bimini
Giant bluefin tuna make an annual migration to the Gulf where they spawn during late spring/early summer. On their way back north, they ride the current of the Gulf Stream which takes them right past Bimini. The sharp drop off near Cat Cay in particular is met by a shallow reef and sandy stretch of bottom. The Gulf Stream slams this section of water which pushes large pelagics close to the beach. When the conditions line up, especially near the peak of the migration around June 1st, Bluefin can be found travelling north in huge packs as shallow as 30 feet of water.
The bluefin fishery off Bimini is a seasonal occurrence but on the best days, thousands of bluefin can be seen tailing through the area. During the 50s and 60s, Bimini and Cat Cay became hot spots for bluefin tuna fishing. This fishery was influential to say the least. The phrase "tuna tower" was born from this fishery as captains and boat makers were driven to enhance their vantage point in an effort to find and catch more fish. Tuna towers quickly grew in popularity and eventually made their way into the mainstream the bluefin fishery definitely helped put them on the map.
The Bimini bluefin fishery peaked in the 50s and 60s before the fishery faced a sharp decline. The recreational pressure didn't help but the main cause of the decline in stocks was driven by commercial pressure around the world. The tuna fishing off Bimini is nothing like it used to be but they can still be seen and caught, especially during early June with a South wind.
Wahoo Fishing in Bimini
Wahoo fishing can be phenomenal in Bimini, especially near the full moon during winter. On calmer days, South Florida fishermen run across the Gulf Stream in droves looking to target these toothy predators. The best technique for targetting Bahamian wahoo is by high-speed trolling. Most boats use 2-4 rods (typically electric) and troll at about 13-16 knots. Multiple hookups aren't uncommon and if you time it right, double-digit catches aren't out of the question. Bimini isn't quite as consistent as Cay Sal bank to the south but it is convenient and the wahoo fishing can be world-class.

Marlin Fishing in Bimini
The blue marlin fishing in Bimini isn't as well known as some other destinations but it can be excellent. especially around the full moon in June and July. Bimini blue marlin can be caught as close as 3 miles from shore and many of these fish are size large. Bimini is a great location to troll artificials for bigger blues. You'll definitely need to put the time in but the results can be worth it.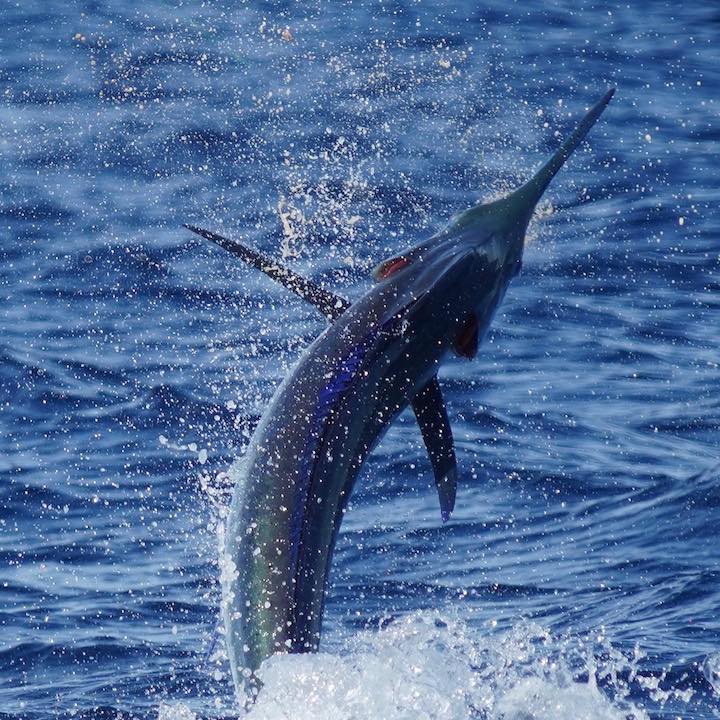 Feel free to contact us if you would like to coordinate a trip to the Bahamas. We offer multiple day trips for repeat customers and if we can't accommodate you, we're more than happy to refer you to someone who can.
---
‹ Back