Log
Fishing During July in Miami
July Fishing Miami
July is the middle of summer for us in South Florida. As far as the weather is concerned, we can usually expect calm seas during most of our trips. During the "summer doldrums," we are often graced with high pressure, calm winds, and warm weather. Usually the seas are two feet or less. There is almost always rain in the forecast but this weather is usually isolated. Thunderstorms usually flare up in the afternoons during summer. These systems usually form over the Everglades and on most days we don't even see any rain offshore. We get questions about the rain during summer on a regular basis but it is rarely an issue. Overall, summertime is a great time of year to get out with the family. With calm seas and great fishing, summertime fishing in Miami is hard to beat.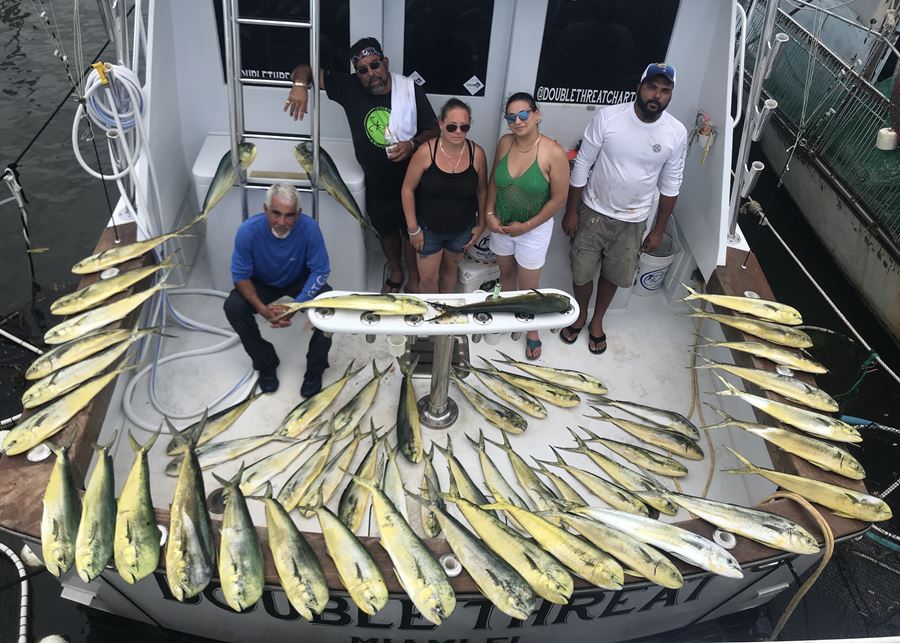 A Typical Summer Fishing Trip
Wreck Fishing
On an average trip during the summertime we usually run straight offshore. We sometimes make a quick pit stop for live bait but usually we have bait caught ahead of time and store it in bait pens next to the boat. This saves a lot of time during charters and maximizes the time spent fishing. On the way offshore, we often stop at one of our favorite deep water ship wrecks. We send live bait to the bottom over these deep water structures, and usually get bit almost instantly. Target species include Amberjack, Grouper, Sharks, Barracuda, African Pompano, Mutton Snapper, and more. After a few drops (and hopefully a few fish), the bite usually shuts down over shipwrecks. We make these stops quick and efficient, hoping to catch a few nice fish in very little time. After hitting a wreck or two, we usually venture offshore dolphin.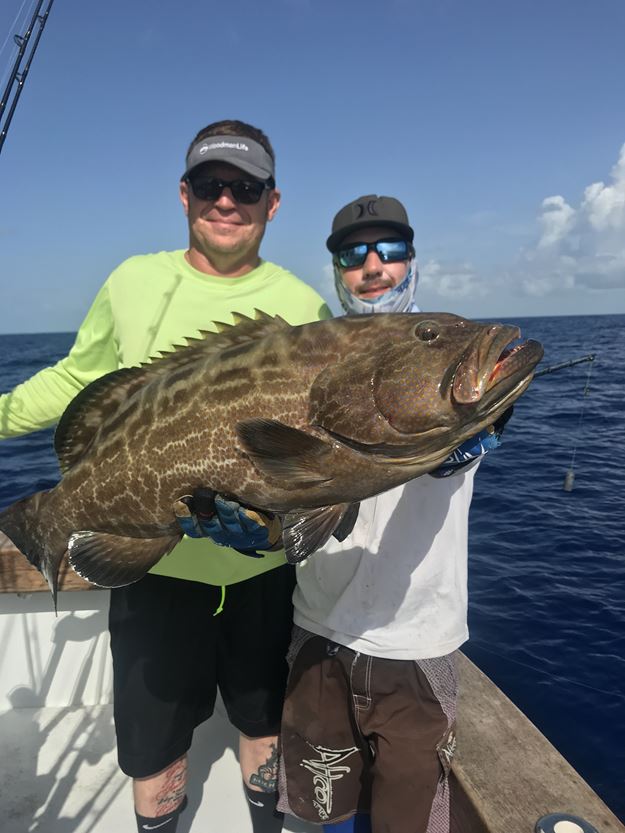 Trolling and Sight Fishing for Dolphin
After hitting a few wrecks, we usually venture offshore for the majority of the trip during summer. As captain, I usually spend most of my time high up in the tuna tower looking for fish. My first mate is usually looking through binoculars for birds, floating debris, and more. We sometimes troll a few baits behind the boat but usually sight fishing is the most effective method for mahi mahi fishing this time of year. We look for birds, floating debris, and weed lines. These pieces of offshore structure usually hold bait and as a result, dolphin are often in the area. I often see free swimming dolphin (alone and in schools) and help my first mate place pinpoint casts at the fish. We hope to hook multiple fish at a time and when things line up you can get into big schools.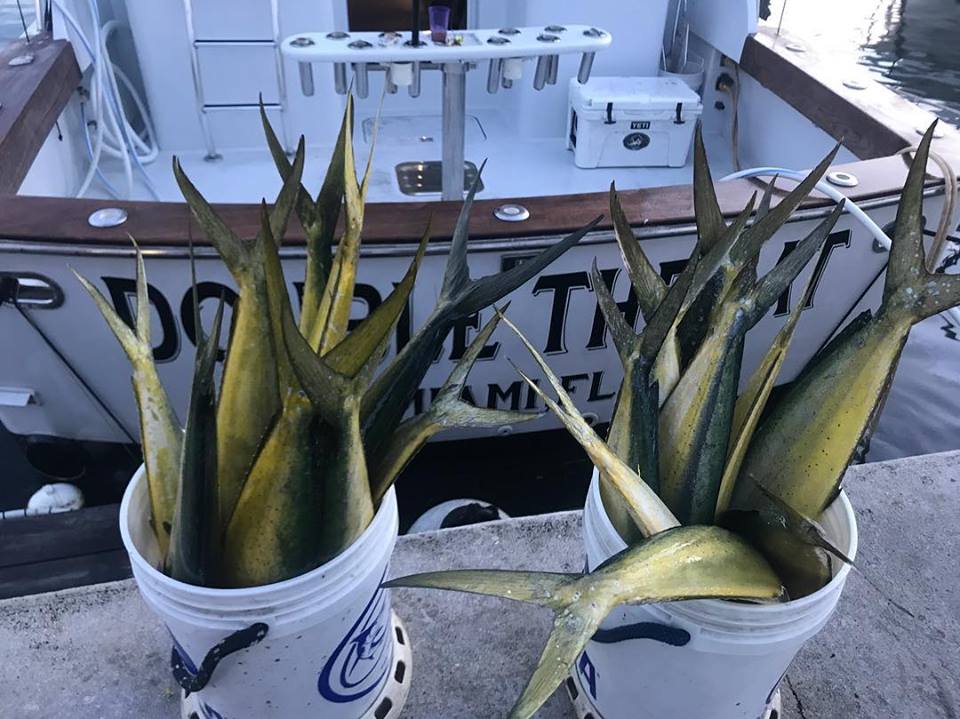 Deep Dropping
Sometimes we take a break from dolphin fishing to do a bit of deep dropping. Swordfishing costs a bit extra but is a great way to target big fish off Miami. Swordfish range from 70-200lbs on average but can get much bigger. Incorporating a few drops for swordfish during our full days is a great way to mix things up during summer and fall. In addition to swordfish, we have spots for golden tilefish, snowy grouper, vermillion snapper, yelloweye snapper, and more. Deep dropping depends on the conditions and where we are fishing but it is a great way to add color to the box.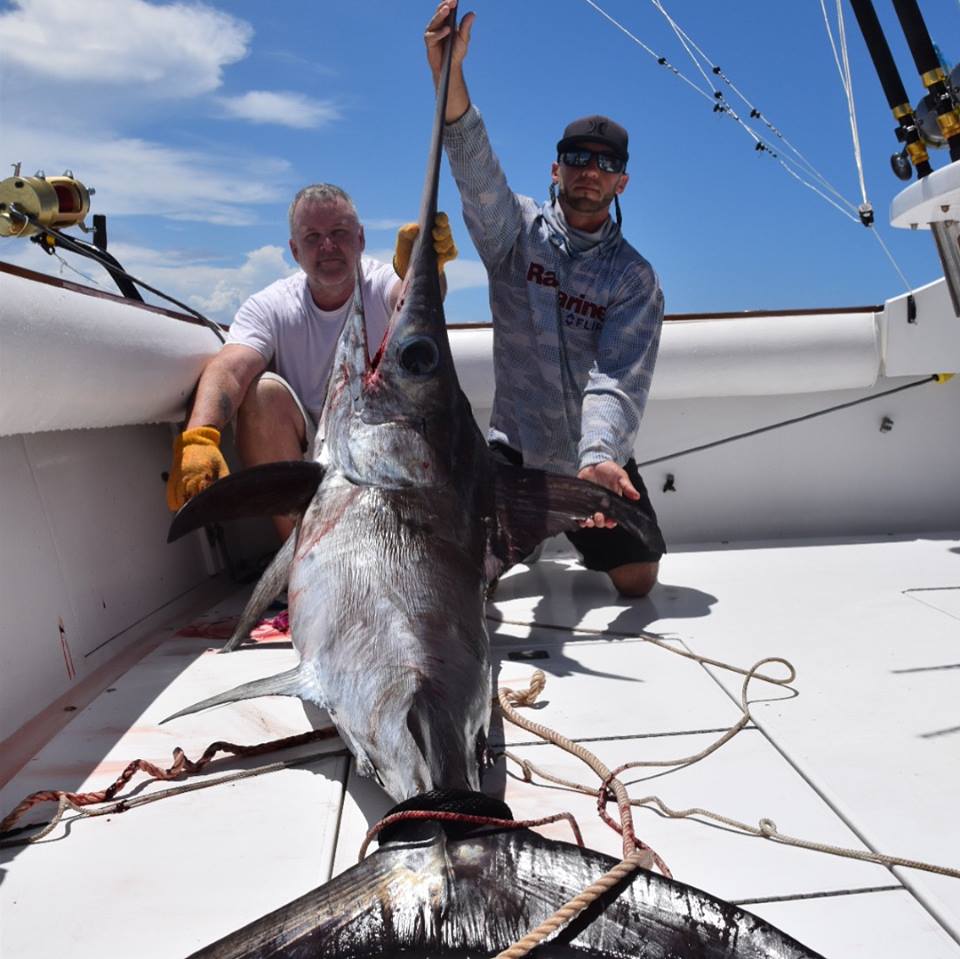 ---
‹ Back