Log
May and June Miami Fishing
May Fishing off Miami
Spring of 2016 has been another great season as anticipated and the fishing has continued to stay strong. During April we caught countless sailfish and had quite a few days with big kingfish, mahi, amberjack, cobia, swordfish, wahoo and more. The quantity and quality of fish per trip was definitely pleasing to our customers. We had a lot of multiple hookups, sailfish almost every trip, and packed plenty of meat for our customers to take home on most of the trips. May and June Miami Fishing should be just as good.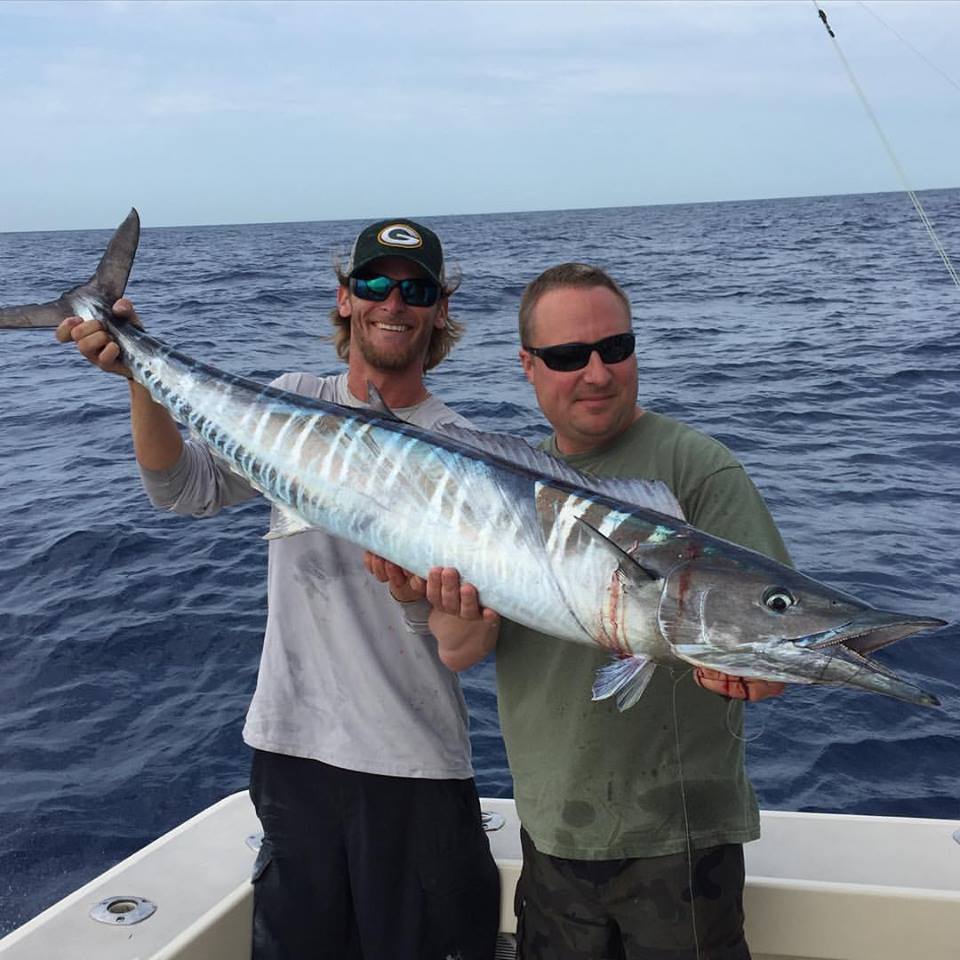 Spring Fishing during May
Although April is behind us, we still have the end of spring and early summer to look forward to. The blackfin tuna showed up in numbers during mid April and we have been catching them almost every trip. The fish have been averaging about 20 pounds but we have caught plenty in the 25-30 pound range and even boated a few over 30 pounds including this 34 pounder below.

Blackfin tuna are hard fighters, especially on the light tackle we use to target them. They are also great table fare with sushi grade meat. Unlike bluefin or yellowfin tuna, a 35 pound blackfin is about as big as they get. This species averages smaller than some of its bigger cousins but it is just as good on the table and a lot of fun to catch. Using 20 pound tackle to target them is extremely rewarding, especially when we hook multiple fish at a time. During the rest of May we can anticipate good bottom fishing with amberjack, grouper, cobia, and more as possibilities off the wrecks. In addition, blackfin tuna will be around all the way into June which are always a welcome surprise while kite fishing. The sailfish have still been around and we have averaged 1-3 per trip during the last few weeks. With all the different species available, there is no telling what your next bite might be. Throw kingfish into the mix and sometimes the bite is on fire.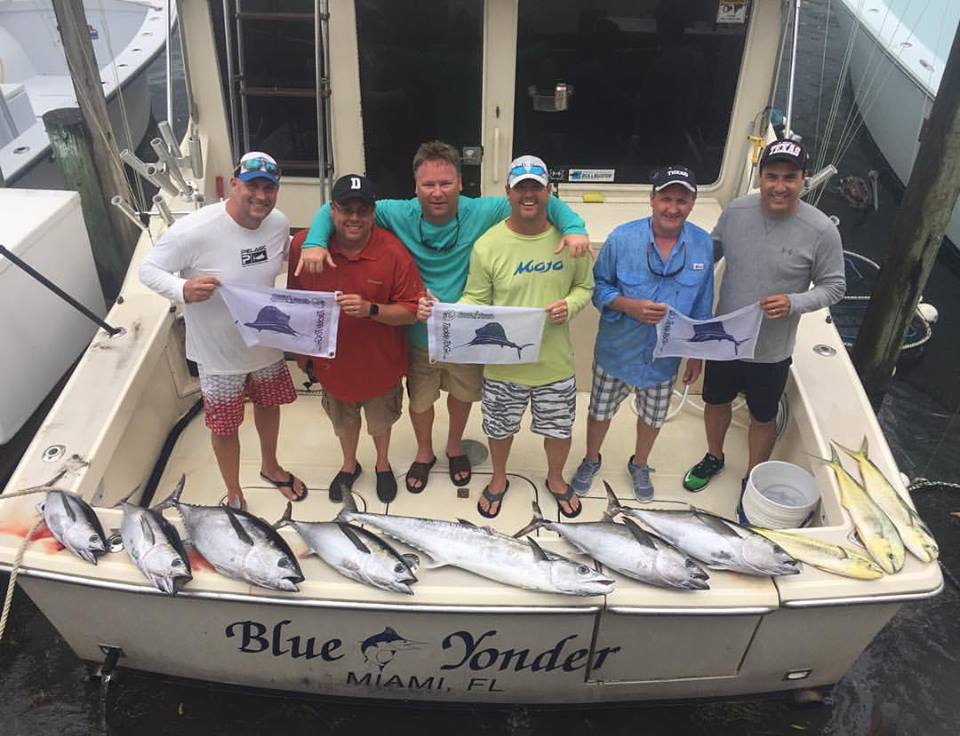 June Fishing off Miami
We have a great summer of fishing to look forward to. As we transition between seasons we usually anticipate calmer weather and great fishing during the summer months. June is a great time of year overall. On windier days with good current, we expect solid fishing on the edge and all of the species we catch during spring are a possibility. On the calm days however, we typically switch gears and head offshore in search of mahi. Mahi mahi (dolphin fish) are great eating, hard fighting crowd pleasers. They usually roam in big schools offshore under weed lines, chasing bait under birds, and congregating under floating debris. Last summer was one of the best mahi seasons we can remember and we hope this one is at least half as good. If it is, we have months of happy customers and full coolers to look forward to.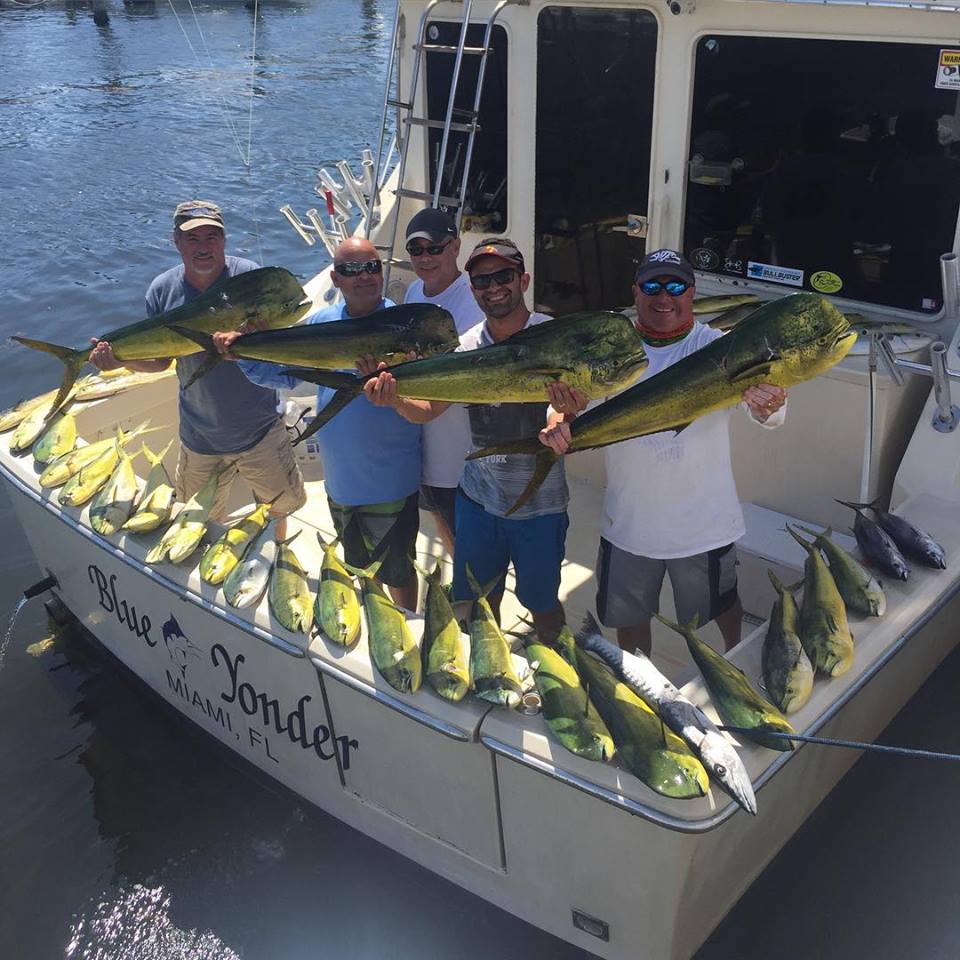 ---
‹ Back