Log
Kite Fishing in Miami
Springtime Fishing Report
Hands down the most effective way to present multiple live baits for offshore big game fish in South Florida is by using a fishing kite. Kite Fishing in Miami is a surefire method of attracting the attention of virtually every predatory species down here. Sailfish, Blackfin Tuna, Dolphin (mahi mahi), Kingfish, Wahoo, Cobia, Grouper, Snapper, and many more all go bananas for the distressed vibrations of bait fish presented right on the surface. By using two properly weighted and tuned kites, fisherman are capable of presenting 6 frisky live baits on the surface, with 8 not out of the question (if you're brave enough).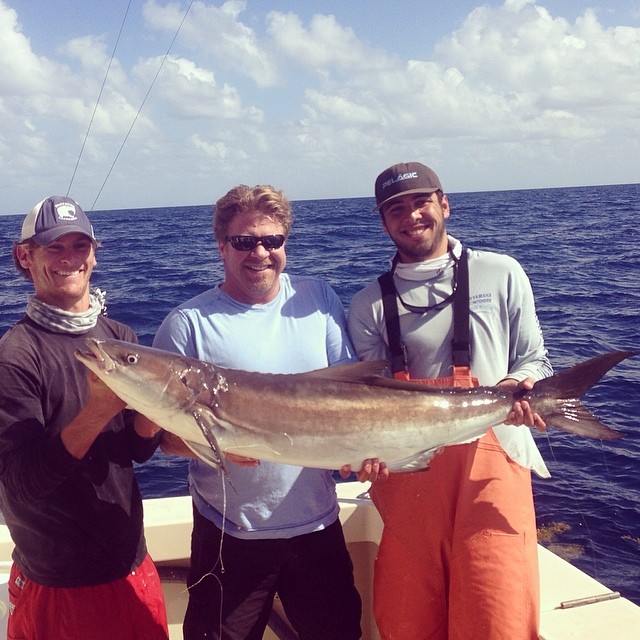 Deep Sea Fishing Aboard the Blue Yonder
Kite Fishing Tackle
When presented properly very little terminal tackle is visible in the water, meaning anglers can use whatever tackle they desire. Our approach (as is standard in the industry) is to use 6 high speed conventional reels backed with 500 yards of Bullbuster Braid, and then filled to the brim with 20lb Kitevis monofilament. These reels are affixed to 20-40lb class 6'6" rods, making for an incredibly strong yet light tackle setup that is capable of beating even the largest sailfish and marlin up to 350lbs that do eat baits at this time of the year.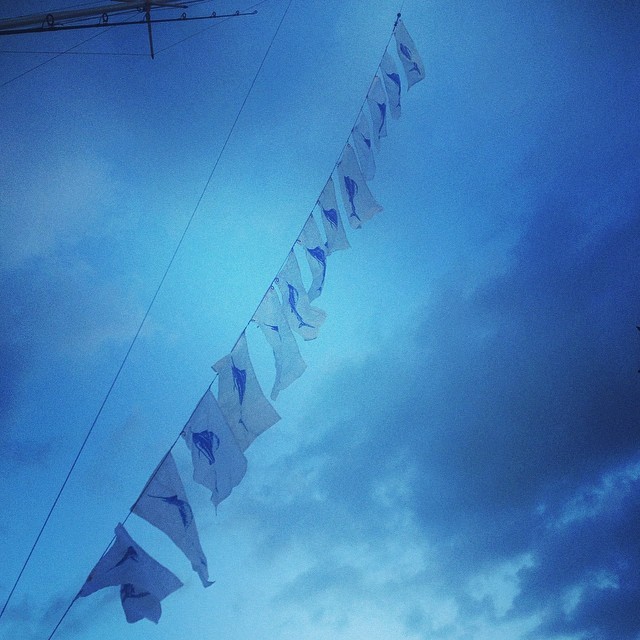 Catching Sailfish in Miami
In the last few weeks there has been a serious amount of action in Miami's deeper waters. Bait has been extremely thick with big schools of pilchards, threadfin herring, cigar minnows, and blue runners at all the local bait spots. Spring is definitely here, meaning that any given day could be that once in a lifetime fishing experience. Sailfish have been pouring through the last week or so, with an average of 2-4 fish caught per trip. That's not to say there aren't more though--- just last week we released 13 sailfish during an afternoon half day trip. It was a busy day to say the least.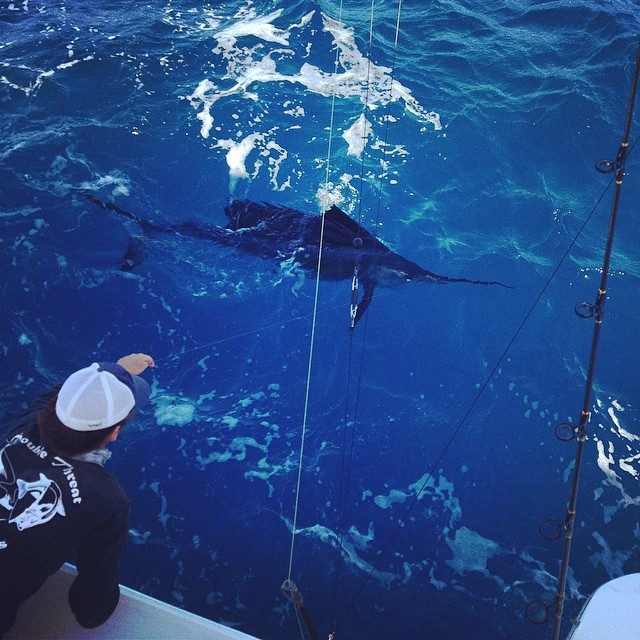 Catching Other Pelagic Species
Sailfish aren't the only species that spring brings to our area. March and April are prime times to catch big dolphin right on the edge of the gulf stream in the same areas we are likely to catch sailfish. 30 and 40lbers are not uncommon, with bigger fish not out of the question. Kingfish and Wahoo are starting to show up, and are all potential catches as long as they eat baits rigged with a length of wire (or the circle hook catches in the very corner of their mouths). Big Cobia, Tuna, Sharks, and many more species are all making sure our anglers are on their toes while they wait for the bite.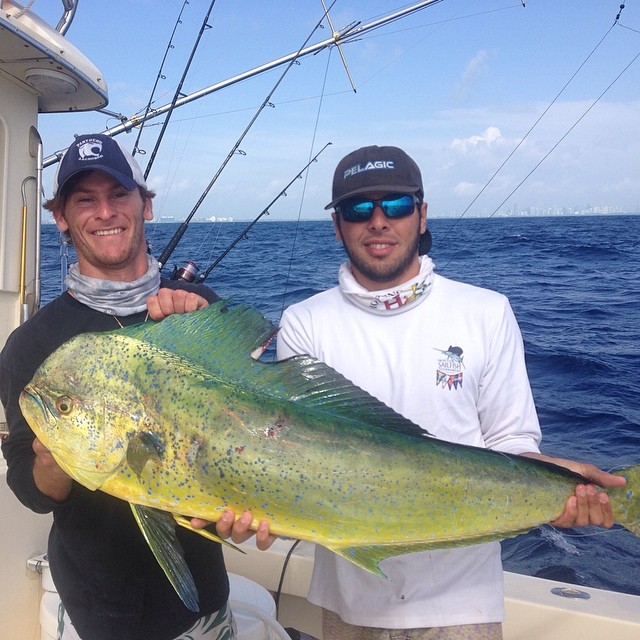 Wreck Fishing in Miami
When conditions aren't favorable to fish for pelagic species, spring time also brings a mess of other bottom dwellers to the reefs and wrecks along the coast. Big Amberjack, Almaco Jacks, African Pompano, Barracudas, Grouper (have to be released until the season opens May 1st), and more can all be targeted by dropping lively baits to different areas around wrecks, rocks, and structure lying on the bottom. Heavier tackle is used here to help pull the angry fish away from the safety of the structure. If anglers are feeling up to it we'll use stand up harnesses to get strapped in and pull against the powerful bottom fish.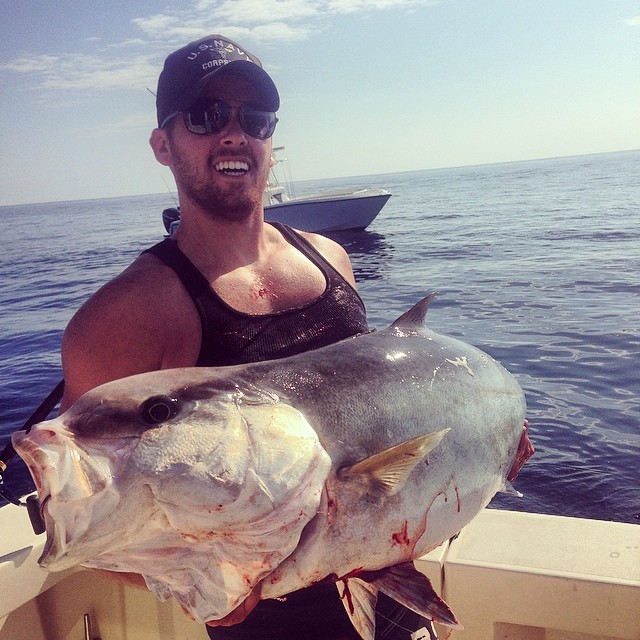 Fishing in Biscayne Bay
Now that cold fronts should be fewer and farther in between, the Bay will begin to warm up. Bait is shoaling in multiple areas around the bay, attracting jack crevalle, mackerel, trout, snapper, snook, tarpon, sharks and more. For anglers looking for lighter tackle fun, inshore charters are a great opportunity for 1-2 anglers to get hooked up to a variety of different species. Snook will start making their way to the inlets as they fatten up in preparation for their spawning rituals later in the summer. Bull sharks, Spinner sharks, Lemon sharks, and Hammerheads are all prowling the bay waiting to find their next meals. Tarpon have begun to show up in the passes and bridges as they make their annual migration. For the diehard anglers and purists looking to tackle the most difficult angling accomplishments Miami has to offer, bonefish and permit are both showing up on the shallow ocean side flats looking for their next shrimp or crab meal.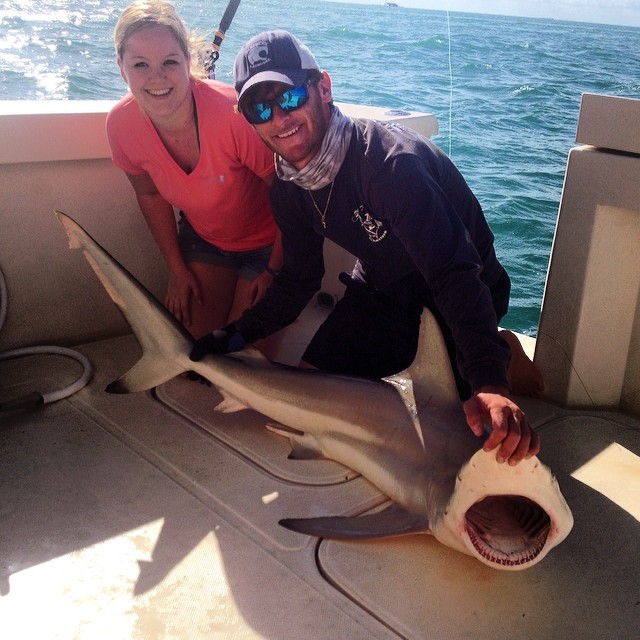 Recent Fishing Catches
It has been a busy spring season so far and we have had the pleasure of fishing as many days as possible both inshore and offshore. With so many species to choose from this time of year, we really can sample every fishing technique and species that Miami has to offer. Full day fishing charters are definitely your best bet to compensate for constantly changing conditions and the different bites that occur through out the day, but for those individuals with time constraints we still have had plenty of fish catching opportunities.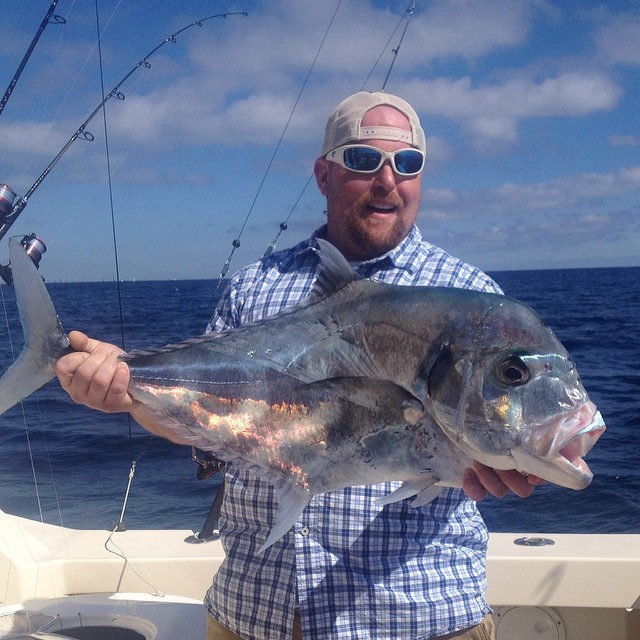 Charter Catch Log
February 6 - Five Jack Crevalle to 14lbs, 12 Spotted Seatrout, & 9 Ladyfish during a Half Day Inshore Trip February 8 - 2 Kingfish, a Spanish Mackerel, 2 Mutton Snapper, 2 Mangrove Snapper, 6 Blue Runners & a Yellowtail Snapper During a Kids Trip February 15 - 35lb Amberjack, 18lb Almaco Jack, 15lb Barracuda, Limit of Tilefish & a small Gag Grouper February 19 - 1 Sailfish & 3 Dolphin During an Afternoon Half Day Offshore Trip February 19 - Over 30 Trout Releases in a Morning Half Day Inshore Trip February 22 - 40lb Spinner Shark and 30 Pinfish During a Kids Trip February 23 - 1 Sailfish & Countless Almaco Jacks, Blue Runners, Mangrove Snappers, and Houndfish During a Kids Trip February 28 - 1 Sailfish & 2 Bonita March 1 - 40 Trout to 23", Countless Jack Crevalle, Bluefish, & Ladyfish throught out the day March 2 - Two 75lb Blacktip Sharks March 6 - Multiple trout to 23.5", 5 Jack Crevalle & 3 Barracudas March 8 - 40lb Amberjack, 20lb African Pompano, a Mutton Snapper, Limit of Tilefish, and a 15lb Gag Grouper March 9 - 14 Peacock Bass in 2 Hours March 12 - 2 Sailfish & 6 Dolphin to 10lbs March 12 - Over 25 Trout to 23" & a Spanish Mackerel March 13 - 2 Sailfish & a 45lb Amberjack March 14 - A 300lb Pregnant Female Bullshark that we Released March 15 - Morning Half Day - 1 Sailfish, 10lb Kingfish, 2 Bonita, & 2 Sharpnose Sharks March 15 - Afternoon Half Day - 1 Sailfish, a 50lb Cobia, a Kingfish & 7 Bonita March 16 - 2 Sailfish March 17 - 3 Sailfish, 2 Big Dolphin, a Barracuda & 3 Bonita March 20 - 13 Sailfish out of 15 Bites During an Afternoon Half Day Charter March 23 - 3 Sailfish, 2 Amberjack to 50lbs, and a bonita March 25 - 5 Sailfish & 5 Blackfin Tuna March 26 - 20 Spotted Seatrout to 22"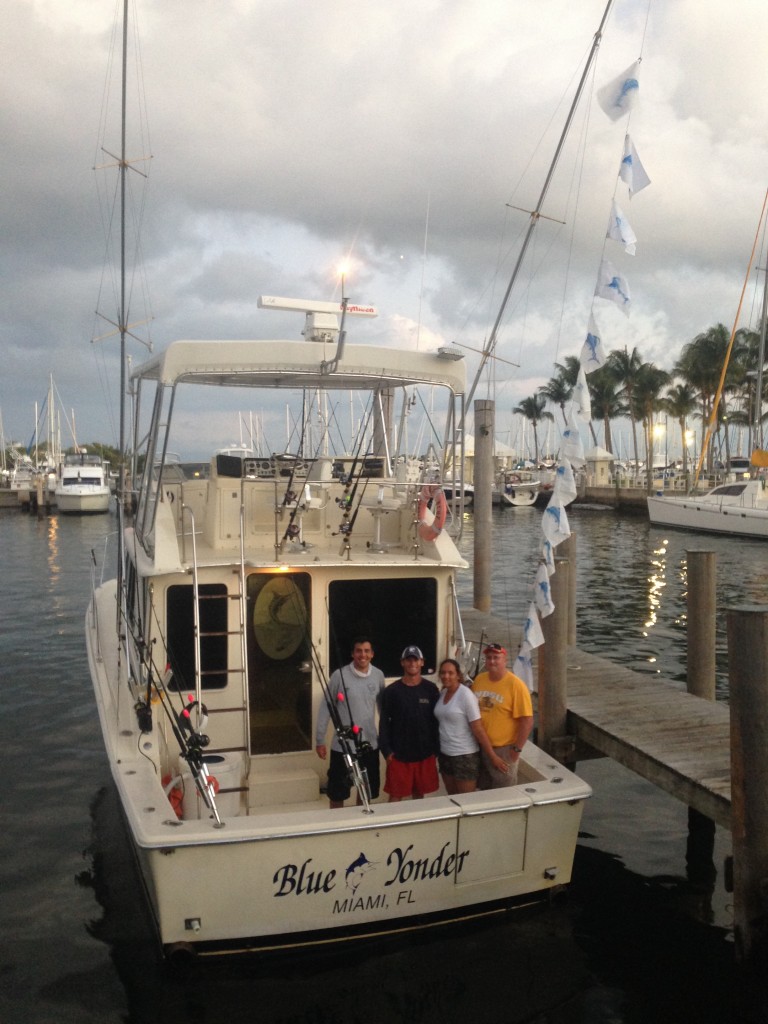 Fishing Trip Availability
As you can see there have been quite a few fish moving through our area. Spring is our favorite time to fish all year, and many people are finding every way possible to get out on the water while the fishing is hot. Dates are booking up so feel free to Contact Us if you have any questions or if you're interested in getting into some action and catching some fish! Tight Lines, Captain Nick & Captain Brent.
---
‹ Back