Log
Grouper Trolling in Miami
This past week has been a tough one offshore with bait being spotty and current offshore being almost nonexistant. We had 3 offshore trips that had interesting conditions, but Captain Nick was able to put everyone on fish regardless. Sunday-- November 18, 2012 Our first outing occured this past with a group that wanted some meat for the table. We loaded up on threads and runners at marker 21, and added a few more at bug before heading offshore. Reports from south spoke of zero current, so we set the spread out front of the can. Right off the bat the right short got chewed on before we could set the otherside. Only a few ahd passed before the "little fish" came right to the boat. We all got a glimpse of the 15lb king before it smoked off on a run. Our angler played it back in and we led it to the fishbox soon after. We reset that bait, only to have a healthy skipjack tuna crush it before we could get the kite line up the halyard.
With those two guys bled down and iced, we gave the area a few more minutes before picking the spread up and heading somewhere new. A storm began to form north, so we wished to get out of harms way and look for some more action. We set up jsut south of fowey jsut as a few of the microbursts came through. A bonita got us through the showers with a little entertainment, as did another skipjack and snake king not too long after. Unfortunately, that was all the action we had on the kites for the rest of the day. We had a shark eat a midwater bait before we began heading back in. The guys aboard were anxious for just a little more meat, so we swung in shallow on our way back in. We set our preferred spread for grouper trolling in Miami (some lures up top and down below), and it didnt take long before the jacks and macs came to play. Our grouper trolling techniques allow for many artificials to be fished as shallow as 10' deep, or as deep as 100'. We boxed a nice cero mac right before this guy came to play.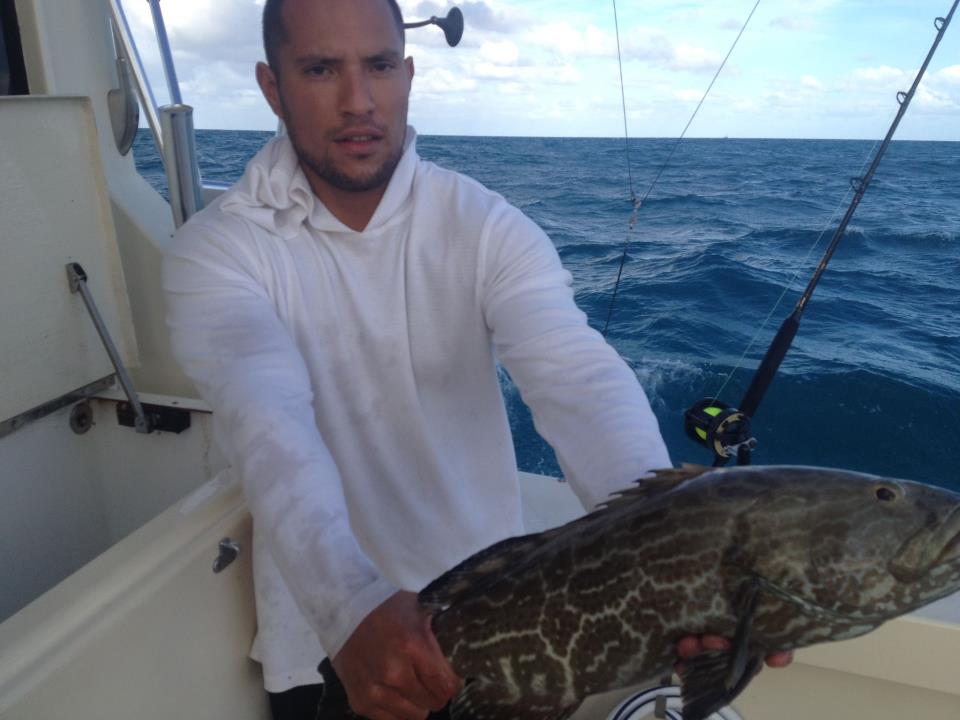 He did the trick and made everyone that much happier. With that catch, we picked up speed and headed back to port.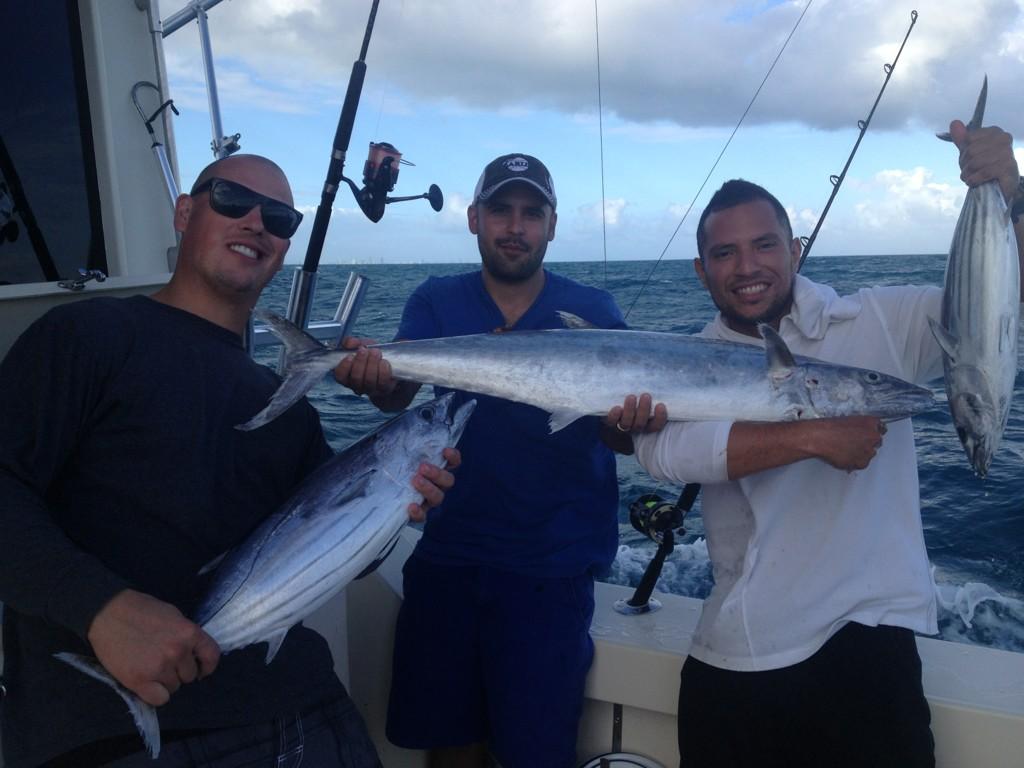 Wide Variety of Species caught while offshore fishing in Miami Final tally--17lb kingfish, snake kingfish, cero mackerel, 2 skipjack tunas, reef shark, and a Black Grouper Wednesday-- November 21, 2012 Whenever the opportunity presents itself, the Double Threat Team always takes advantage of practice opportunities. On Wednesday, the group found a window of opportunity in the afternoon to pop the kites up on the edge and sharpen their skill sets. Bait was difficult today, with runners being the only available option during the incoming tide. The Blue Yonder headed offshore with full wells at 3, and had baits in the strike zone by 320. Unfortunately, the bite was slow today with only 2 reef sharks to show for our efforts (they ate the mid rod). We kept at it though, and with only 10 minutes of sunlight left a sail gobbled up the left long. Our guest Max gladly fought the fish, and whipped it jsut as the sun went down. With that release (and a few pictures) we headed back to the docks.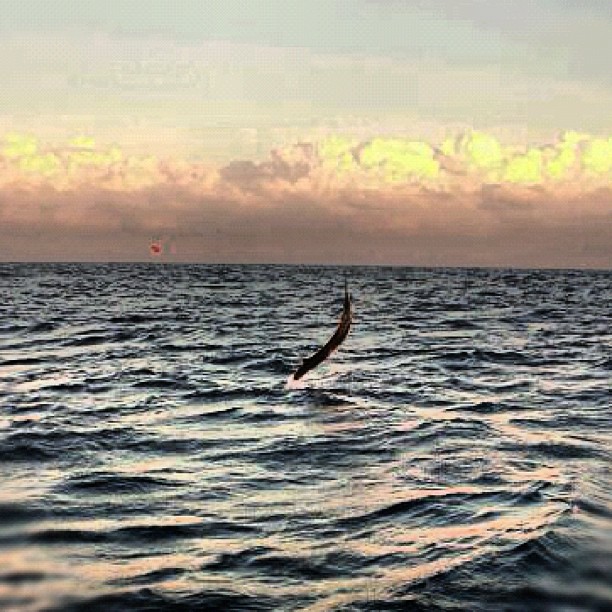 Fall sailfish action is heating up now that the coldfronts are moving through Final Tally-- 1 Sailfish and 2 Reef Sharks Friday-- November 23, 2012 Our first order of business for Friday's full day charter was locate bait. Rumor had it that Government Cut's spots were holding more consistent supplies than bug and other areas south, so we traveled up there to hit some of our favorite spots... Spot 1 held nothing. The pilot house only had leather jacks (poisonous). The ferry docks held nothing, as did the channel marker. Finally, we hit the bent range marker, and it was loaded with a variety of different species inlcuding Threadfin Herring, Spanish sardines, jacks, cigar minnows, and runners. We spent a lot of time working for the threadies (they were line shy) but we managed to get enough for the day. From the cut, we headed East to the edge, and ran south looking for current. There was very little to none, but bait was abundant and a few boats were seeing some action, so we set up. In short order we had a bonita crush a bait, starting off the action for the day. Not long after a pack of hungry dolphin came through in 150' and ate the kite baits and a pitched bait. We boxed 3 before the school lost interest and moved off. A lull in the action had us ancy, so we set our grouper trolling spread and headed south in search of better conditions. We caught a few jacks and houndfish on the surface baits, and had one bite on the grouper plug that didnt find the hooks. Just north of fowey, we pulled the grouper trolling spread in, and popped the kites up. A small shark found our bait, and was released after a short fight. Then something hammered the left long while we were in 150' still, knocking the bait from the clip. Our angler came tight and fought the fish deep for 10 minutes, before it finally surfaced. Captain John took the gaffing honors and stuck a meaty Fall blackfin tuna that wasnt shy about eating 12" of wire off the kite! That catch had everyone aboard fired up, and we reset the long with smiles on our faces.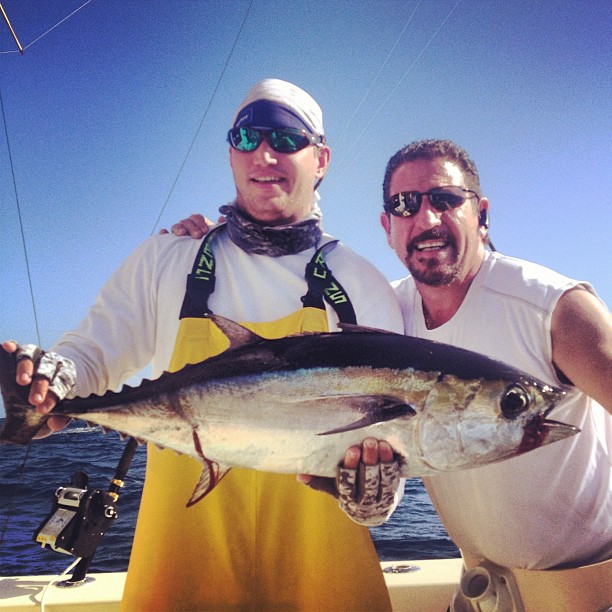 A chunky fall Blackfin Tuna taken while kitefishing offshore Miami A short while later in 150' a loner dolphin found the right short and jumped straight to the boat, to the gaff, and into the fish box... It was an oddly short fight... With time waning, we were about to call it a day when a sail rose, and ate, the right mid bait. We hooked up, and George took the honors of battling the angry sailfish. It was a very entertaining fight, as the fish tailwalked over 100 yards, then tore off 180 degrees in the other direction just as fast. We continued fishing the other 5 lines, and were obliged with a double on dolphin that raided the spread, unaware of the angry sailfish nearby. We boxed the dolphin while the sail was still a ways away, and cleared the spread for the ride home. George coerced the fish closer, while it continued its aerial display, and we managed a leader touch and a few pictures before letting the sailfish go on its way.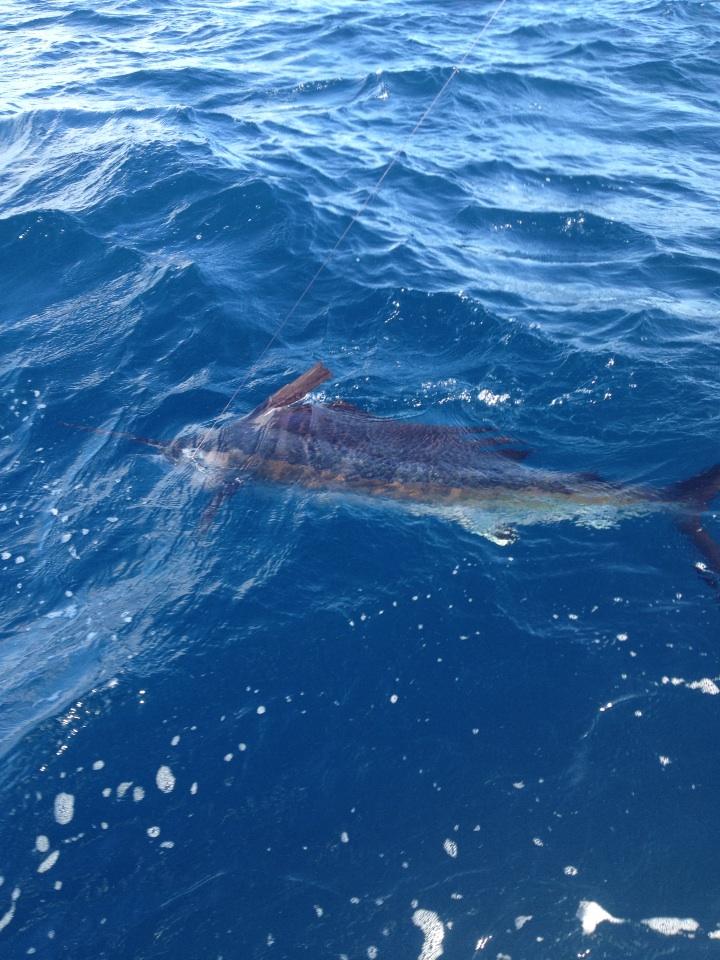 Steady cold fronts are pushing through the area making shots at sailfish much more likely offshore Miami We figured that as we crossed the patch reefs jsutnorth of Fowey, we would set our grouper trolling spread again. Why not? Well, we boated a few small macs and jacks (all released), and pulled a small gag from his hole that bit off more than he could chew. We released him to grow larger, pulled the grouper trolling spread, and headed in.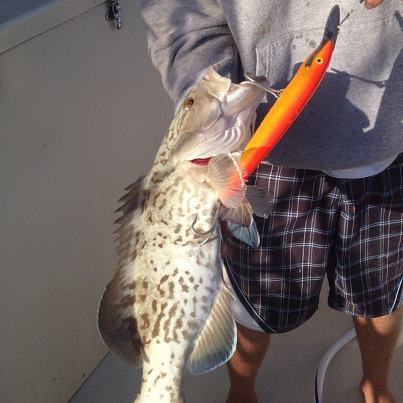 Grouper Trolling in Miami can be an excellent way to probe different reef areas while on the move. Final Tally-- 1 sailfish, 6 Dolphin, 16lb Blackfin Tuna, 1 Bonita, 1 Reef Shark, and countless jacks and houndfish.
---
‹ Back