Log
Mullet Run Fishing Techniques
The Mullet Run
The north winds and dry air that follow the first few cold fronts each fall put an end to summer year after year. During October and November, Mother Nature tends to have schizophrenic tendencies. One day it might be in the mid 80s but the next might dip into the 50s. Yes, 50-degree weather might not sound cold to most of the country but to us Miamians, it is reason for concern. Fall means it is time to dig up the hoodies and jeans because winter is right around the corner. What does this mean for the fish? Most of the fish that inhabit our waters are to some extent migratory. Traditional pelagic species such as swordfish, sailfish, and mahi-mahi aren't the only fish that move around. Squid engage in vertical migrations each as they rise and fall through the water column without ever seeing the light of day. Snapper and other bottom dwellers might sneak into shallower waters with dropping temperatures. Pinfish might abandon Biscayne Bay in the dead of winter to avoid an untimely demise resulting from a rapid drop in temperature. Regardless of individual tendencies, most aquatic organisms in the northern hemisphere share a similar habit. When the temperatures begin dropping during fall, go south! When the north winds begin blowing from September-November, mullet begin migrating south along through the near-shore waters of Central and South Florida. This can be a jaw-dropping spectacle as massive pods of 3-8 inch "finger mullet" begin cruising south in giant schools. The largest congregations of these baitfish are found along the beaches but many are found in the intercostal waterway near Jensen Beach all the way south through the tightest nooks and crannies in Miami's Biscayne Bay. In addition, pods of mullet sometimes stray far from shore. I have personally seen them in as deep as 500 feet of water.
Dinner is Served
Unfortunately for the mullet, it doesn't take long for the predators to find them. Snook, tarpon, blacktip sharks, jack crevalle, and more predators typically hammer mullet in the surf. This can turn into an absolute feeding frenzy of epic proportions. Check out this video below so you get an idea. Crazy Mullet Run Video It's not every day that the pods are as big as those shown the video, nor are the predators always so close behind. Regardless, fall is an awesome time of year to target these inshore species. The abundance of bait makes even the most intelligent predators a bit less weary and they can be targeted in a much less orthodox manner.
Fishing with Artificial Lures during the Mullet Run
Fishing during the mullet run is pretty straightforward. Top-water lures such as a Rapala Skitter Walk create quite the commotion and are great for throwing at pods of mullet. Tarpon, snook, canal tuna (jack crevalle), seatrout, and more won't hesitate to hit the nosiest lure during feeding frenzies. In addition, large poppers, xraps, and even soft plastics can be effective when trying to cover water and work the water column. We target our efforts in the canal systems of Biscayne Bay and in the surf on South Beach. We are almost always rewarded with tons of action this time of year.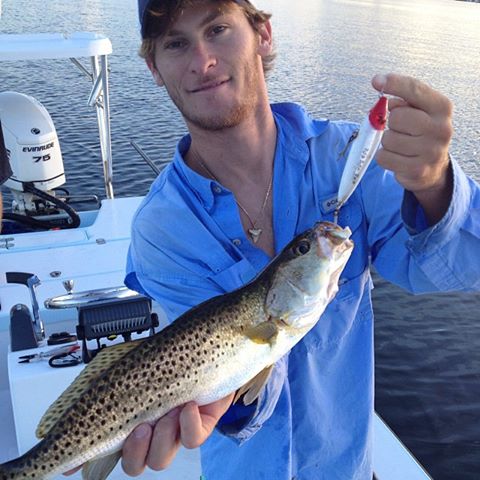 Live Baiting during the Mullet Run
Nothing beats the effective presentation of live bait. Every inshore trip in Biscayne Bay begins with a quick search for the nearest pod of bait. After loading up on mullet with the cast net, we are usually off to find even more bait. This time however, the cast net remains stowed as we transition to targeting the bigger species lurking below. For tarpon, snook, and jacks, we use about 2-3 feet of 60lb fluorocarbon leader tied to a 10-15 foot length 30-pound fluorocarbon top-shot, which is secured directly to a spinning reel, loaded with 30-50lb braid. For hooks we use 7/0 or 8/0 Mustad circle hooks but other brands work as well. During the day we look for pods of bait and cast a frisky mullet on the edge of the pod. If we don't connect, we usually try the next pod of bait. If the predators are there it usually doesn't take long.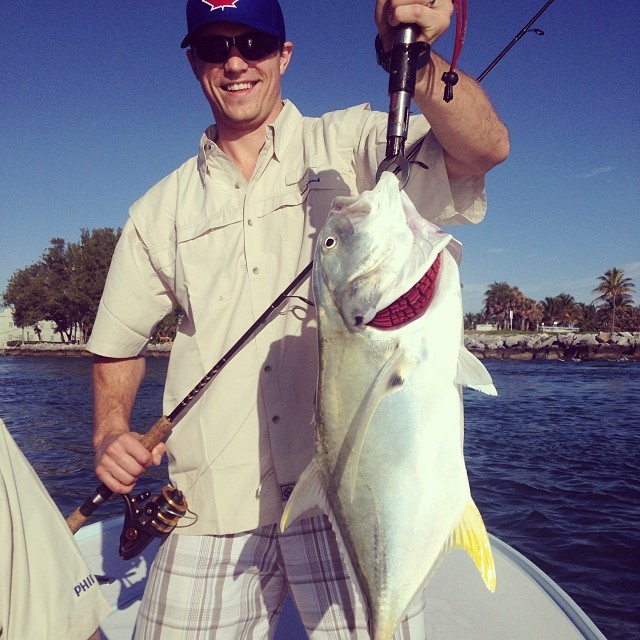 Fishing at night during the mullet run
At night, our vision is obviously limited so we prefer sticking to areas where we know the predators frequent. Many of the spots that hold bait during the day are also loaded at night. Find areas that produce frequently for you and success won't be far behind. We usually deploy several rods at night and usually dead drift or use the trolling motor to cover water. We hook baits in the nose while drifting and keep a close eye on the sonar as well as look and listen for the sights or sounds of fish feeding in the area. If an area is slow, move. The mullet run is known for surefire action and the fishing is usually steady if you are in the right spot.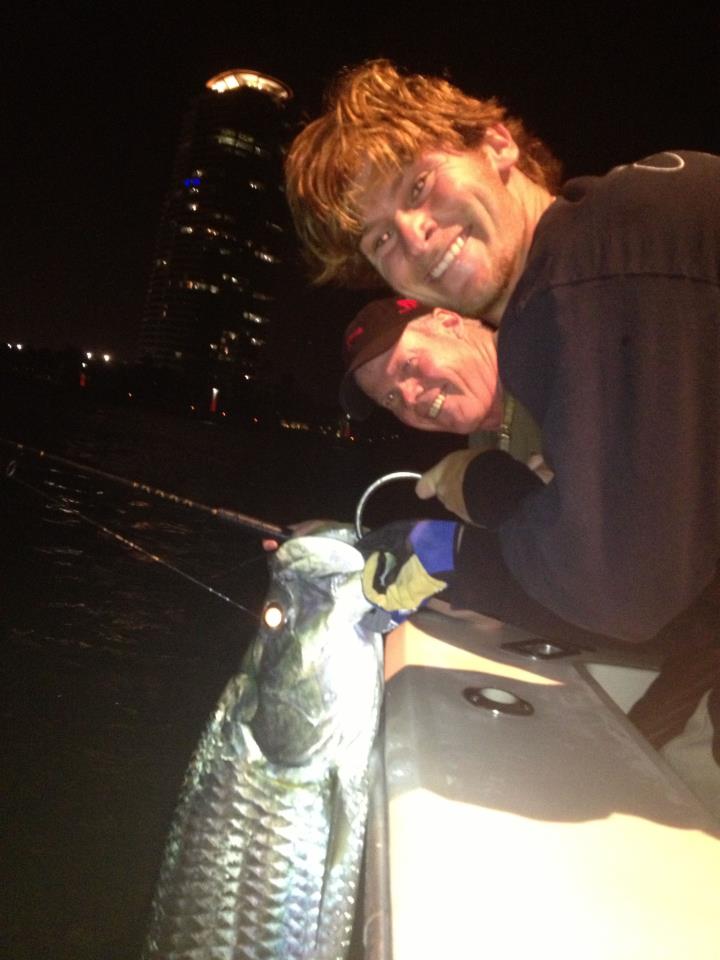 Get Out There!
The most difficult place to catch trophy fish is on the couch. We hope you enjoyed the article but at this point you should think about signing off and getting on the water. We would be more than happy to guide you to a fall fishing experience. Give us a call and we'll get you hooked up!
---
‹ Back