Log
Winter Sailfishing off Miami- Epic Bite
The Winter Sailfishing Has Been Phenomenal
The past week we had a stellar bite off Miami. Sailfish, tarpon, snook, swordfish, and more were caught. The fishing picked up following the first genuinely significant cold front of the year. With a few more cold fronts heading our way, expect it to get even better.
Weather-
There are several cold fronts moving into our area. Temperatures will be dropping into the low 50s at night and the low 70s during the day starting on Thursday night (Feb. 28th) and lasting until at least mid next week. These cold fronts will be accompanied by light to moderate north winds. What does this imply for fishing in Miami for the next few weeks? Perfect weather and lots of fish. Winter sailfishing at its finest.
Offshore Fishing-
The fishing during the past week was phenomenal. The average boat caught 5-10 sailfish per day with dolphin and kingfish mixed in (we caught 6 sailfish, 2 kingfish, and 10 dolphin on Wednesday). We even heard a few reports of up to 20 sailfish being caught in one day. With the cold fronts moving through this week, the bite this weekend might be even better! We can expect a lot of sailfish to be caught on the edge. A conservative estimate would be double digit shots if you are in the right place with the right bait. Fortunately, the Double Threat crew already has about 1,000 live baits which we have been feeding. Book a charter and we'll put you on the sailfish. In addition we can expect some dolphin on the edge with a few bigger fish thrown in. We might have a shot at a kingfish or wahoo as well.
Inshore Fishing-
The tarpon and snook fishing has been excellent in Biscayne Bay. During our last trip, we caught 4 big snook and a 70 pound tarpon. The snook are in season so expect an awesome meal if you catch one in the slot. There have been many big seatrout during daytime charters in Biscayne Bay. Flamingo has been a little slower on the colder days but we have still managed to catch over 10 redfish per trip with seatrout, black drum, and snook mixed in.
Bait-
A picture is worth a thousand words.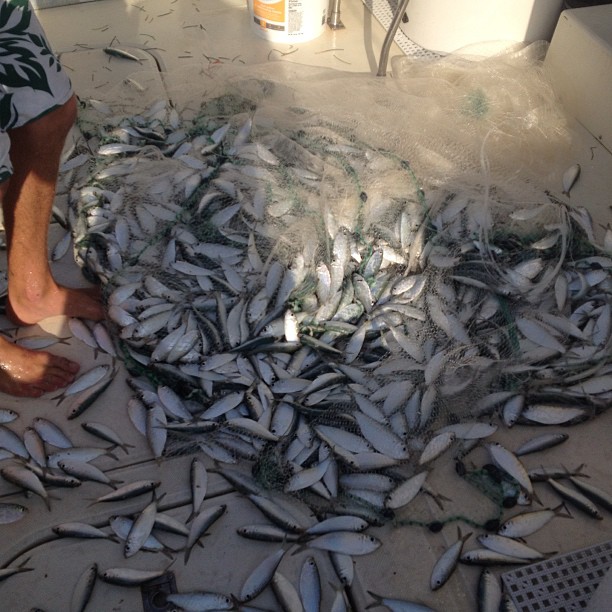 Video of the Week-
Double Header on Sailfish- http://www.youtube.com/watch?v=-7arM7RatUk
---
‹ Back