Spotted Seatrout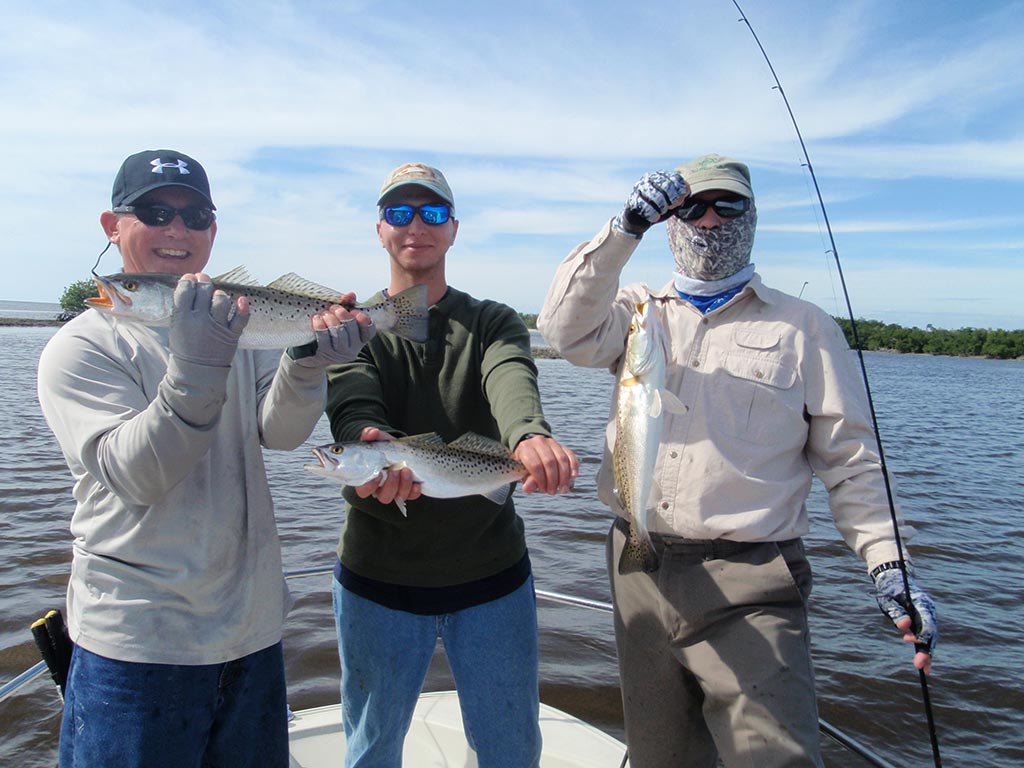 Peak Season: May-October
Best Charter:Full Day Inshore
Best Technique: Working Channels
Best Bait: Jigs, Lures, Live Bait
Table Fare: Good
Spotted Seatrout Fishing
While inshore fishing Biscayne Bay or Flamingo's countless grass flats, seatrout will often crash the party. Seatrout are ambush feeders that conceal themselves efficiently in sea grass beds by lying perfectly still. Countless dots atop a green back break apart their outline, preventing most fish and shrimp from seeing them before it's too late. Light tackle fishing charters in Biscayne Bay can see large numbers of trout living in the healthy grass beds of South Bay (North Biscayne Bay too if you know where to look) and the lightly pressured areas of Flamingo.
How to Catch Seatrout
Our fishing guide service in Flamingo has guests using both artificial and natural baits on light spin tackle to target trout. Anglers are able to present offerings from 1-10 feet of water where the trout reside. Although seatrout can reach ten pounds or more, trophies are any above 4 and 5 pound mark. Otherwise, smaller individuals bite with abandon to take up the remaining time. Fast paced action and 40 fish a day make up for lack of size. Colder months can slow the bite but larger fish are more likely to feed as they put on weight to breed. Warmer months indicate quantity over quality, with smaller fish reigning supreme. Trout don't require leader (their mouths aren't abrasive) but by catch is prevalent on any inshore Flamingo charter or Biscayne Bay charter. Jacks, snapper, Barracudas, sharks, and even snook and tarpon can find your bait before a trout does. 20-30lb Monofilament usually keeps you hooked up, but any heavier and the trout may refuse your offering. Although they are incredibly slimy, trout have sweet white meat that is delicious pan fried.