Permit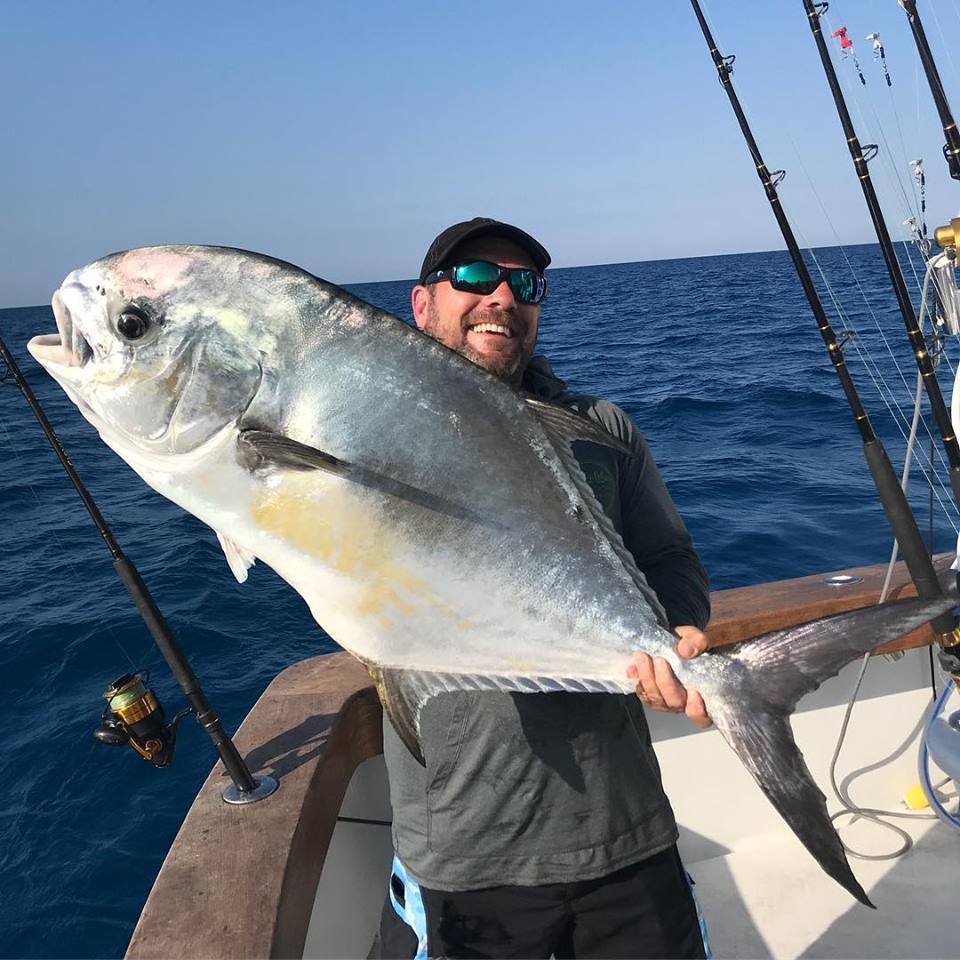 Peak Season: Depends on Charter
Best Charter:Wreck Fishing Offshore
Best Technique: Fishing the Wrecks
Best Bait: Live Crabs
Table Fare: Good
Permit Fishing Charters
Similar in appearance to African Pompano, permit frequent deepwater wrecks and shallow flats alike. On our Biscayne Bay flats fishing charters, we target Permit along channel drop-offs near flats with light spinning tackle. Typically the fish are much less spooky when targeted in this manner and will jump on shrimp tipped jigs and crabs bounced in the current. The true test of skill is if an angler can sneak up on a pod of fish and sight cast to the group as they move along shallow flats. Permit often swim the flats where they mud for crustaceans and mollusks. When this occurs the fish's dorsal and tail fin exit the water, a clear indicator of its presence. On the ocean-side flats of Key Biscayne and the lower Keys, Permit can be seen eating crabs clinging to Sargasso weed as it floats offshore. The fish's silvery sides can be seen a long ways off as it swims horizontally to catch its prey. Permit make tough contenders in shallow water for even the most experienced saltwater sportsmen, as they are incredibly sensitive to noise. Even the slightest disturbances can distress the pod, causing them to blow off the flats in mere seconds.
Permit Fishing Miami
Offshore of Miami, Permit are completely different animals. Permit frequent wrecks in large schools during spring. They sometimes shoal up near the surface and can be sight fished from a boat with a bit of vantage. They often circle the wreck and swim up and down usually within 50 feet of the surface but they may swim deeper. There are other fish that inhabit the wrecks where permit spawn. Big rudder fish, bar jacks, jack crevalle, might also be in the same area. When prospecting a spot don't confuse these other residents for permit. The dead giveaway for permit is a golden hue. A big school laid up will shine like a pot of gold with their "yellow bellies" (also a nickname for these fish). If you see a school laid up, rip a crab in front of them and hang on. If you aren't seeing fish up top, circle the area and look at the fish finder. A big school of permit displays as a big, dense, long mark on the sounder. Get up current of said mark and drop a crab down with a 1 ounce jig to get your bait in front of them.
Wreck Fishing for Permit
Sharks and goliath grouper are a huge issue when fishing for permit. The schools of permit attract all the major apex predators. Some wrecks have such big schools of fish and so much fishing pressure that the sharks hear the engines of the boats and get ready to feed. With this in mind, we like to use heavy tackle when targeting these fish. Heavy spinning rods with 30-40lb monofilament or 50lb braid dramatically reduce fight time. With shorter fights, you will get more fish to the boat. For leaders, 30-40lb fluorocarbon are satisfactory, For hooks we like using 6/0 heavy gauge circles when casting at spooky fish up top. Otherwise, one ounce jigs with a heavy gauge hook will suffice. If you're marking them on the sounder, just pin a crab to a jig head and send it down to the awaiting schools of Permit. leave the bait in freespool, permit love eating crabs as they sink. If you see them up top, rip the crab out there and freespool until you get a good take. Give the fish about 5 seconds and come tight. The hookup ratio is usually pretty good. Whichever locale you find them, Permit are incredible fighters and will put light tackle to the test. Permit can reach 30lbs or more, and love to burn a lot of drag whether on the flats or down in the depths. Permit Fishing Charters in Miami and Flamingo can be very productive depending on the season. Contact us and we'll recommend the right charter to target these fish.