Mangrove (Grey) Snapper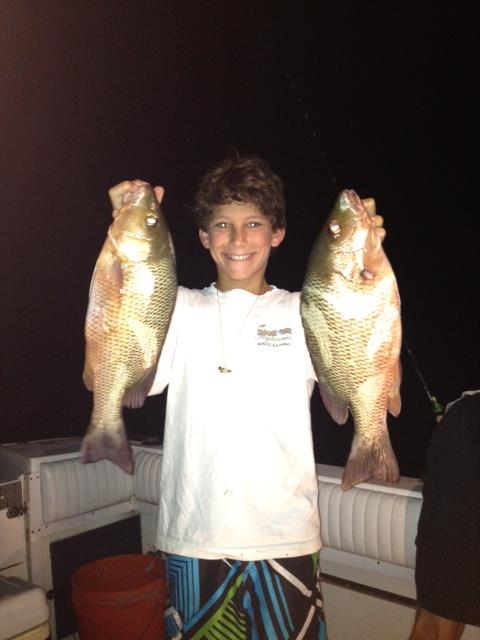 Peak Season: June-August
Best Charter:Nighttime Snapper Fishing
Best Technique: Heavy Chumming the Reefs
Best Bait: Shrimp
Table Fare: Excellent
Snapper Fishing Charters in Miami
Mangrove snapper (or grey snapper) typically spend their juvenile lives in bays, mangrove canals, and just about any inshore structure. Mangrove snapper are a crowd favorite for dock fishing. Just about every marina in South Florida is filled with mangroves ready to pray on cut bait, live bait, or anything they see. Mangroves are schooling fish and great eating when they are legal size. As of August 2019, the size limit for mangrove snapper is 10 inches. Keepers can definitely be caught inshore but it can be tough sorting through the smaller ones. They range from Massachusetts to Brazil on the western side of the Atlantic Ocean. Although they are typically known as an inshore fish, they have been found as deep as several hundred feet.
Mangrove Snapper Spawn
Mangrove's fight hard and have great eyesight. During July and August, especially around the full moon, larger mangroves swarm the reef line to spawn. The same tactics used for yellowtail work for spawning mangroves. Mangroves are hard pressed to turn down a well presented live shrimp or pilchard, and will usually out compete yellowtail in the chum slick in shallower water (20'-60'). Mangroves aren't as likely to feed during the day and although smaller individuals can be seen in the shallow bays and lagoons around Miami, 1-5lbers prowl the reefs at night during the spawn. Just like yellowtail, mangrove snapper fishing in Miami requires a lot of chum and patience, and is most enjoyable with light tackle. It takes time to raise them off the reef, but when you do, they'll get bold enough to eat right out of the chum bag!
Table Fare
Mangrove snapper are excellent table fare. They are a soft, flakey, white meat fish. They can be prepared a variety of different ways; with our favorites being ceviche or fried whole.